The Brooklyn Nets demolished the Milwaukee Bucks 125-86 in Game 2 to take a commanding 2-0 lead in the series. Brooklyn now heads to Milwaukee for Game 3 in what's been a one-sided matchup from the jump. The Bucks are favored to win tonight, but the Nets are huge favorites to move onto the next round, as they sit at (-530) to win the series at DraftKings Sportsbook.
Can the Bucks bounce back at home and make this interesting? Let's take a look at who has the edge in Game 3 and find out the NBA best bets for this playoff matchup.
Game Preview
Brooklyn Nets at Milwaukee Bucks (-3.5, 234)
The Nets haven't missed a beat without James Harden, who went down with a hamstring injury in the first game of this matchup. Of course, it helps when you have two other superstars on your team. Kevin Durant has come out with a vengeance, against the Bucks and during this postseason as a whole. The Slim Reaper is averaging 32.0 points, 7.3 rebounds per game, 3.4 assists and 2 blocks per game since the playoffs began. He's done that while shooting an insane 55% from the field and 50% from three-point land. Durant's teammate Kyrie Irving hasn't been too shabby himself. Irving is putting up 24.4 points, grabbing 6.0 boards, and dishing out 4.0 assists a game. On the other hand, the Bucks and their MVP Giannis Antetokounmpo have come out flat since this series started.
The Greek Freak is coming off of a disappointing Game 2 in which he scored just 18 points, going 2-for-7 from the free throw line and 0-for-3 from deep. If Milwaukee wants to get back into this series, it'll be up to Antetokounmpo to carry the load on his broad shoulders moving forward.
When it comes to tonight's matchup, the Bucks headd back home to Fiserv Forum, where they finished the regular season with a 26-10 record. Brooklyn went just 20-16 on the road during the year, which is something to keep an eye on. The Bucks do score 2.6 more points per game at home, and the crowd should be rocking tonight, so maybe that will help jump start this offense that's posted an offensive rating of just 97.0 the past two games.
One of Milwaukee's biggest issues so far against Brooklyn has been their stagnant offense. During the year, they relied on team ball that featured crisp passing, highlighted by Giannis running and dunking on everyone. They also got major contributions from their second star, Khris Middleton. Overall, their style led to a league-leading 120.1 points per game and they were also ranked seventh in the league in points per possession in the regular season, according to Cleaning the Glass. Unfortunately for the Bucks, Middleton has gone ice cold to start the series, and against the Nets as a whole, everything has been isolation and one-on-one. The Bucks had just 14 assists in Game 2, which isn't going to get it done against this high-octane Nets team.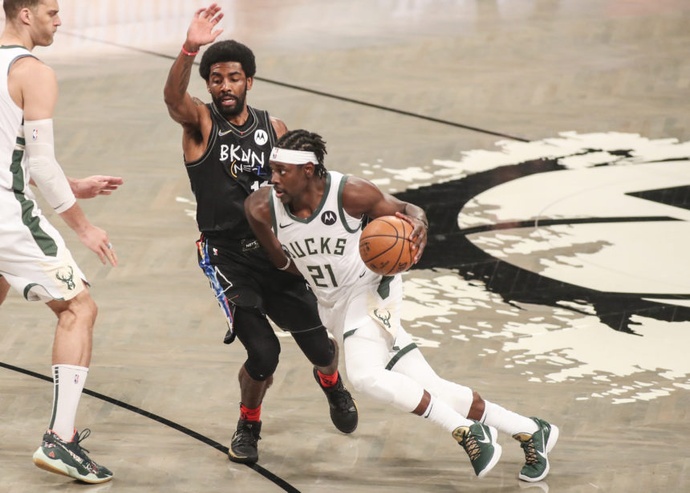 Brooklyn is suspect on defense, ranking 21st in points allowed, and 22nd in defensive rating and three-pointers allowed. If Milwaukee can slow down the tempo, get back to moving the rock and hit their three-point shots, tonight should be a different story.
On defense, the Bucks like to pack the paint, which worked well against Jimmy Butler and the Miami Heat. Unfortunately for them, the Nets are built differently. Case in point, Brooklyn is hitting 44% of their threes this series. The team has no issues letting it fly from deep, so the Bucks might need to change their defensive strategy tonight.
Gambling wise, bettors are expecting Brooklyn to win and cover this game, with 68% of the betting tickets and handle on them.
While the BetQL team likes the Nets to take this series, this is a good situational spot for the Bucks. It's do or die, and the Milwaukee players should come out with some pride after that embarrassing Game 2 loss. Everyone is counting the Bucks out, which like this spot a little more likable. Khris Middleton should shoot better at home, and Jrue Holiday, who has playoff experience, should step up tonight as well. Ultimately, it will come down to the Greek Freak, whom the BetQL team envisions will score 30-plus points by the time the the final buzzer sounds.
Pick: Bucks -3.5
BetQL Model Predictions & Picks
BetQL's NBA model has run 10,000 simulations of this game to provide insight on how the game will pan out, and after all those simulations, the model leans the Nets +3.5. Currently, the point spread of this game sits at +/- 3.5 with Milwaukee as home favorites. BetQL's model would have placed the line at Nets +2.5, meaning there is some betting value on Brooklyn in this game at +3.5. Keep reading below to get picks from the experts at BetQL.