I have had more than two dozen parents and players reach out to me and ask for my advice on whether their children should play youth sports this year. I've received calls, emails, messages and tweets about this (and so has my manager, Nyles). This is a topic that parents all over the country are dealing with: What do we do with our children who love sports and want to play?
Some places are pushing to open up; some have been open since the summer. Others have tried to open and then had to close back up due to outbreaks of COVID-19. I understand the dilemma that parents are currently in. I can't tell anyone what to do with their children, all I can do is explain what we are doing with ours.
We are a sports family. My wife, Nichole, and I both played basketball at Syracuse University. Our children have played multiple sports throughout their childhood - baseball, lacrosse, tennis, soccer and basketball. We love sports. It teaches them responsibility, how to work together as a team, how to push yourself individually, how to accept constructive criticism, how to follow directions, how to overcome adversity, the agony of defeat, the thrill of victory and so on.
My son, Malcolm, was looking forward to his freshman year at DeMatha High School as a two-sport athlete, playing soccer and basketball.
My daughter, Imani, has shined for Metro Volleyball (which is the premiere club in the DMV) and was looking forward to trying out for the travel team this fall.
My youngest daughter, Sierra (who I still call Baby Sierra), has been playing up for two years so that she wouldn't dominate her age group and she was on the practice squad for her big sister's team. They were all learning, being challenged and getting better.
They all were looking forward to a big fall season of sports. But as we kept an eye on the second surge of coronavirus cases currently sweeping across America, we had to take these facts into consideration. Our decision was based on data.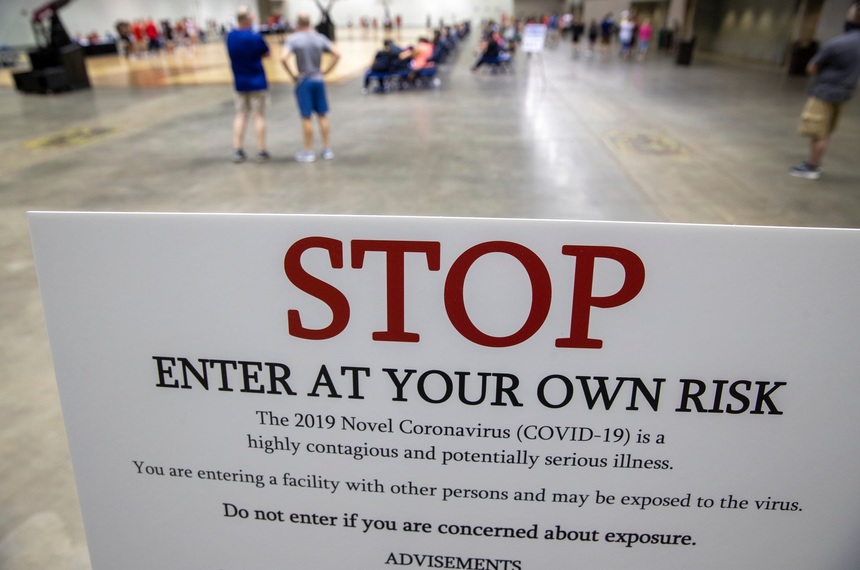 Public health experts have not only been consistently cautioning Americans of a possible second wave of new coronavirus cases in the fall and winter, but they have been forewarning that it could be worse than the wave of infections from earlier this year.
John Brownstein, a Harvard Medical School professor and ABC News contributor, explained, "As the fall approaches, you have drier conditions. More people are spending more time indoors, so generally the virus is more efficient."
Brownstein also pointed out that students who return to in-person classes will not be "practicing the same level of social distancing and mask wearing" as they were during the initial wave of the pandemic, which could cause a spike in infections.
In addition, for months, public health experts have been sounding alarms of a "nightmare" that could occur if the United States sees its traditional flu season mixed with high rates of coronavirus transmission.
According to NBC News: "COVID-19 infections are spreading across the United States at the fastest rate since the start of the pandemic. The 71,000 new cases per day that the U.S. averaged over the past week was the most in any seven-day stretch since the crisis started and stood in stark contrast to President Donald Trump's repeated claims that 'we are rounding the turn' on the pandemic."
I understand how confusing this situation is for parents because we are constantly being bombarded with misinformation - even from the President of the United States. We can have our own opinions, but the facts are the facts.
And just to be clear: this isn't a political issue for me, it's a safety issue. If Barack Obama, Joe Biden, my pastor, my mother or anyone else provided false information that I felt would work to the detriment of my children's safety, they would face the same opposition from me.
We value sports, we love sports, and we are a sports family. However, we value our children's safety much more and have decided to hold them out of all fall sports activities no matter what their teams, schools, counties or programs decide.
Because our children are no longer participating in sports, we're working out at home as a family. We do basketball drills outside, volleyball bumps and setting, jump rope in the backyard, and footwork drills on the driveway. They even have a drill where they chase our dog, Marley, around the backyard like Rocky chasing the chicken in Rocky IV.
It's important to note that my 11-year NBA career has afforded me the luxury of having a court in my backyard, a weight room in my basement and a gym with cardio equipment, so I do recognize the privilege I sit in.
With that being said, we will revisit everything in the spring and see where the numbers are with COVID-19. If the cases continue to spike (as they are now) and this second wave turns into a third wave, we will have our children sit out the entire year from youth sports.
Now, there are quite a few realities that have to be considered.
I understand that since the pandemic started, over two-thirds of high-school athletes reported anxiety and depression when all sports were shut down.
According to this study: "Exercise and physical activity are powerful anti-depressants and anti-anxiety interventions and we strongly encourage public health experts and school administrators to thoughtfully consider both the benefits and risks of prolonged school closures and sport cancellations. We hope that any plan moving forward addresses not only our kids physical health and safety, but their social development and emotional well-being as well."
My response would be that my kids can get the physical activity they need in the safety of our backyard and basement (and, again, I recognize my privilege).
The alternative is to put our faith in school systems and youth-sports leagues to devise COVID-safe environments to protect our children. It'd be one thing if they were going to duplicate the NBA bubble, which is a format that has proven to be successful (shout out to Adam Silver). But if they are just talking about the janitor, Otis, spraying some extra disinfectant and telling kids to wash their hands or use a little extra hand sanitizer and then let the games begin, that's gonna be a hard pass for me.
What we are currently seeing is schools and youth leagues essentially using kids as guinea pigs and gambling with their health to test if their coronavirus protocols will be effective. You actually had school and youth leagues having virtual meetings to finalize plans for resuming games (which is absolutely ridiculous).
This is all while so much remains unknown when it comes to the long-term effects of testing positive for the coronavirus on a young athlete's heart, lungs and other vital organs. I know proponents of resuming youth sports like to ask, "Well, how many kids have died?" But that can't be the only barometer we use.
According to this article from the world-renowned Mayo Clinic:
"Organs that may be affected by COVID-19 include:
Heart.

Imaging tests taken months after recovery from COVID-19 have shown lasting damage to the heart muscle, even in people who experienced only mild COVID-19 symptoms. This may increase the risk of heart failure or other heart complications in the future.

Lungs.

The type of pneumonia often associated with COVID-19 can cause long-standing damage to the tiny air sacs (alveoli) in the lungs. The resulting scar tissue can lead to long-term breathing problems.

Brain.

Even in young people, COVID-19 can cause strokes, seizures and Guillain-Barre syndrome — a condition that causes temporary paralysis. COVID-19 may also increase the risk of developing Parkinson's disease and Alzheimer's disease.

Liver and Kidneys. COVID-19 can also weaken blood vessels, which contributes to potentially long-lasting problems with the liver and kidneys. COVID-19 can make blood cells more likely to clump up and form clots. While large clots can cause heart attacks and strokes, much of the heart damage caused by COVID-19 is believed to stem from very small clots that block tiny blood vessels (capillaries) in the heart muscle.
"Organ damage [from COVID-19] may increase the risk of long-term health problems."
If that's not enough to create pause, White House health advisor Dr. Anthony Fauci warned parents who were trying to decide whether they should send their children back to school that, contrary to what they've been told, kids over 9 years old can spread the coronavirus just like adults.
"It's been shown that children from 10-to-19 can transmit the virus to adults as well as adults can," Fauci, the director of the National Institute of Allergy and Infectious Diseases, said during an interview Wednesday on MSNBC.
But wait, there's more.
A recently published study in South Korea indicated that although kids under the age of 9 were less likely than adults to transmit the virus to their families, teenagers were at least as likely to transmit the disease as adults. Members of the Infectious Disease Society of America have previously pointed to the study and warned against reopening schools in states where coronavirus cases are surging.
Now, I understand why it's tough to keep kids home, especially when parents have to work. But data like this does present a major dilemma for parents wrestling with the decision of whether to allow their children to return to school or return to sports.
I know for a fact that many AAU, youth volleyball and youth soccer programs (because those are the ones our children are currently involved in) pushed to have youth sports resume during the summer and fall, and many are playing in tournaments right now as we speak. There has been a mixed reaction throughout the youth-sports community. Some coaches elected to play in tournaments all summer as various red states (mainly Florida, George and Texas) opened up back in June and July.
I've heard AAU coaches express that they would be doing their players a disservice by not letting them play because they need the exposure to college coaches. (Although the rules have changed and colleges can only see AAU players during live periods).
I've seen AAU coaches try to have massive training sessions, but then they're forced to shut them down due to a COVID-19 outbreak.
I've seen youth-soccer programs attempt to conduct socially distanced games, which were an epic failure.
I've seen volleyball tournaments move to red states that were open and reschedule entire fall seasons.
I've seen some places (like my hometown of Tulsa, OK) have regular high-school football games with fans in the stands and everything.
But it just isn't worth the risk, in my opinion.
That's why I decided to cancel my team's AAU season and pull my kids out of youth sports during the summer. I love coaching my team and seeing my guys develop and improve - and I was really looking forward to this AAU season, just like my daughters were looking forward to volleyball. But we just didn't feel comfortable risking their health.
And just like the summer, we are currently witnessing an onslaught of outbreaks all across the country on the collegiate level. Florida and Vanderbilt have (at least) a combined 60 players out for virus-related reasons, resulting in postponements of their games against LSU and Missouri, respectively. Ole Miss is battling an outbreak as well,
Across the country, at least 29 NCAA football games (about 10 percent of those played) have been postponed or canceled because of a virus that has killed more than 200,000 people in America and nearly 1.1 million worldwide. Nick Saban became the seventh FBS head coach to reveal that he's tested positive, and his diagnosis sends a chilling reminder of what medical experts have cautioned throughout the summer.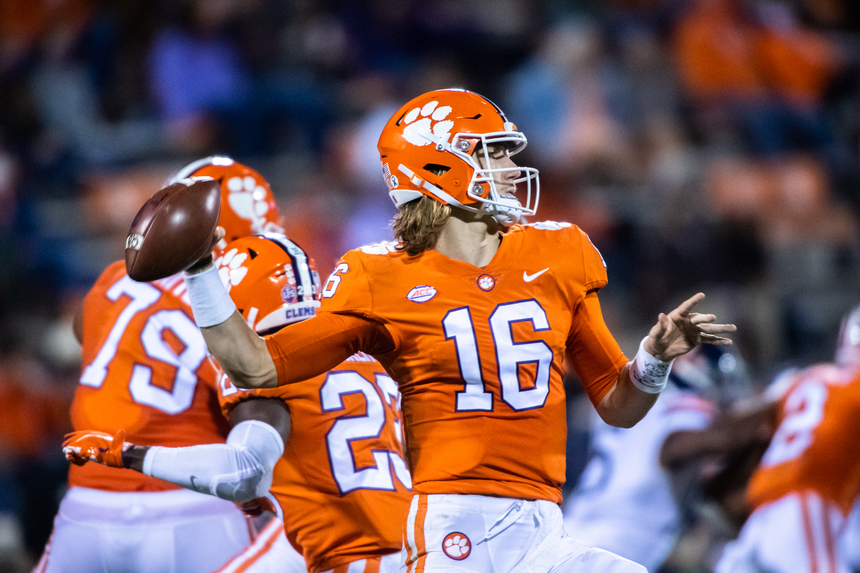 Trevor Lawrence, who coincidentally was the voice and face of getting back on the field and playing college football, just tested positive for COVID-10. He is the frontrunner for the Heisman Trophy and is considered a lock to be the No. 1 pick in the 2021 NFL Draft.
Wisconsin's football team will suspend all activities after head coach Paul Chryst and 11 other players and staff members tested positive for COVID-19. At least 30 LSU football players and 25 Notre Dame players have tested positive too.
And this is all at the collegiate level. The NCAA, in theory, should have better protocol than high-school, middle-school or elementary-school sports. When even they are having consistent outbreaks and non-stop positive tests, why would anyone think youth sports (with nowhere near the same funding of universities) can keep kids safer?
I have been outspoken and consistent in my position that I am wholeheartedly against any sports at any level resuming play until we get a hold on this COVID-19 outbreak. I held that position in March when I decided not to have my team, the FBCG Elite Dynamic Disciples, participate in AAU over the summer. My position hasn't changed.
Once the numbers change, then we can talk. But as we have seen, the numbers are getting worse, so my kids will be working out in the backyard and in our basement for now. Again, I can't tell anyone what to do with their children; but, for me, it's just not worth the risk.