What an embarrassment.
We have to start there when discussing the way that the Los Angeles Clippers' season ended. A team with legit title aspirations, headlined by a top-five player in Kawhi Leonard and a top-12 guy in Paul George, fell flat on their face in a Game 7 after blowing a 3-1 series lead to the Denver Nuggets. Neither star showed up in the pivotal game; the rotational and schematic decisions of Doc Rivers contributed heavily to his firing. Now, the Clippers have a one-year shot at redemption before their stars have the ability to test the free-agent waters in 2021.
The Clippers are entering the offseason with possibly four of their rotation pieces hitting the market. There's no real avenue to cap space regardless of what they decide in terms of renouncements; the Clippers will operate as an over-the-cap team and have the non-taxpayer's mid-level exception (worth over $9 million) at their disposal. The always-informative Keith Smith has a more thorough breakdown of their cap situation, which you can find here.
Let's take a look at some guys they'll look to bring back as well as some free-agent targets that could help them come back stronger than ever.
Key In-House Decisions
Marcus Morris: Bring Him Back
The idea of Morris -- a 6-foot-8 power wing that can shoot, get a mid-post bucket, hang in space defensively in a pinch and jostle with post brutes on the block -- is a bit better than the reality. His Knicks sample proved to be anomalous, though he was mostly fine in his Clippers stint, particularly in the bubble.
In short, you typically don't give up a first-round pick for a guy you're going to let walk at the end of the season. You especially don't do that if said guy gives you the lineup flexibility that Morris does.
Montrezl Harrell: Let Him Walk
Make no mistake: Harrell is a good player, one worthy of getting a nice pay day this offseason. The reigning Sixth Man of the Year is a rugged roller with enough paint craft to navigate around larger centers. He's quietly improved his activity rate as a rim protector over the past few seasons, which has helped make him a viable closing option in small-ball lineups... during the regular season.
It's hard to reckon with what we just saw from Harrell in the bubble. There were off-court circumstances that affected his play, and those shouldn't be completely ignored. On the court, he just doesn't have the size or ability to navigate space to hold water defensively. Running pick-and-rolls at him and Lou Williams remains a built-in way for enemies to generate good looks.
While Harrell is good on balance, it's hard to justify giving him, say, the $15 million per year that his numbers may indicate he deserves. There are a few bigs in this year's free agency class that can replicate most of his pick-and-roll value (more on that later!) without being a liability defensively. If the market is tighter than expected, maybe there's a number that makes sense for both sides. If not...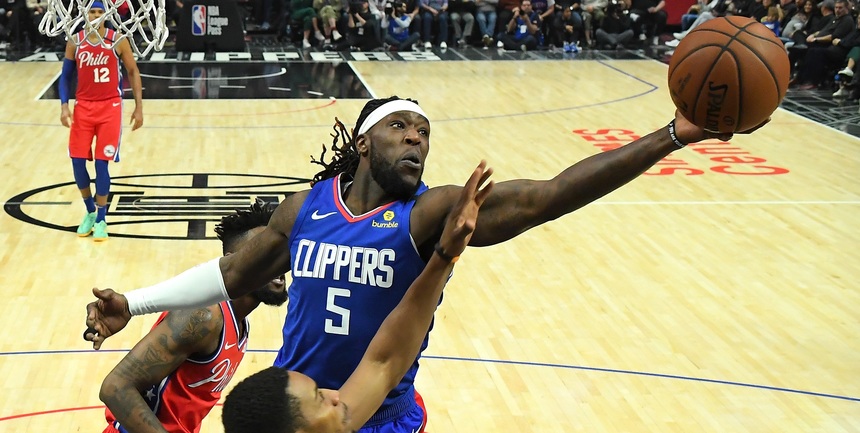 JaMychal Green*: Bring Him Back
It's hard to imagine Green will turn down his player option worth a hair over $5 million, but the Clippers should bring him back if he does. He's settled in as a stretch big now, with roughly two-thirds of his shots coming from beyond the arc. He's converted 38 percent of his triples over the past four seasons and 39.4 percent on increased volume over the last two. He holds his own as a post defender, which makes him an interesting small-ball 5 option late in games.
(He probably should've played more during the Nuggets series, Doc!)
Reggie Jackson: Circle Back Later
Jackson's snapshot moment of the postseason was an unfortunate one: getting sauced before having a near 40-foot stepback three dropped over his head from Luka Doncic to cap off a 43-17-13 masterpiece. He shouldn't have been in to begin with considering he was picked on and attacked mercilessly in pick-and-roll in the second half and overtime of that game, but hey, what can you do about it now?
Jackson is still a smooth operator in pick-and-roll, and actually shot the leather off the ball during his Clippers stint (41.3 percent from deep in the regular season, 53.1 percent in the postseason). I'm not sure either of those numbers are sustainable (the latter definitely isn't), but there's room for Jackson to return as a secondary creator.
Free Agent Guards
Bargains: D.J. Augustin, Tyler Johnson, Austin Rivers
Augustin can fill the table-setter role while occasionally showcasing some underrated pick-and-roll craft. He could also provide off-ball value alongside Leonard and George since he's a career 37.9 percent three-point shooter.
Johnson had a pretty quiet regular-season campaign, kicking things off in Phoenix before finding his way to the Brooklyn Nets mid-season. Johnson performed well in the postseason, averaging a shade under 14 points while unloading the clip from deep (39.3 percent on 7.0 attempts). He's a fearless driver and underrated rebounder; he isn't afraid of mixing it up with bigger players.
Rivers brings a particular brand of energy offensively. He's one of the NBA's underrated drivers, utilizing a quick first step and channeled aggression to generate looks at the rim. He isn't much more than a rudimentary playmaker, but his north-south style would fit with the second unit. He's also a reliable spot-up threat, drilling nearly 38 percent of his catch-and-shoot threes over the past three seasons, according to a source with access to Second Spectrum tracking data.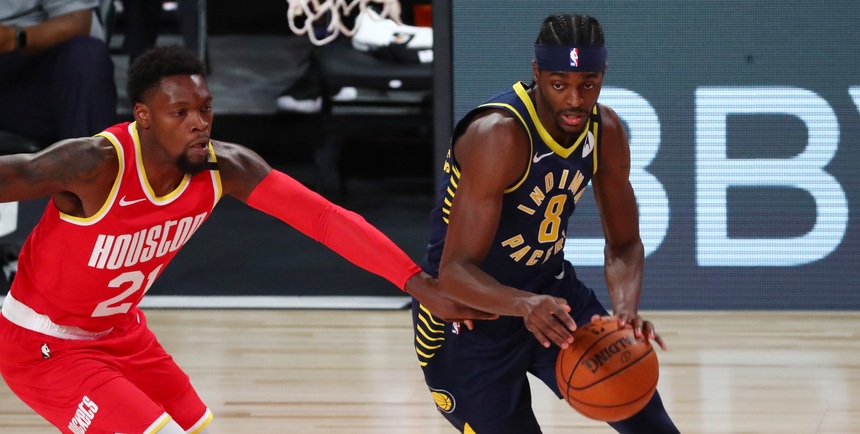 Free Agent Wings
Mid-Tier Options: Justin Holiday
Holiday is more 3-and-Decent than 3-and-D, but he's coming off of the best shooting season of his career (40.5 percent from three-point range on 4.5 attempts) while being a credible option against twos and threes. He'd boost the Clippers' transition attack. His off-ball randomness -- his ability to relocate around the perimeter, or catch ball-watching defenders off guard with hard cuts -- would be a welcome addition to the Clippers' half-court attack.
Bargains: Garrett Temple*
Temple would give the Clippers a plus, multi-positional defender with a solid three-point stroke (35.3 percent over the past five seasons). More importantly, he'd help bring a calming presence to a locker room that, well... let's just say it would've helped last year. The asterisk is present on Temple's name because the Nets hold a $5 million team option on him, though it'd come as no surprise if they let Temple walk to free up tax room to bring back Joe Harris.

Free Agent Forwards
Mid-Tier Options: Danilo Gallinari, Paul Millsap
Well, we've seen this before.
If Gallinari is serious about going the "winning > pay day" route, then he could slot right in as the starting 4-man. He would immediately boost the Clippers' shooting and half-court shot creation. His ability as a downhill creator would be a welcome addition for a team that can get a little pull-up jumper-heavy.
Millsap slipped a bit last season, sometimes laboring while operating as Denver's back-line defender in their aggressive pick-and-roll scheme. Still, he's able to hold his own against power wings and fours -- remember, he actually did a solid job against Anthony Davis in the Western Conference Finals -- and still provides a little bit of everything on offense. He's coming off the best shooting season of his career (43.5 percent from three), though that came on limited volume. He can mash smaller players on the block, and can flow between rolling and popping in pick-and-roll.
Bargains: Lance Thomas, Anthony Tolliver, Luc Mbah a Moute
Thomas has flown under the radar for years as a sneaky-solid forward defender that can knock down open threes. He's converted 38.5 percent of his triples over the past five seasons, though that comes on limited volume. He'd be a solid get as a ninth man to get you through the regular season.
Tolliver is a Professional Good Person whose on-court value comes almost entirely from beyond the arc. You can do a whole lot worse than a career 37.3 percent three-point shooter.
Mbah a Moute has fallen victim to his own body, with injuries derailing his last three seasons. It's probably far-fetched to expect his 2017-18 form, but he could serve as a nice "break-glass-in-case-of-emergency" defender during the season.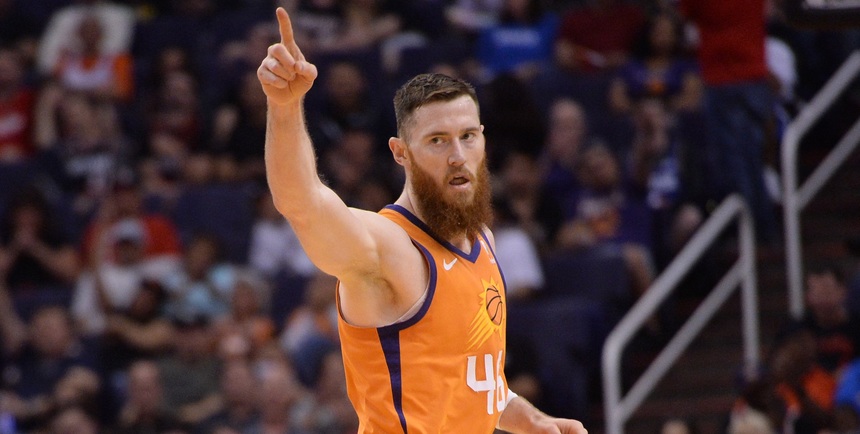 Free Agent Bigs

Mid-Tier Options: Aron Baynes
Factoring in money, it's hard to argue against Baynes being one of the most valuable centers in basketball last season. He did the usual grunt work: set bone-crushing screens as a roller or handoff partner, protected the rim with superb positioning and boxed out well enough to help end possessions or grab the board himself. The new, somewhat surprising twist is that he became a legitimate three-point option (35.1 percent on 4.0 attempts per game).
Ivica Zubac is a fine starter, and that might undersell him at this point. Baynes is still a little better right now, and his spacing above the break could help further open up the offense.
Bargains: Meyers Leonard, JaVale McGee, Harry Giles
Leonard's free-agency value will come down to which version of him from last year teams feel they'll be getting. If it's the regular-season version -- where Leonard helped anchor one of the best starting lineups in the NBA with his shooting (41.4 percent from three), screening and vocal quarterbacking defensively -- then you could argue he should command a portion of the MLE. If it's the postseason version, where Leonard looked out of place defensively and his lack of three-point volume really stood out, the vet minimum could be all he musters.
McGee remains one of the NBA's top lob threats, equipped with solid leaping ability and a silly catch radius. That could make him a natural pick-and-roll partner with Williams, assuming he isn't moved this offseason. McGee uses his wild limbs to putback misses and swat shots on the other end. Fouls and an inability to navigate space limit his ceiling, though he'd only be needed for 12-15 minutes, if that.
Giles has a bit of an injury history, dating back to his high-school days. Multiple lower-body injuries have sapped some of his athleticism, and he's still a fluid, jumpy big who can feast in transition. The intrigue lies in his on-ball skill; he's quietly one of the better passing big men in the league already. There's some serious "throw-it-to-him-in-the-high-post-and-let-him-do-stuff" potential waiting to be untapped. If Ty Lue is more willing to play young guys in the regular season, Giles' playmaking and athleticism could be a sneaky-good addition to the second unit.