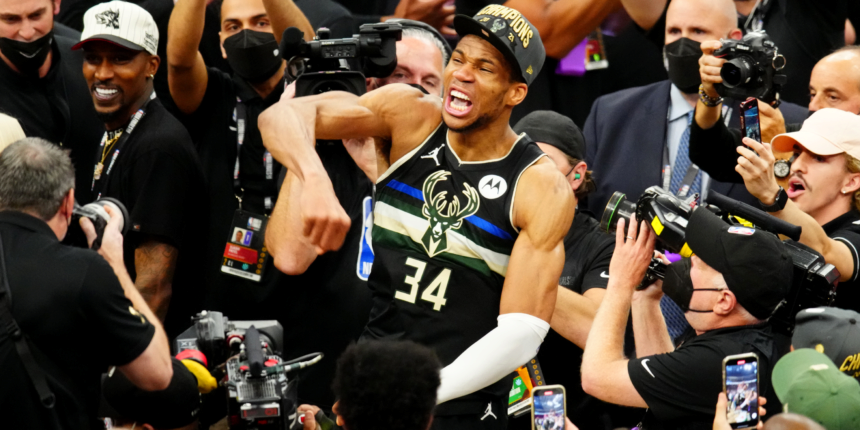 Battle-tested Bucks find redemption from past with NBA championship gold
The Milwaukee Bucks earned the right to be called NBA champions.
Giannis Antetokounmpo could've spurned the organization that drafted him for greener pastures as the national pundits were begging him to do last fall, but he instead stuck with it and signed a super-max contract before the 2020-21 season began. For the first time in what seems like a while, loyalty has been rewarded with gold.
"I just I couldn't leave. There was a job that had to be finished," Giannis said after the Bucks' title win. "The Bubble did not pay us justice. Give credit to the Miami Heat. They played great. But they did not pay us justice. Everybody was feeling homesick. We are a family-oriented team and we wanted to see our families.
"But coming back, I was like, 'This is my city. They trust me. They believe in me. They believe in us.' Even when we lost, the city was still -- went outside and [supported us]. You know, obviously, I wanted to get the job done. But that's my stubborn side. It's easy to go somewhere and go win a championship with somebody else. It's easy. I could go to a super-team and just do my part and win a championship.
"But this is the hard way to do it and this is the way to do it and we did it. F***ing did it. We did it, man."
Milwaukee's franchise face chose to work harder, honing in on his craft as he let Bucks general manager Jon Horst make the appropriate tweaks to the roster in the offseason prior to Giannis signing the dotted line. Horst boldly acquired Jrue Holiday as a part of a massive four-team deal that sent Eric Bledsoe and a boatload of future draft capital to the New Orleans Pelicans and George Hill to the Oklahoma City Thunder, as well as Milwaukee's No. 24 overall pick in 2020 (which became R.J. Hampton).
Horst nearly added Bogdan Bogdanovic to the mix as well via trade, except the NBA nixed that effort when it was learned that talks were being had prior to the moratorium period. Still, the Bucks were able to bring in Bobby Portis and Bryn Forbes (and ironically, Finals opponent Torrey Craig) to bolster the bench bunch, and PJ Tucker and Jeff Teague joined the fray late in the season for a playoff run.
The point is: Milwaukee wasn't resting on its laurels with Giannis' commitment hanging in the balance, and the front office's sense of urgency was felt in a major way. Looking back, both parties have to feel great about how the offseason was handled, especially with so many rumors linking Giannis to different teams and head coach Mike Budenholzer's job potentially being in jeopardy. Vibes surrounding the team, at least on the outside looking in, were pretty negative.
"What Jon Horst has done to put together a team, he's the greatest GM in the league," Budenholzer said. "I'm a little bit biased, but to be his partner, for him to go out and get Jrue Holiday, to have the guts to make that [trade], to recruit guys, to get P.J. Tucker midseason, Bobby Portis in the offseason. Stick with Khris [Middleton], Giannis and Brook [Lopez] and Pat [Connaughton] and these guys, and you go up and down the roster. Jon has done an amazing job.
"Ownership, Marc Lasry, Wes Edens, Jamie Dinan, Mike Fascitelli, they give us what we need. We keep pushing. We try to get better as coaches, players, and here we are [celebrating]. It's special."
Fast forward to now, with a Larry O'Brien trophy to show for withstanding those bumps in the road, and those concerns have vanished. This is a group that weathered a number of storms in multiple ways, so it shouldn't come as a surprise that the Bucks' identity in this 2020-21 postseason was built on resilience and mental toughness.
"As a whole, we used a lot of our failures as experience. We've been in a lot of situations our past years here," Middleton said. "At the beginning of the year, we had a new team, a lot of new rotation guys, different guys step into the starting lineup and we knew it was going to be challenging, but we all said it was going to be worth it to learn and find out how to adjust and figure out what we needed to do in-game to win. We knew it wasn't always going to be pretty, we knew we were going to have to win different styles of ballgames, but that's the type of team you want to be, to throw different guys out there, different lineups out there, because you can't win the same way at this level."
"It took time. You could see it," Tucker added. "Everything kind of got -- Coach has to play it the right way. It's got to flow. And mind you, we didn't have Donte [DiVincenzo]. We're missing a big piece. Donte would have been huge for this series, especially a big series. But all that mattered. Even throughout the process, me, I got hurt early and being out. It was a lot of obstacles throughout the season. So it wasn't just like, Oh, we can win it. It's like, Oh, we got a really good team, we got a strong team, we got a chance. But I think honestly, after the Brooklyn series, it was like, All right, we here now. Ain't no need -- we here, we got to go for it. This is it, fellas; this is it. So everybody bought in.
Aside from a payback thrashing of the Miami Heat in the first round, Milwaukee's back was against the wall in every series the team played in. There were 0-2 deficits and inconsistencies in performances. Donte DiVincenzo was lost three games into the playoffs. There was even a nearly-devastating knee injury to Giannis in the Eastern Conference Finals when the outcome was far from determined. Though there were so many instances when the Bucks could've thrown in the towel, they refused to.
"We were down 0-2 against Brooklyn and came together as a group within our film session and talked it out. We all wanted to be on the same page and realized how we needed to play and what we needed to do. It was the same thing in this series," Middleton said. "We never got down, we're still playing, we still have a chance. That's the way we felt, no matter if we were down in the game or the series, it didn't matter. We knew each time we took the court we had a chance to win. And we have everybody in the locker room and organization that believes and that is never going to give up until it's completely over. That's who you want to play with, guys who are going to fight to the end."
"It's incredible. It's a testament to the team," Lopez said. "I'm a team guy. I've always been a team guy. And so you know, like I was saying earlier, it's something that all our guys deserve, and to see them persevere, we went 0-2 against Brooklyn, 0-1 against Atlanta and 0-2 to open the series against the Suns, and to see our guys fight back and make adjustments and keep that belief in one another, that's special and not something you get with everything team. I've seen that through my 13 years in the league that this team is absolutely one of a kind and I am just fortunate and pleased to be part of that."
Giannis persevered through his knee setback, ensuring he did everything in his power to ready himself for the Finals after the Game 4 injury occured in Atlanta nine days beforehand. The Finals opener definitely showed that the Greek Freak wasn't 100%; it didn't stop him from progressing with each night, and Giannis imposed his will in every game from there on out.
It's almost like the injury slowed things down for him mentally, and he was able to process the game more naturally as a result. He was at his best when off the ball and used as a screener in the halfcourt, and when coming full speed like a locomotive in transition. Giannis understood when the time was right to use his size on the block and didn't force the issue quite as much as he did in previous series. His decisiveness was arguably the best we've seen since he's been in the league, quickly swinging the ball without bogged-down possessions and spraying it around to his teammates on drives to the rim. And if he ever received the ball in the vicinity of the rim, it was curtains for anybody that tried to stop him.
That's just the offense. As a help defender, Giannis wasn't outdone by a single soul. He didn't shy away from crunch time, making his biggest impacts when the lights shone the brightest. Instinctually, he was superb, racking up deflections and starting Milwaukee's fastbreaks on the regular. He bodied up Deandre Ayton inside, and challenged Devin Booker and Chris Paul on switches when needed. That goes without mentioning how he erased a plethora of shots at their apex and hustled back on transition defense with every possession the Suns had numbers. All-around, he was just magnificent, and it was a 120% effort from somebody who wasn't 100%.
"I think he embraces us being great defensively. Giannis does, the whole team," Budenholzer said. "When we get stops and get out and run and get Giannis in space, get our team in space, I think he's special. He was able to put his stamp on the game in the third quarter and flip the score. And then some big plays in the fourth quarter -- big plays, big blocks. It's hard to keep finding words for Giannis."
Giannis' journey throughout the playoffs culminated with an iconic showing in the Game 6 series finale, a 50-point, 14-rebound, 5-block signature performance to send Milwaukee to the promised land and earn himself the Finals MVP award. The Greek Freak joined Shaquille O'Neal as the only other player in NBA history to record three 40-point, 10-rebound games in a Finals series.
Giannis EXPLODES for 33 of his 50 points in the 2nd half of Game 6, fueling the @Bucks Taco Bell Comeback en route to their first NBA Championship in 50 years!

50 PTS
14 REB
5 BLK
17-19 FTM pic.twitter.com/qDbk0nHWeb

— NBA (@NBA) July 21, 2021
"I don't know how many words you need to use beyond 50 points in a close out game in an NBA Finals. Pretty much sums it all up," Lopez said. "It's so indicative of who Giannis is as a player, as a person. He had to -- he has that mindset always to just take care of business and he's been our leader throughout my time. To have him as a focal point of everything we do and the way he goes about it, it's just contagious with the whole team, and he's so impressive night-in and night-out.
"This is stuff you don't want to take for granted. But that's Giannis. That's what he does, and it's just, I mean, completely aTwe-inspiring. His performance tonight, this whole series, this whole year, there's no words for that. You've just got to look at the numbers."
Khris Middleton had some mind-bogglingly off nights, as did Holiday, but there was never a question of what kind of effort they'd bring on the defensive side of the ball. And the thing is, they'd always bounce back in some way, shape or fashion. (Care to discuss the shots down the stretch in Game 7 in Brooklyn? Or the last two games of the East Finals without Giannis?)
For Middleton, he showed up when it counted most with the team in desperation mode. He was an excellent facilitator and pull-up magician, unafraid to take shots with a high degree of difficulty. There was an inherent clutch factor about his handy work as well, always seeming to come up huge in money time. As a lead handler and savant in the pick-and-roll, when Middleton turned the corner, it forced the opposition to make a swift choice to contest or stick with the roller -- oftentimes a lose-lose situation.
Yes, Holiday had head-scratching issues with finishing his layups, but he had plenty of gems as a pull-up three-baller and on-point dime man. There were just night-and-day occasions; you could tell the games he was "on" and the ones where he was way off. In spite of that, however, Holiday entirely flipped the momentum of the Finals with his defense on Chris Paul.
CP3 was a man possessed in Game 1 and Game 2, having his way with Milwaukee's bigs out on the perimeter and then adjusting to the extra attention that followed by involving his teammates. It didn't last long. Holiday started to pick up Paul from 94 feet starting in Game 2, and from that point on, everything changed. The former started to notice fatigue settling in, as he himself was exhausted. Holiday had Paul out of sorts, with the 36-year-old struggling with shot selection and offensive rhythm. Had it not been for that increased intensity, who knows where these Finals could've gone?
"I think when it comes down to it, man, I guess I don't really even care what people think about my game. I think it's about the team. We have a great team," Holiday said. "How they put it together, we have two superstars who carried us this whole playoff series and the whole playoffs. We got great role players. We got the energy. We got Bobby. We got shooters. It's a great puzzle. I think every piece in that puzzle has contributed so much -- from Jordan Nwora to Giannis Antetokounmpo. So, it's been a heck of a journey."
We'd be remiss to not mention the top to bottom contributions this team had on this run. Tucker injected the Bucks with grit and hustle, never backing down from a challenge no matter who it was. Pat Connaughton sunk a ton of critical threes, chased down 50-50 balls and rebounded his heart out. Bobby Portis fed off the Fiserv Forum's energy and channeled it into incredible, momentum-shifting production on the offensive glass and from long distance (and stepped up again in a huge way in Game 6). Brook Lopez had his role change with different matchups, but utilized his perimeter shooting and rim protection when the squad needed it; let's not forget the turn-the-clock-back post performance he had in Game 5 of the East Finals, either. Bryn Forbes played the role of a human torch in the Miami series. Just about everybody who was in the rotation, at some point of the postseason, contributed to this Finals victory.
"That's just the character of the team that we have. You know, it's the group of guys that make up the Milwaukee Bucks and not just the players but the coaches, the management, the ownership," Connaughton said. "At the end of the day, the guys that have been here for three years, we've had a taste of it, of what it looks like in the regular season, Brook and I's first year where he got a look at what it was like to get to the Eastern Conference Finals and take a lead, but some of the adversity from a four or five [game] losing [streak] we had in regular season to losing some games, the character of the team never wavered. We came together stronger and had each other's backs more and that's what makes up a championship-caliber roster and team and that's what wins you a championship.
"That is what made us better is just the character of the guys, the characters of guys like Brook, the characters of guys like P.J. and Bobby and guys that they don't really care what it looks like on the stats sheet. They just want to make winning plays. They want to be out playing and putting ourselves in the best position to win."
With a microscope on him, the oft-criticized Budenholzer showed a willingness to adapt and experiment throughout the season at the expense of a record. In the playoffs, he rode his best players and played them heavy minutes. Albeit sometimes at the last minute or in do-or-die time, there were adjustments made -- rotationally and schematically. For that, despite outcries to the contrary, Coach Bud deserves his own share of credit as well, in addition to his entire staff that's been by his side from day one.
There were countless amount of questions asked of the Bucks during the Finals about 2019, the furthest the franchise got in the postseason when it reached the Eastern Conference Finals against the Toronto Raptors. They were the ones who were up 2-0 and in the driver's seat before losing the eventual title-winners.
Giannis learned from that experience. Middleton learned from that experience. Budenholzer did, too, which is why those were the three with the strongest embrace when the buzzer sounded on Tuesday night.
"It's special for me to get the opportunity to coach those two guys," Budenholzer said. "The leadership they have shown since day one, from having breakfast together, you can see their desire to be great and their desire to push this organization to where we are tonight. To embrace those guys, and I love them. I love the players, I love the roster, I love the team. I'm incredibly fortunate to be where I am and just to be a small part of what's happening."
"There is nobody in this world I'd rather do this journey with than that guy." - Giannis on Khris Middleton#NBAFinals presented by YouTube TV pic.twitter.com/5cMBAZlX4p

— NBA (@NBA) July 21, 2021
"I love Khris to death, man. I love him to death, man. It's crazy," Giannis said. "He doesn't realize how much he pushes me to be great. He pushes me to be great. I had people push me to be great and be persistent and just be dominant and just keep coming and keep working hard. He's one of those guys. You know, there was nobody in this world that I would rather do this journey with than that guy. He's been here since the beginning. He's been since the day since we were fighting for some minutes. He was yelling to me when I was 18. He was yelling to me to pass the ball and everything. We were fighting on the court when we were kids, and now we're on this stage doing it together.
"We have to enjoy this moment. We have to share this moment. Maybe we might not have another moment like this. Who knows, we can't predict the future. But we have to live in the moment, enjoy this moment. I hope Khris enjoys it with his family. And he played amazing throughout the whole playoffs, man. He led us when I was down. He gave me a chance to come back. But once we're done enjoying this, we got to get back to work. We got to do it again. That's how me and Khris operate."
"We formed a bond, a brotherhood since that first year we've been together. We struggled. We struggled together. But we both saw in each other there was no give-up," Middleton said. "It was all motivation to be better and not be embarrassed. Year after year we challenged each other to be better. Challenged each other to be better leaders, better teammates... It was all worth it for sure. Us challenging each other to be better, me being stubborn in some ways. But the thing I like, he challenged us all. I think we challenged him in certain ways to help us, but for the main part, he challenged us every day to be leaders, to fight through adversity, to change our games a little bit. It's all worth it."
In 2021, the Bucks reversed their role, and because of that, they are the last team standing.
NBA champions.