Duke head coach Mike Krzyzewski recently announced that he will retire following the 2021-22 season, going out on top as the winningest coach in Division I men's basketball history.
Over his 46 years as a head coach, Coach K lead Duke to five NCAA championships and accumulated a 1170-361 record (giving him a winning percentage of .764). He's also coached Team USA to five Olympic gold medals -- three as the head coach and two as an assistant. He'll undoubtedly go down as one of the greatest coaches in the history of the game.
Coach K will hand the program's reins to Jon Scheyer, who played for Duke from 2006-2010 and has been an assistant coach under Krzyzewski since 2014 (and he's been the Blue Devils' associate head coach for the last four years). Scheyer is known as a terrific recruiter, and he's reportedly a big reason why Duke landed Jayson Tatum, Cam Reddish, Luke Kennard and incoming five-star recruit Paolo Banchero, among others.
Scheyer, who has never been a head coach before, will obviously have big shoes to fill. Fortunately, he'll have a good support system around him, including Duke's current assistant coaches, Nolan Smith and Chris Carrawell.
Like Scheyer, Smith spent four years playing for Krzyzewski (from 2007-2011), leading Duke to an NCAA championship in 2011 and becoming a consensus First Team All-American. After a five-year playing career in the NBA and overseas, Smith joined Coach K's staff as a special assistant in 2016. Then, he became Duke's director of basketball operations and player development in 2018. The 32-year-old was promoted to assistant coach in April of 2021.
Carrawell also played under Krzyzewski for four seasons, then he played overseas from 2000-2007. In 2011, he got his start as a coach with the Springfield Armor of the NBA D-League, then spent four years at Marquette before ultimately joining Coach K's staff in 2018.
BasketballNews.com caught up with Nolan Smith to discuss Coach K's decision to retire, his legacy, the succession plan, what fans can expect from Scheyer, expectations for the upcoming season and much more.
Take me behind the scenes of how this all went down. Was this decision and succession plan something that Coach K had been discussing for a while?
Nolan Smith: "Yeah. It definitely wasn't a quick thing. Coach obviously had to come to the decision that he ended up coming to and that took time. For him, he has such a passion and love for this game; it's something that he's been doing for 40-plus years, so it wasn't a quick decision. It's something that he had to talk over with his wife and family. And then, he brought it to our attention that this was going to be his last year. Obviously, we were all in great support of that. When a legend says 'it's time,' then it's time. Going from there, we just sat down and started having many conversations about who Coach felt should become the next head coach. Obviously there were a lot of candidates, but we were talking and trying to figure out what would be the smoothest and easiest transition for the program, and ultimately Coach ended up going with Coach Jon Scheyer. Obviously, myself and Chris Carrawell were really excited about that, and we knew that we were going to be a part of all this as well, so we were like, 'Let's go!'"
When did you guys start talking about this possibility?
Smith: "It started right around when our season ended, probably right around March. But then it probably started [to get] for real in about April."
How would you describe Coach K's legacy and how he'll be remembered as a coach?
Smith: "His legacy comes down to winning. He consistently won in four different decades; that right there is unheard of. There are so many big-time coaches that have been in this game, but a lot of them most likely [won] in one or two decades. Not many have gotten to four decades and had the continued success that he's had. I think another part of that legacy is that he's created these relationships with players over and over again, so players continually wanted to play with Coach K. A lot of coaches get old; he never got old, he's still not old. Even heading into his last season, he stays up-to-date, he's adjusted to the times and he's adjusted to the game. I think that right there is part of his legacy, the fact that he's been able to change with the times of this game and not let it pass him up."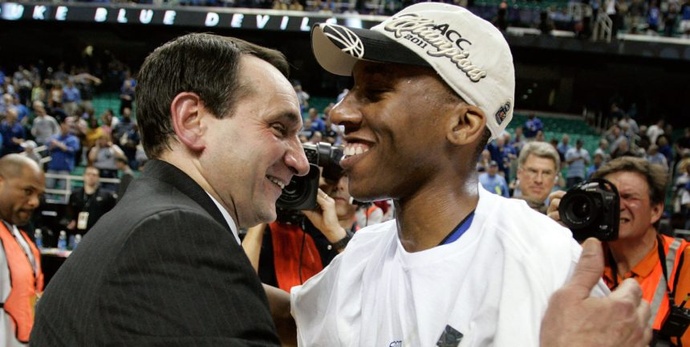 You played for Coach K and now you've spent a lot of time with him as a member of his coaching. What kind of impact has Coach K had on you?
Smith: "He's helped me tremendously in so many different ways. First, I'll start with basketball; he helped me be the best basketball player that I could be. The way he challenged me every day, the way he taught me to prepare every single day, how to approach the game every single day -- those were all lessons that helped me as a player. A lot of those lessons ended up helping me when I transitioned into my coaching career, too. All of those lessons that he was teaching are things that he does as a coach: he prepares better than anybody, he puts the time in, he watches film and he dedicates himself fully to his craft as a coach. That's probably something that a lot of people don't know about coaches: you put that same time in. And Coach puts in more time than anybody when it comes to his craft. Just being able to watch him and take notes... I've made sure to have a notepad and a pen in every single meeting with him because he's always going to give you some kind of gem, some kind of lesson, that I can take with me and use in my coaching career when I deal with my players and, one day, have my own program."
This will be Krzyzewski's final season, so what will this upcoming year look like? Will he gradually pass the torch to Coach Scheyer? What can he do throughout this upcoming season to make sure Coach Scheyer is prepared?
Smith: "No, I think this year, he's going to go out in the only way that he knows how to, and that's running this program like it's his first year -- not like it's his last. (laughs) I think he's gonna be so fired up, especially coming out of COVID since he's coming off of a year where he couldn't really be close to our guys. Because of his age and COVID, he couldn't really build those relationships like he's used to doing, so I think he's going to be very hands-on; he might even try to break out a crossover or two this year. (laughs) I think that's how excited he's going to be heading into this season. But every year, he gives us assistants -- and obviously Coach Scheyer -- so much power to speak up when we need to speak up and run a certain drill… I mean, we've been doing that, so nothing like that will change. But Coach K is going to be Coach K all year long."
For people who may not be as familiar with Coach Jon Scheyer, how would you describe who he is as a coach?
Smith: "First of all, as a coach, he's a competitor. He's a great competitor and he wants to win. Secondly, offensively, he's a genius when it comes to offensive sets. I've sat in his offense [meetings] many days and gone over offense, and I've just sat there in awe of stuff that he comes up with. He studies it all the time, so he's going to have an offensive playbook that's masterful. I think that's going to be an area where people are gonna be like, 'Wow, he's pretty good.' (laughs) The third thing is relationships. I think he's really good at creating relationships with players and keeping them, and making sure that players are going to want to play hard for him. I think in today's college-basketball landscape, that's almost half the battle. And I think he's going to be able to do that, getting guys to want to play hard for him and stick around."
Duke has been so good at keeping alumni involved and maintaining strong relationships with former players. It's sort of like a fraternity of guys who have played for Coach K. How will you ensure that continues even after Coach K is gone?
Smith: "I think we'll continue to do some of the things that we've always done. I hope K Academy -- Coach K's fantasy camps -- keep going because those are obviously like family reunions for us. All of us are young: I'm 32, Coach Scheyer is 33 and Coach Carrawell is 43, so we're a very young staff and we're going to have to get creative in how we do things. We might have to do some retreats and invite guys from the brotherhood out and just have a nice little hang-out session with all of the generations of the brotherhood. We already all have great relationships -- from Gene Banks to Grant Hill to Christian Laettner. We have really good relationships with all of those guys, so we'll continue to build those and make sure they know that we need them more than ever now, to make sure this thing stays strong and stays exactly where we're at. We don't want to take a dip, by any means; we want to keep this thing rolling strong right away."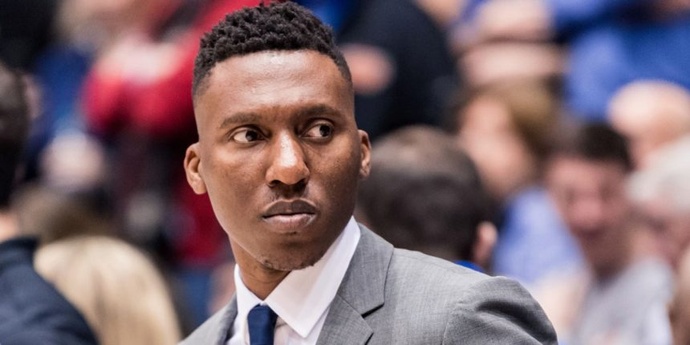 Are there certain advantages that come with being a younger coaching staff? Coach K has been able to do an amazing job as an older head coach, but when you have a staff that's much closer in age to the players, could that give you an edge?
Smith: "I think the advantage is really simple: A lot of these guys that are coming up that want to get into the college game want to be NBA players, and they just finished watching Coach Scheyer and myself doing it (in 2010 and 2011). They probably didn't see Coach C-Well, but he's still young enough that you can probably pull some clips of him and they can see that he can do it too. This generation loves to see what you've done, so I think that's the beauty of it. And we can still get out there and show them every now and then, too. I think that's always a good thing. Using that youth to our advantage and showing our guys more so then we tell them, I think that's definitely an advantage that we have and that we've gotta utilize."
If you're able to win a championship and help Coach K go out on top, what would that mean to you guys?
Smith: "Oh man, that would be a storybook ending. If you look at the history of sports, that's rare. You look at Kobe's last game, but even that wasn't in the Finals. If Michael Jordan had ended it with 'The Shot' over Utah, he would've had the storybook ending, but he decided to come back and therefore, he didn't have the storybook ending. We're now in position to do that; we're excited about it, we're really fired up about it. Our players are going to [be aware] of that, and I think it puts us in a very unique position to work toward that goal. We know it's not going to be easy, we're going to get every team's greatest shot -- not even just their best shot, we're going to get every team's greatest shot every single night. Night-in and night-out, we'll be prepared for that. If we are able to send Coach out on that note, that's going to be legendary."
What are your thoughts on the 2021-22 team? What do Duke fans have to look forward to this season?
Smith: "I think this year, we have a great mix. We have guys back from last year -- Jeremy Roach, Joey Baker, Wendell Moore, Mark Williams... Having those guys returning, two of those guys (Joey and Wendell) haven't been to the tournament two years in a row due to COVID, and then Jeremy and Mark also haven't been to the tournament because of COVID. Those four guys right there should be very fired up about this season. So, you have those returning guys who are mixed in with the young group of [incoming] guys that are very talented like Paolo Banchero, Trevor Keels, AJ Griffin, Jaylen Blakes and that class. And then we added [transfers] Theo John and Bates Jones, some older guys to bring some leadership to our squad. I think we have the perfect mix of ingredients to put us where we want to be come April. That's definitely what excites us."
This was a difficult year for everyone. But dealing with COVID and having to make some hard decisions, how tough was this past season for the program?
Smith: "It was very tough. I think the main thing was that we didn't have any fans all year long, so it put all of us in a position -- especially our players -- where every game almost didn't feel real. When we were on the road, obviously we had fans. But at home, every single game felt like a scrimmage -- and a closed scrimmage at that. On top of that, our players couldn't even see their parents all year long, and they had no interaction with the student body or really anybody other than the team. From just a mental standpoint for our guys, I feel for them. I can't imagine if that's how my senior year went, when I was back in school in 2011. If that was the case, would I have accomplished what I accomplished during my senior year? I salute all of the student-athletes this year who had to go through it because it was different. But next year, Cameron Indoor Stadium, with the Cameron Crazies, [will be back]. We're hearing that it's going to be back to normal by then, so we're excited to have our fans back and have that place back rocking for Coach K's last year."