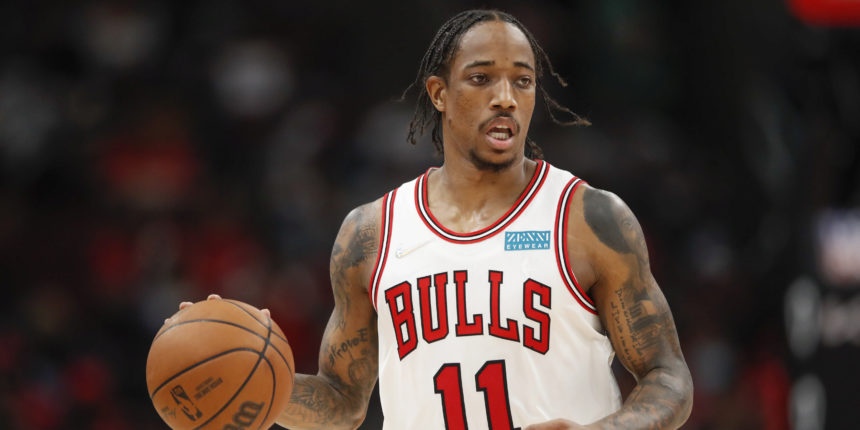 DeMar DeRozan says he nearly joined Lakers, thought it was 'done deal'
Last night, DeMar DeRozan had a monster 38-point, 6-assist, 3-rebound, 1-block and 1-steal performance in the Chicago Bulls' 121-103 win over the Los Angeles Lakers. Not only was this an impressive homecoming for DeRozan, it was also an opportunity for the California native to show the Lakers what they're missing out on after they passed on acquiring the four-time All-Star last offseason.
After the game, DeRozan revealed just how close he came to donning the purple and gold. Back in August, the Lakers were engaged in serious sign-and-trade talks with the San Antonio Spurs and things seemed to be progressing. However, the deal ultimately died when the Lakers shifted their focus to Russell Westbrook and decided to trade with the Washington Wizards instead.
"I felt like going to the Lakers was a done deal and that we were going to figure it out. I was going to come home," DeRozan told Yahoo Sports' Chris Haynes. "The business side of things just didn't work out. A couple of things didn't align. It didn't work out. It's just part of the business, part of the game. My next option was definitely Chicago. So, looking back at it, it worked out well."
The Lakers may be kicking themselves over that decision, as DeRozan has been fantastic for the 10-4 Bulls — averaging 26.9 points, 5.4 rebounds and 4.1 assists on 51.0/37.1/87.3 shooting splits.
Meanwhile, Westbrook has struggled for the 8-7 Lakers, contributing 19.4 points, 8.7 rebounds, 8.3 assists, 1.3 steals and a league-high 5.3 turnovers on mediocre 42.7/29.2/68.5 shooting splits.
The Lakers brass acknowledged that DeRozan was likely the better fit alongside LeBron James and Anthony Davis, but they reportedly couldn't pass on the chance to add a talent like Westbrook. At the end of the day, Haynes says "there weren't enough key backers of DeRozan."
DeRozan says there are no hard feelings and he understands why the Lakers prioritized the former MVP.
"Russ is a Hall-of-Fame player; it's hard to turn down that caliber of player," DeRozan told Yahoo Sports. "I can't speak for the Lakers, but they went with what they felt was best for them. And all due respect to them. No hard feelings. No animosity, but I just look at it as part of the game. A deal is never done until it's done. I learned that. It just didn't work out. I'm just happy I'm in Chicago."
To acquire Westbrook, the Lakers dealt Kyle Kuzma, Montrezl Harrell, Kentavious Caldwell-Pope, a first-rounder and two second-rounders to Washington. It's unclear if Los Angeles would've had to part with the same package (or something similar) to acquire DeRozan from San Antonio.
Westbrook's contract is much worse than DeRozan's, as the 33-year-old is earning $44,211,146 this year and has a $47,063,478 player option for next year — whereas DeRozan is making $26,000,000 this season, followed by $27,300,000 and $28,600,000 over the next two years.
Had the Lakers completed the sign-and-trade for DeRozan, perhaps they could've used some of the money they saved to re-sign Alex Caruso (who wanted to re-sign with Los Angeles at a discount but ultimately left to join Bulls alongside DeRozan).
During DeRozan's free agency, the Los Angeles Clippers also surfaced as a potential suitor, but they didn't have enough salary-cap space to compete with the Bulls' three-year, $85 million offer.
"Both L.A. teams were definitely a big possibility for me," DeRozan said. "[The Clippers] didn't have much, but it was a conversation that was brought up and it didn't get as far as the Lakers' situation."
Considering how great DeRozan and the Bulls have looked thus far, perhaps the Lakers' decision to prioritize Westbrook was a blessing in disguise for the 32-year-old.