"Eight Mile Rock solid." That's what I said of the Bahamian-born Buddy Hield.
Selected with the sixth overall pick of the 2016 NBA Draft, Hield immediately became the torchbearer for an entire generation of Caribbean-born basketball players who long dreamed of translating their dominance on the track to the hardwood.
Although scores of first-generation Caribbean players had found stardom in the United States and in Canada, Caribbean nationals have seldom found success in the NBA, much less as lottery picks.
That is, until Hield. Hailing from a town called Eight Mile Rock in the Bahamas, Hield's hope was that scores of others would take the baton from him and sprint toward the winning post.
Deandre Ayton has.
Ayton's basketball story is one littered with the exact same obstacles and blessings as his fellow countryman who was drafted two years before him. But as a key member of the Western Conference Champion Phoenix Suns, he's experienced a higher level of success.
Ayton was selected with the first overall pick in the 2018 NBA Draft. To some, he may have seemed like just another big man in a long line of those selected first overall, but the Caribbean-born Ayton's selection became a beacon of hope not only for the Bahamas, but for the Caribbean at large. The region is still relatively untapped, though the NBA has slowly begun to come around to the fact that the area is a basketball-talent goldmine.
At Barclays Center on the night of the 2018 NBA Draft, dozens of Ayton's friends and family were in attendance, as were throngs of media from his native Bahamas. And when we eventually sat down for a one-on-one conversation, Ayton's messaging to me was clear…
I'm not the best of us. And I hope to open the door for the entire Caribbean community.
As the Phoenix Suns arrive on the precipice of their first-ever NBA Championship, that mission is far from accomplished, but it's safe to say that Ayton has done all that he can to ensure that the well-kept secret gets out.
"There's a lot of them," Ayton told me in 2018 when asked about other talented players in the Caribbean.
"Yeah, there's a lot, especially in basketball. Guys just need the opportunities."
With Chris Paul and Devin Booker helping to show him the way, Ayton has made the most of his. He enters Game 5 of the 2021 NBA Finals averaging 15.8 points, 12.2 rebounds and 1.0 block while shooting 68.1% from the field during the 2021 postseason — his first playoff appearance and coming-out party.
It's safe to say that Phoenix probably wouldn't be in this position without Ayton's efforts. Paul and Booker have said as much.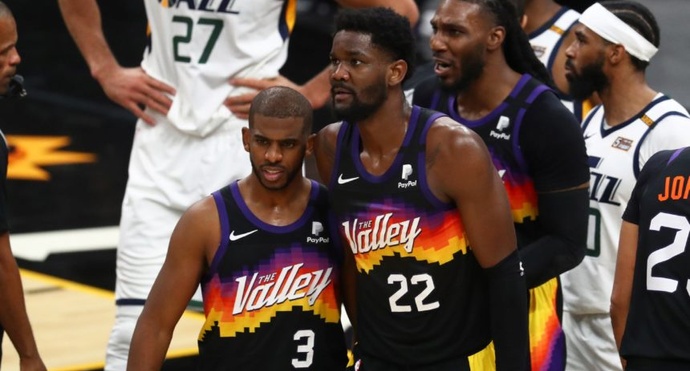 Looking back on our sitdown in 2018, it's difficult to ignore his messaging and his motivation.
"I think it was in the pre-draft, when they were doing the lottery for the teams, I was saying 'Hey, you know, there's times where I just wanna go back and not have people have to leave the Caribbean to exceed their goals," he said back then.
And since then, he's quietly dedicated himself to bringing attention down to the Antilles — the same attention that eluded him for far too long.
One of the major turning points for him, he recalled, was attending the Basketball Without Borders camp in Toronto in 2016. There, aside from receiving instruction and inspiration from Yao Ming, he rubbed shoulders with the likes of Shai Gilgeous-Alexander, Rui Hachimura, Frank Ntilikina, Thon Maker and others. The neophytes all hoped to make it in the NBA. Some have succeeded, many haven't.
Nonetheless, the experience opened Ayton's eyes, in a number of ways.
"I met Yao Ming, that was the exciting part of it," Ayton recalled in 2018. "I played with different players, you had kids my age, 14, 15, that were playing pro and you know their IQ and the way how they handle themselves was way more mature, and you wanna be mature too. If a kid is your age and you see his swag on and off the floor, being around players helps you develop, so I just fed off of them."
From then to now — in just three short years — he's come pretty far.
The road from Nassau, Bahamas to the NBA Finals has been long, but it has been as inspiring for those coming behind Ayton as it's been fulfilling for him.
"As a foreigner, it's not gonna be easy," Ayton said of the journey. "There's a lot of trials and tribulations, you just gotta keep pushing… If you really wanna succeed in your craft, you will be successful."
Ayton recalled some of the struggles he encountered along the way, and as he looked forward to becoming a force in the league, he looked back at them with a smile.
"It's not easy… Especially if you're coming out the Bahamas young," Ayton said. "People mess with your accent, there's all types of trolls around you, and if you're not good starting out, people are gonna doubt you and put you down."
He encountered the doubters. He heard people question his desire to be great and whether he could help anchor a championship contender. Those questions have now been answered. Emphatically.
"You just gotta find some type of motivation that can give you an outlet and just have you keep going. Basketball is my outlet, so when I'm not in [a good] mood, I just play basketball. It's something to do to get your mind off of [negative] things," he said back then.
For those who have been around Ayton from the beginning, his growth has been appreciable. And with the arrival of Chris Paul, he has the opportunity to play with a point guard who has a long legacy of maximizing and effectively utilizing his big man. Ayton now joins a long list of big men that includes David West, Tyson Chandler, Emeka Okafor, Blake Griffin, DeAndre Jordan and Clint Capela — all of whom enjoyed some of their most productive years playing alongside the Point God.
In a league where guards dominate the ball more than ever, perhaps we all now realize what's been missing for Ayton — someone who can effectively and consistently set the table.
In his own right, though, Ayton has developed the skills necessary for a big man who wishes to succeed in today's NBA, which embraces switching on the defensive end and floor-spacing on offense. He's unusually quick and nimble for a man his size and is a better-than-advertised midrange shooter.
As he enters next season — the final year of his rookie contract — win or lose in these Finals, the Suns will have an important decision to make with respect to the investment they wish to make in the big man.
Ayton, to his credit, has made it a rather easy decision.
Nonetheless, as he approaches stardom in the NBA as well as the most elusive goal, a championship, through it all, he hasn't forgotten where it all began — on an outdoor court in Nassau.
Dreaming of becoming one of the few Caribbean-born NBA champions, Ayton's journey is really just beginning.
Already having traveled pretty far — in a number of ways — that's perhaps what's most inspiring.