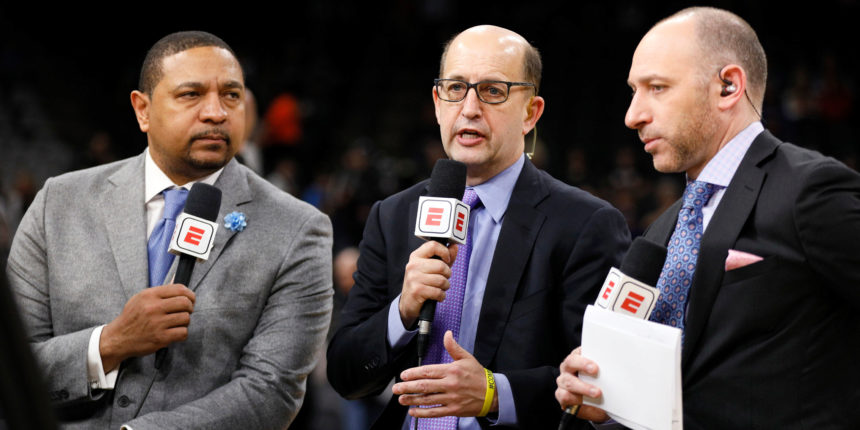 Channeling Jeff Van Gundy while making NBA Finals MVP wagers
MONTVALE, N.J. – When tossing $40 down the legalized gambling sinkhole (or not), this columnist decided to channel one of ABC commentator Jeff Van Gundy's most prescient thoughts from back in the day.
"How about we only pay players if they win?" Van Gundy proposed, half-seriously and half tongue-in-cheek back when he was in his second season coaching the New York Knicks. "If you don't win, you don't get paid."
Van Gundy had a thing for players who are driven to succeed, along with a distaste for players who were more about money than they were about grit. It was something taught to him by his one-time mentor, Pat Riley, and it's something Van Gundy passed along to his assistants, including Tom Thibodeau and Steve Clifford.
Right now in the NBA playoffs, nobody quite matches Joel Embiid of the Philadelphia 76ers when it comes to "championship-or-bust" mode. Embiid had his "worst" game of the Philadelphia-Atlanta series last night with 27 points, nine rebounds, eight assists and three blocks in the 76ers' 127-111 victory over the Hawks in Game 3 of their Eastern Conference Semifinal series. With Finals MVP odds of 8-1, a wager of $10 was placed. If it hits, the one-and-a-half tanks of gasoline will be pumped courtesy of William Hill in appreciation of the coaching job Doc Rivers has done.
But the thought here is that the Sixers will not win the NBA Finals because they are not the best team. Heck, they are not even the best team in the East if the Brooklyn Nets are at full strength. But with James Harden's hamstring being a monumental question mark, it is an open question as to whether they will be able to get past the Sixers in the next round (if they both get there). The Nets still have to get past the Milwaukee Bucks, which is no longer a lock even though it seems a likelihood.
From my perspective, the Utah Jazz are the team to beat, and Donovan Mitchell is the most likely Finals MVP. But Mitchell's odds are only +320, which would barely cover the cost of the toll on the Mario Cuomo Bridge that many New Yorkers must cross if they choose to wager at the nearby intersection of the New York/New Jersey border. (Gambling is not yet legal in New York, but the framework of the legalization law has already been passed by the state legislature in Albany.)
So if the Jazz MVP is not Mitchell, who are the most likely candidates from Utah? Who's the best bet?
There are several, and Ruby Gobert was the most obvious choice and carrying odds of 25-1 (+2500). So $10 went on him, $10 went on Joe Ingles at 150-1 (+15000), and another $10 went on Jordan Clarkson at 150-1 (+15000). If any of them hit, a certain Toyota Camry getting new front-control arms and brake pads might just get a repaint. The rest will go into a 529 college savings account, and the origins of those tuition funds will be kept in the dark for two years until he makes his decision on college.
The legalized U.S. gambling industry continues to grow, and the exact amount of money being wagered is an industry secret. Bookies are still in business because they will give credit to those who cannot get it elsewhere, and offshores continue to accept American dollars despite efforts by the federal Justice Department (and the big U.S. sportsbooks) to make them off-limits.
Sports gambling stocks are down from their historic highs of a couple months ago, but are still doing well. Flutter Entertainment, parent company of FanDuel, closed Friday on the London Stock Exchange at $98.54, up nearly 45% over the past year – perhaps in part because Charles Barkley dropped $100,000 on the Portland Trail Blazers to win the championship (if he followed through with what he said on TV).
Penn National Gaming, which holds a 36% interest in Barstool Sports, closed Friday at $83.84 and is up nearly 183% in the past 52 weeks, and DraftKings closed Friday at $53.14 on the NASDAQ exchange, leaving it up 44.09% in the past 12 months.
Anyone who invested in these companies when the pandemic began and held the stock is sitting pretty financially right now, and legions of gambling companies continue to buy up NBA television advertising slots, while also striking deals with just about anybody they can imagine doing business with. One new deal pairs DraftKings and Boost Mobile, making it easier for Boost Costumers to gamble on live events as they watch them. If this runs counter to the idea of promoting responsible gambling, you would not be alone in wondering whether this is a good thing for America.
But then again, it is a free country, and those who remember to limit themselves to what they can afford can still have fun with it.
At FanDuel Sportsbook, the current favorite for Finals MVP is Kevin Durant at +165 (wager $100 to win $165), followed by Mitchell at +350, Kawhi Leonard at +900, Devin Booker and Embiid at +1000, and Chris Paul, Harden, Kyrie Irving and Giannis Antetokounmpo all at +1800. The only other players at FanDuel with odds of lower than 100-1 are Gobert (+4800), Trae Young (+5500), Paul George (+7000) and Mike Conley and Bogdan Bogdanovic (+9500).
DraftKings' Finals MVP odds were down Saturday morning, while PointsBet.com and BetMGM had Durant at the +180 favorite.
Curiously, Deandre Ayton of the Phoenix Suns was +2800 at PointsBet, +3500 at BetMGM and a whopping +25000 at FanDuel.
Different sportsbooks give different odds, but Ayton being worth nearly 10 times as much at FanDuel as he was at PoinstBet was one of the biggest differentials seen in the legalized U.S. market over the past 37 months as that industry has grown. (Ayton had 10 points and 15 rebounds and was a plus-18 in the Suns' victory Friday over Nikola Jokic and the Nuggets, putting Phoenix up 3-0 in the West Semifinals.)
Some Nuggets appear uninterested in and/or incapable of winning, and it was curious that Coach Michael Malone went with basically the same rotation in Game 3 after indicating he planned to shake up the lineup following the non-effort he saw in Game 2 at Phoenix.
No team has ever come all the way back from an 0-3 deficit to win an NBA playoff series, and if you believe the Nuggets will be the first, you can get that for a price of +2200 at DraftKings, although we would advise purchasing savings bonds instead.
We still have a long way to go before the NBA Finals are decided, and a win by Milwaukee on Sunday or Atlanta on Monday will change a few minds about what will happen in the East.
But the Nets and Sixers have shown that when they are at or close to their best, they are the better team. Same with the Suns and Jazz in the West.
It comes down to a will to win, and the Van Gundy rule may be the best advice you can heed if you put your funds at risk. Try to remember that they build big hotels in Las Vegas for a reason, and it is not easy to make a living at sports gambling. But also remember that there are folks who are doing it, and those winners have a few things in common with Van Gundy: They are patient, intelligent and astute.