FORT LEE, N.J. -- "Which Starbucks?" the police officer was asked.
"It's gotta be the one at Linwood Plaza," a friendly officer with the name tag Liguori responded.
"We get 'suspicious person' calls on the place all the time."
Those "suspicious" people are actually New Yorkers with too much time and too much money. They are flocking to Fort Lee, N.J. every single day with so much gambling gusto that they have made the border town of approximately 40,000 people — the first exit in New Jersey after crossing the George Washington Bridge from New York — one of the top gambling hotspots in the entire United States.
Sportsbook insiders say Fort Lee is often pulling in more money on any given day than the entire state of Nevada, as the U.S. legalized sports gambling marketplace continues to boom. Often, those bets come in from the parking lots of three Starbucks coffee shops near highway exit ramps. Sports gambling will be legal in New York eventually, but the law passed earlier this month at the state capitol in Albany is problematic.
"I was talking to an [NBA] owner who told me in three-to-five years, we will not even need the TV money. That's how big this thing is going to be," Charles Barkley said to BasketballNews.com, who quipped after the 2007 NBA All-Star game in Las Vegas that the oversized $50,000 check he was handling represented "two hands of blackjack."
Barkley is well-versed in gambling, and so are more and more Americans as the nation continues to pass gambling legalization laws nearly three years after the Supreme Court overturned PASPA – the Professional and Amateur Sports Protection Act, allowing states to make their own rules.
New Jersey, which was the plaintiff in Christie v. NCAA — the lawsuit that led to the overturning of PASPA — is one of two states, along with Michigan, that allows gamblers to wager on both sports and casino games from their phones.
New York has legalized sports gambling, but will not have it up and running for several months, and New Yorkers are seeking someplace to have a little action. They are ponying up the $16 toll to drive to New Jersey and back into NY via the George Washington Bridge, Lincoln Tunnel or Holland Tunnel, or are boarding trains that travel under the Hudson River and heading into New Jersey's border cities and towns, including Hoboken and Jersey City. As a result, they've become the gambling capitals of America -- in terms of where the most money is being wagered.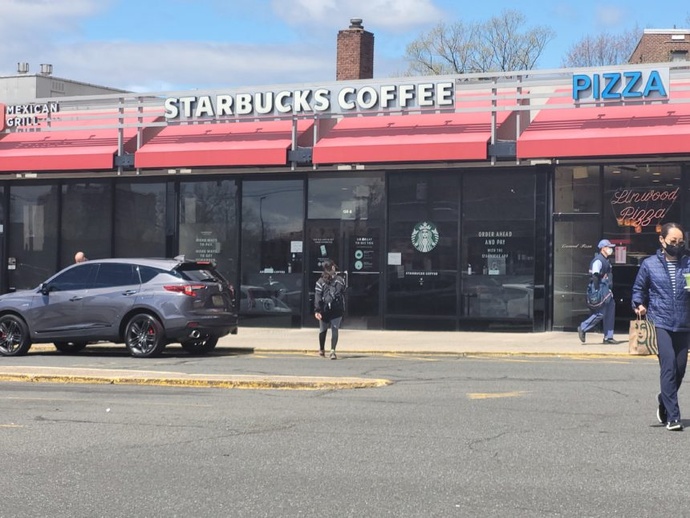 Sports gambling industry insiders explained that smartphone technology allows them to 'ping' with high levels of precision to discover where wagers are coming from, and a small strip mall in Fort Lee with an H-Mart, a pizzeria and a teeny-tiny Starbucks is lighting up the geo-locator boards at the books.
"What we also are seeing consistently is that East Rutherford, the Meadowlands, has become the No. 1 sportsbook on the East Coast in terms of the number of bets, and anecdotally, it is bigger than anything in Las Vegas on a daily basis," said Kevin Hennessey, a spokesman for FanDuel. "Twenty five percent of our customer base is New Yorkers, and 50% of our daily handle comes from the Meadowlands."
PointsBet spokesman Patrick Eichner said the border town phenomenon in Northern New Jersey is similar to what they were seeing before Pennsylvania legalized sports gambling.
"We were getting heavy traffic from Camden and Cherry Hill, places just across the water from Philadelphia. Now, going on the PATH train to New Jersey and placing bets on games, then grabbing breakfast and going back to New York on an NFL Sunday has become a ritual."
All of the sportsbooks guard their financial information very closely, and none were willing to quantify exactly how much money they are handling on a daily, weekly or monthly basis. But sports gambling stocks have been very strong since the pandemic shut down most of the world, with Penn National Gaming closing at $99.94 on Friday on the NASDAQ. It was trading at $7.89 on March 20, 2020.
DraftKings stock closed at $57.98 Friday, up from $12.25 on March 30, 2020. Roundhill Sports Betting & iGaming is up 96 percent since debuting on the market last June, and tracking the hottest sports gaming company stocks has become a bit of an obsession for day traders and large investors alike.
Talented gamblers are known as "sharps," and semi-retired New York sportswriter and broadcaster Andy Roth is now making a living by gambling, having to cross state lines to do it.
He is sitting on several Most Improved Player tickets on Julius Randle of the New York Knicks at odds as high as 65-1, and his Defensive Player of the Year Strategy was to play Ben Simmons of Philadelphia at 40-1, Myles Turner of the Indiana Pacers at 100-1 and Rudy Gobert at 3-1. Simmons ($17,000) and Turner ($14,000) would provide the biggest payouts, and Roth feels fortunate to have gotten those wagers in because BetMGM and Borgata have tagged him as a sharp. The last time he tried to wager at BetMGM, they limited his maximum wager to 70 cents.
Last season, Roth made $3,000 on a $150 wager on Nick Nurse to win Coach of the Year and the Toronto Raptors to win the Atlantic Division.
"The trick is being able to ID talent that bookmakers cannot see and odds that are the wrong price, and it's no secret that the oddsmakers are not all that good at pricing the futures market," said Roth, who also has an open ticket on Corbin Burnes of the Milwaukee Brewers to win the National League Cy Young Award at spring training odds of 50-1.
The odds on Burnes, who has 30 strikeouts and no walks allowed on 18 ½ innings this season (allowing only four hits with an ERA of 0.49) have dropped to 5-1.
Obviously, Roth — a New York resident — has found a way to make it work. Judging by the amount of action we're now seeing in New Jersey, scores of others are, as well.