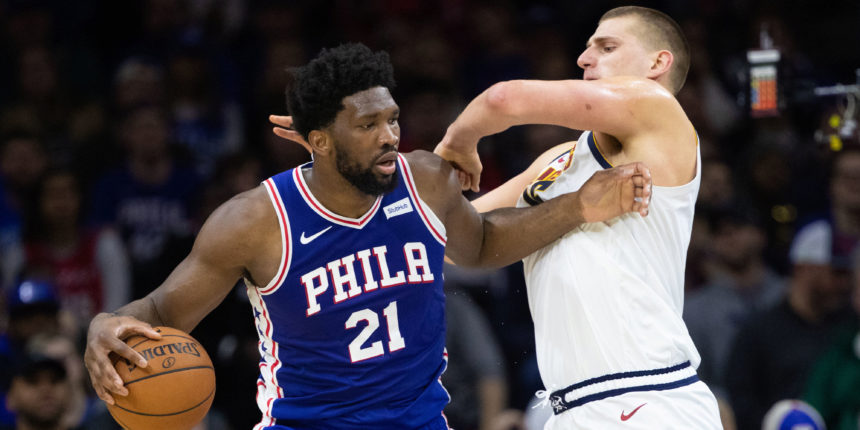 Breaking down the latest odds for the NBA's end-of-season awards
Stephen Curry was twice the player that Nikola Jokic was last night in the Warriors-Nuggets game, which is important for the following reason: The game was televised nationally on ESPN, and Curry had another finishing kick following an off-game against the Wizards on Wednesday.
Curry was 100-1 to win MVP last Sunday, and he was down to 18-1 two days later. He opens this morning at 17-1, the third-choice behind prohibitive favorite Jokic and second-place Joel Embiid. And most importantly, he is on voters' minds. An extraordinarily strong finish to the season could put him into play more strongly, and the Dubs play seven of their next eight against teams with losing records.
So Curry remains a long shot, but not as long as he was a weekend ago. The favorites are Jokic at -360, Joel Embiid at +340 and Giannis Antetokounmpo (whose team has won four of six and has an easy week after their back-to-back against Philly on Saturday) at +2000.
Jokic must now carry the Nuggets even more with Jamal Murray and Will Barton sidelined, and his team is in fourth place in the Western Conference, so stay tuned.
There are 126 MVP votes (one coming from the fans), and voters select five players with a sliding score of 10 points for first place, seven for second, five for third, three for fourth and one point for fifth. If one or more of those top-four players is relegated to the bottom of a ballot (or left out altogether), it may get interesting.
Let's look at the other end-of-season awards, many of which appear to be decided already.
Rookie of the Year: LaMelo Ball of Charlotte was running away with this award before injuring his wrist. The common belief is that he'll return before the regular season ends, meaning the award is all his. He is the current favorite at -305, and the only players near him are Anthony Edwards of Minnesota (+200) and Tyrese Haliburton of Sacramento (+700). Those latter two are fine players, but Ball has been a key component on a highly overachieving team.
Most Improved Player: Some voters will not put Randle first simply because of the fact that he was already a very good player, and although his stats are through the roof lately, this award is traditionally given to a player who went from mediocre to studly. Randle is the prohibitive favorite at -305, while Jerami Grant of Detroit is second at +400, Zion Williamson of New Orleans is 25-1, Deandre Ayton of Phoenix is 250-1, and Shake Milton of Philadelphia is 250-1. Terry Rozier is not listed.
Sixth Man of the Year: This is a tricky one, because Jordan Clarkson has been considered a lock. But check this out: Clarkson, listed as a point guard, is averaging 4 rebounds and 2.1 assists. He takes 15.1 shots per game and is shooting 42.4% from the field. From three-point range, he's shooting 35%. He leads the NBA in free throw percentage at 94.9%. His teammate, Joe Ingles, who's listed as a shooting guard, is averaging 3.7 rebounds and 4.4 assists. He takes 8.0 shots per game and is shooting 52.5% from the field. From three-point range, he's shooting 49.4% – the best in the NBA. He makes 85.7% of his free throws.
Let's say Clarkson is the better scorer, but Ingles is the far better shooter from everywhere but the free throw line. Clarkson is the better rebounder by a little, but Ingles has more than twice as many assists. And we should make a special note that leading the entire NBA in three-point accuracy is quite a feat. Ingles, at 49.4%, is far ahead of the runner-up (Bobby Portis of the Milwaukee Bucks at 48.5%). Clarkson's odds have moved from +350 to +1000 in three days. Ingles has an interesting case, but he is underappreciated so this one looks done... for now.
Defensive Player of the Year: This appears to be Rudy Gobert's award to lose, which means the Jazz will be getting a ton of postseason awards (unless the Coach-of-the-Year narrative changes). Ben Simmons has been openly campaigning for the award, but he sat out a couple key games last week when he could have made his case on national TV. Gobert is -335, Simmons is +230 and Myles Turner of Indiana is +700. Julius Randle is second in the NBA in defensive win shares behind Gobert, but is not listed on the wagering board at any of the main U.S. sportsbooks.
Coach of the Year: Not so long ago, this looked like a lock for Quin Snyder of the Jazz. But Monty Williams is gaining ground on him now that Phoenix has a chance to win the West, and Tom Thibodeau of the Knicks has led his team to eight-consecutive wins. The Knicks have the stingiest defense in the entire NBA. If New York can hang onto fourth place in the East, this race could get interesting. FoxBet is the only book listing this line, with Snyder at -133, Williams at -105, and Doc Rivers and Thibodeau each at 11-1. Ty Lue, whose Clippers are 2.5 games back in the West with 10 games left, is 33-1. James Borrego of Charlotte is 40-1.
Nobody expects a rank outsider to make a strong enough finishing kick to move these odds considerably, but a lot can happen in three weeks. Ballots are not due until the day after the regular season ends, so do not consider any of these awards done deals just yet.