There is no judgement when you enter Haseeb Fasihi's gym, but there are rules.
"When you work with me, probably for the first two weeks, I don't want [any] footage," Fasihi explained. "I don't want any cameras."
For Fasihi, this rule is rooted in passion and in the desire to see athletes improve their game, not to stroke their egos.
"My [philosophy] is like, 'Hey, when I break you down and you're at your worst, how do you adjust?'"
The numbers, the success stories, and the accolades that he has accumulated over the last decade are evidence enough that the 30-year-old's approach to coaching and developing professional basketball players works. He's been in their position before, and he knows firsthand what is necessary to ensure a long career.
Not highly recruited out of high school, Haseeb's venture into the world of professional basketball began, like many others', at just 18 years old.
"I went to this camp in Atlanta and I was just dropping dimes to everybody. They saw that I was not a scorer, but I had this one game where I had like 16 assists and 12 rebounds, but only scored 8 points. But I didn't feel like I needed to score. So a lot of the scouts were like, 'Hey you remind us of what Steve Nash does. He doesn't need to shoot.' So they used that as a way of recruiting me," he says of the London Leopards (now the Essex Leopards) of the British Basketball League.
And while his own professional career was cut short due to knee and ankle injuries, a promise to his father would prove to be a blessing in disguise, giving him a different opportunity to pursue a career in professional basketball.
"I wanted to get into school because I didn't have my Bachelor's yet," Fasihi said. "So as a favor to my father, I came back to America and got my Bachelor's from UCF (University of Central Florida) in Exercise Physiology."
His degree helped him understand the intricate workings of a professional athlete's body, and his personal experiences helped him turn it into an art form.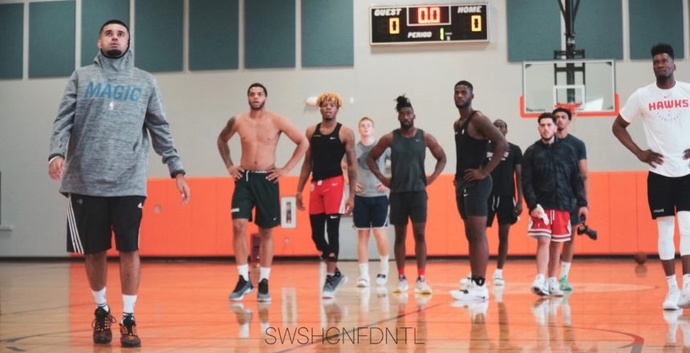 While injuries and promises led him to pursue a new career, the NBA lockout of 2011 — in another butterfly-effect moment that has become the norm in his life — helped him get his foot in the door.
Two years into working independently as a conditioning coach, Fasihi joined the famed IMG Academy. His first client was none other than Tyrus Thomas, the fourth overall pick of the 2006 NBA draft. The young coach was unmistakably talented, but like the NBA, talent and opportunity are often two independent parts of the equation.
"What got me into the NBA was one of my mentors, Bill Burgos, who's currently the head strength-and-conditioning coach for the Timberwolves," Fasihi said. "During the lockout, coaches and players were not working. So he decided to become a professor at UCF for one semester in Strength and Conditioning. So, I was so lucky and blessed to take that one Strength and Conditioning class."
As fate would have it, Professor Burgos was also the strength-and-conditioning coach for the Orlando Magic at the time.
"I actually got to know him really well and we built a personal relationship," Fasihi said. "And then, he saw that in the offseason, I was training so many players."
Fasihi and Burgos kept in touch. When Haseeb was featured by ESPN for his work with Los Angeles Lakers signee Vander Blue, he sent the article to his longtime mentor. Burgos picked up the phone and called Fasihi with as little hesitation as Steph Curry has from behind the arc.
"He told me, 'Hey, we're starting a new G League program and I want you to be my assistant strength coach in Orlando.' And at that time, I was actually with Jae Crowder in Cleveland after he got traded," Fasihi said. "So I got the call when I was at his house. He said 'Hey, we want you to come to the Orlando Magic,' and this was in 2017. I was like, 'Oh, wow. Alright. I'm ready. Let's do it.'"
Only 27 at the time, Fasihi jumped at the opportunity, and hasn't looked back since.
Haseeb wears many hats — he is the head of player development for the Lakeland Magic (the current G League champions), a strength-and-conditioning coach for the Orlando Magic, the creator of M.A.D.E Performance, and the personal development coach to basketball players at every level. His client list spans the length of every roster in the NBA, and he can name every one of them.
Since joining the Lakeland Magic in 2017, he has seen many players come and go; some head overseas, and some make it to the NBA. Other players go to his hometown of Miami to train with him individually.
"If a player comes [to Miami] temporarily, they just work out with me short-term and then they leave. But guys like Jae Crowder or Bruno Fernando from Atlanta, these guys want me to be with them full-time," Fasihi said. "It usually depends on the demand at the moment. There have been times that Jae Crowder wants me to be with him in Phoenix, and I'll be like, 'Hey, I can't, I'm still in the season with Lakeland.' Or if he's somewhere else, and he needs me there, I can't be there, just because the demand I have down here is pretty high, especially with a lot of college players transitioning to the NBA."
He has perfected the careful balancing act that is being in multiple places at the same time, and thanks the Lakeland Magic for their flexibility that allows him to do so.
"Luckily, my two general managers, Anthony Parker — who is Candace Parker's brother, he's my head GM in the Lakeland — and my assistant general manager, Adetunji Adedipe, these two are pretty much my mentors in the organization, [along with] our assistant GM Matt Lloyd with Orlando," Fasihi said. "So they kind of understand that I have a lot of clientele in the offseason [and allow me to] go back to the offseason demand of the players contacting me."
Orlando completed several deals at this year's trade deadline, and no one is more excited than Fasihi.
"They're going to have a lot of young guys that they're going to start drafting," he says, unable to hide the excitement in his voice. "For the past three-to-five years, I've been working the NBA Draft Combine, so I do all the testing. We as strength-and-conditioning coaches, we do the testing like the vertical jump and all that stuff. So they'll assign me a certain spot at the combine to do it. And that's a very honorable thing to do because it's very rare to have the opportunity."
With a keen eye for detail, Fasihi's personal methods for player development have helped many draft prospects go from merely dreaming of playing in the NBA to living that reality.
Improving a player's mobility and confidence are areas that Fasihi is an expert in, with one often interchangeable with the other.
"I've always been taught that if you feel like the player is confident shooting at a high percentage, it's hard to change that," he said. "I'll give you an example: when I was growing up, people would say that Reggie Miller had a terrible shooting form, but he was so confident. He was just one of the best three-point shooters in the league, so nobody said anything! But now, we're in an era where guys have to shoot quicker, you know, all those little things are diagnosed. So for me, I would have to see where the percentages are at and how the body moves when they're shooting. If I feel like I can improve a player's shot by 2% or 3%, I'll break that down to a T and then see how the body responds when I do change the form."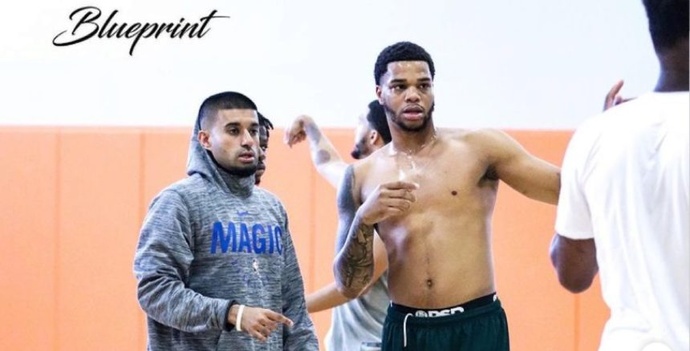 When he speaks of his client list, Fasihi doesn't start with the most famous. He starts with the players he sees the most potential in — the ones with the desire to improve a little bit every day.
"Christian Vital from UConn; he's been with me for, like, the past four or five years," Fasihi said. "So he's like my little brother. He comes to me in the offseason. I know his agent really well, and he was actually picked up by Memphis on their G League roster. He's gonna be a great addition to [any] situation he's in. Jalen Adams, another kid from UConn, he's with the Pelicans and their G League team. I think he will have another great opportunity.
"Miles Bridges, but we already see where he's at now; he's catching lobs and just dunking it. That's no surprise. There's just so many players. I mean, I could go down the list. Even one of my kids, MaCio Teague from Baylor, who just won [the national championship]. Seeing him win [after] having him come work with me in the offseason was fun."
He speaks highly of Princeton's Devin Cannady, the G League MVP in his second professional season: "He's a great kid and he's got a great career ahead of him."
The day after Fasihi mentioned Cannady, the Magic signed him to a two-way contract.
Although the coach feels a sense of pride with every success story, he will never take the credit.
"Growing up in Miami, I was a Heat fan, but now I'm a Magic fan because obviously, it's political," Fasihi jokes. "But seeing [Jae] make it to the Finals, I felt like I was part of Heat Nation."
He doesn't take credit for Crowder's Finals performance with the Heat, as he recognizes the amount of people involved in ensuring longevity in a player's career.
"I did what I could to help him with the short period of time I had with him," he said. "It's what he does with what I've taught him that makes him go to the next level."
Along with the players he's helped developed over the years, Fasihi is continuing to make his mark and have a positive impact behind the scenes.
And he's far from done.