Across all networks, there's only one regularly scheduled NBA studio show that has grown its audience this season: "NBA Countdown" on ESPN and ABC, which has seen viewership improve by 4%.
Yesterday, part one of this two-part series looked at this new era of Countdown, examining the group's chemistry, how the show manages to appeal to all NBA fans (from diehard to casual), comparisons to "Inside the NBA," and how they balance positive and negative coverage.
BasketballNews.com recently spoke with Maria Taylor, Adrian Wojnarowski, Paul Pierce, Jalen Rose, Jay Williams, and ESPN VP of Production Mike Shiffman to get a behind-the-scenes look at the show.
In part two, they discuss the preparation that goes into each episode, Woj's successful transition to broadcasting, how the show became a powerful voice in the fight against social injustice, how COVID-19 has impacted production and more.
RESEARCH AND PREPARATION
"NBA Countdown" airs on many weekends as the pregame show for NBA games on ESPN and ABC. What goes into producing each episode?
Mike Shiffman: "First off, we're always planning far off and looking ahead at our matchups and seeing if there are any features we can do [ahead of time] with one of the top players from those games (like a storytelling feature or a sitdown conversation or background on a player). We start there and see what's possible because those can happen weeks out, and then we can plan for that."
Maria Taylor: "The research is what makes us smart and makes us better, and we have a guy named Matt Williams, who's committed to [researching] the NBA in general and specifically for our show. Every single night, we're reading recaps from him that highlight big performances and storylines we need to watch out for. It gets down to the nitty-gritty; sometimes, he's even watching the press conferences and it'll say, 'Hey, Steve Kerr said this, we should think about having it in our show.' So we get that [packet] every night, and all of us have League Pass and all of us are watching all of the games. I've got NBA TV, so I'm constantly watching games and making my boyfriend sit down to watch games with me, which is a great girlfriend to have. (Laughs)"
Shiffman: "In a typical week where we have Countdown, we start to hone in and take the temperature of the talent [and what they want to discuss]. There's an urgency too because we want to be having conversations that NBA fans are having in that moment. If we sat here on a Monday or Tuesday and decided what conversations we're going to discuss on Friday, that doesn't serve us or the fans well. Every night, there are interesting things happening -- on and off the court. As the show gets closer, the producers will have calls with each of the talent where they'll go over what they're most passionate about, and then they'll have a group call to go over everything. From there, the show's topics are really built around what the analysts want to cover. The discussions on the show are based on a lot of conference calls and text chains and Slack threads from throughout the week. Then, since we want to be in the moment, we'll wait until 24 hours before the show to finalize the topics."
Taylor: "We always have conference calls on Wednesday and Thursday, and every single analyst has their own conference call where they just throw topics out like, 'What do you think of Golden State? How many minutes should Steph Curry be playing?' That way, they understand what we think about [each topic] and they can build graphics to support what's being said. When I'm asking my questions on the show, I'm asking in a way that gets to [each analyst's] best topic or whatever they're hot on. Then, when we get in on Friday, I usually get in around 4 p.m. if our show is at 7 or 8. I'm dialing in on how I want to ask questions, writing scripts and doing interviews. I'm constantly talking with teams about interviews and trying to set those up. That's kind of our typical schedule."
Shiffman: "With Woj, he's obviously breaking news all the time, but we may not know what he wants to talk about until Friday afternoon since the news is always evolving."
Adrian Wojnarowski: "My prep starts by looking at the schedule and seeing who's playing in the Friday night games. Then, all week, I'm talking to teams and people around the league to see where there's a chance to break some news. One example was Dennis Schroder's contract talks. That's something that I could hold [for the show]. There's certain things that I can hold onto and I know that they aren't going to get out anywhere else. That's something that Adam Schefter and I talk about a lot. You generally have a sense of what you can and can't hold onto; there are certain stories where you know that it's walled off a bit, whereas other stories are more easily accessible to others, so you just have to measure that. You always want to stay nimble and know that something might change right up to the show, but there are those times when you can prepare over a period of time and save it to break on the show. Over the course of the week, I'm talking with the producers about what I might have and what I'm working on and what could change. You always want to have a few options. And if they're watching Countdown, they're somewhere between avid fan and junkie, so you want to be able to hit the big stories."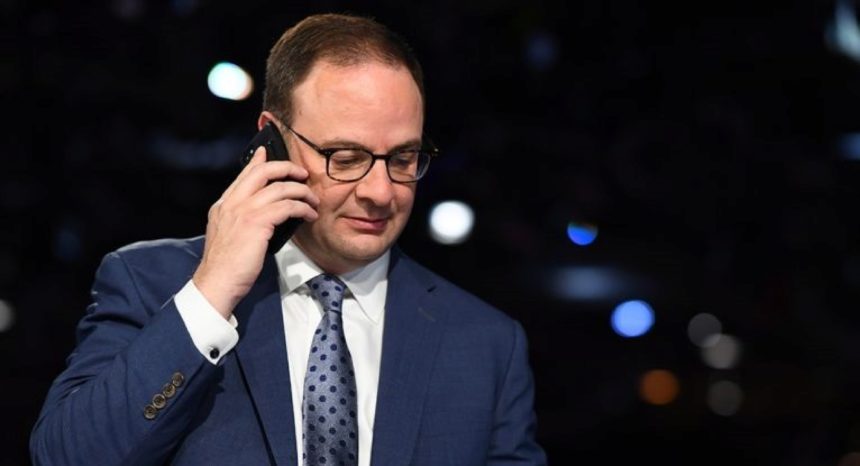 WOJ'S ROLE ON THE SHOW
Wojnarowski initially made a name for himself as a terrific columnist and the top NBA newsbreaker. Since arriving at ESPN, he's successfully transitioned into more of a broadcasting role. Just as he used to weave NBA news and notes into his columns, he now drops those interesting nuggets on "NBA Countdown."
Taylor: "I was literally with Woj during his first real television hits when we did the NBA Combine in Chicago about three years ago. It was one of his first big-time [moments] being on TV, and we were there literally all day -- Mike Schmitz, Woj, Jay Bilas and I were on the desk and we were on for the entire time. Literally, that was his first time; he was like, 'Okay, what camera are we looking at?' To see where he is now, where he's like, 'Here's what I want to hit on and here's what the segment will roll like...' He is his own producer! He comes in, knowing what information he has, and he'll say, 'I talked to so and so, so I'll say this and then that will be a great lead-in to the topic that you want to get to.' I mean, it's been more than an evolution. It's been incredible to watch."
Shiffman: "If you're an NBA fan and you see him on your TV, you stop what you're doing because who knows what news he's breaking? He's approached this with open arms. We had a conversation a couple years ago about how he could contribute even more across TV shows, specifically 'NBA Countdown' and 'The Jump.' He's been really enthusiastic about it, and he's wide open to hearing [feedback] on how he's doing. The information is always going to be industry-leading, but in terms of presenting that information on TV -- and for someone who hadn't done a ton of TV prior to coming to us -- I think he's done a terrific job. He has premium news, and he delivers it in a way that's easy for fans to understand."
Taylor: "Sometimes, we'll be talking during warm-ups and he'll just be like, 'Yeah, I just talked to their GM and he just said this or that. We're like, 'You just have that information floating around?!' It may be the most profound thing that said on the show, but it's a throwaway comment for him! That's how incredible his knowledge base is. It's been fun to see how comfortable he is on camera now. Now, he gets his own segments, where we're just like, 'Well, what do you want to talk about Woj?' For him to own those moments, it's fun to watch."
Shiffman: "What we've seen with Woj is that in addition to the breaking news and transactional stuff, he's also able to add context to discussions that the group is having. He might add in, 'Behind the scenes, this team is very happy with their roster and won't be making any trades,' for example. It isn't traditional 'news,' but it does add context. We've discovered that these things make Woj even more valuable to the show, because we're not just limiting him to a box where he can only break transactional news."
Paul Pierce: "Oh man, he's amazing. I've sat there with Woj [after our show] and just chopped it up and it's amazing. I love that guy! He's great. At one point, me and Woj were sitting in the green room and I asked him, 'How do you always break news? Why are you always the one who knows everything first?' The amazing thing he said is that it's all about maintaining relationships. He has maintained many relationships over the years, he does his research, knows not to cross the line, and there's trust. They trust him with his information and they know that isn't going to leak it at the wrong time; they know it'll be told when it needs to be told. Those are the biggest things: relationships and trust. There are times when he'll say certain inside things that I know from my playing days and I'm trying to figure out, 'How does he know that?!' People trust him with their lives, with the information that he has. That's just a sign of respect."
Jay Williams: "I'm about to make a headline for you: Woj off air? Oh. My. Goodness. If I could turn that into an HBO After Dark show, it would win so many awards. He's one of my all-time favorite people. The amount of knowledge and how he works, it's so impressive. It's relentless, man. I would hear insight sometimes, and it would be a little different from his insights, and he'd say, 'Well, let's talk this through.' He's very thorough. He's always researching and fact-checking. And look, [being the top newsbreaker], that's a lot of pressure all the time, but he handles it with such class. He's one of the most impressive people that we have. He's next level, and he's a really unique person."