A year-and-and-a-half ago, ESPN made significant changes to "NBA Countdown."
Jalen Rose was the only on-air talent who returned from the previous iteration, and ESPN was surrounding him with Paul Pierce, Jay Williams and Adrian Wojnarowski, with Maria Taylor handling hosting duties. Amina Hussein, an Emmy-Award-winning NBA senior coordinating producer who played a huge role behind the scenes, left to take a job at Peloton soon after.
Just when the group was starting to get comfortable, the 2019-20 NBA season was suspended last March due to the pandemic. After a five-month hiatus, the show returned, with the group working remotely. During a recent episode, Pierce was in Los Angeles, Rose was in Detroit, Williams was in Connecticut, and Taylor and Wojnarowski were in New York.
Despite facing a ton of adversity and the strangest of circumstances, the Countdown team has been winning over fans and delivering solid ratings. "NBA Countdown" on ABC is averaging 1,490,000 viewers through nine broadcasts, which is up more than 9% versus their full-year numbers (2019-20), according to Nielsen.
And even though they're shooting most episodes from different parts of the country, everything the group has been through has brought them closer together.
In this two-part series, BasketballNews.com recently spoke with Maria Taylor, Adrian Wojnarowski, Paul Pierce, Jalen Rose, Jay Williams, and ESPN Vice President of Production Mike Shiffman to get a behind-the-scenes look at the show. They detailed the last year-and-a-half, the group's chemistry, how the show appeals to all kinds of NBA fans, the debate over former players criticizing today's stars and more.
THE CHEMISTRY
Mike Shiffman, ESPN's Vice President of Production, oversees all basketball properties across all platforms. When it came time to assemble this new "NBA Countdown" cast, he was very involved in the decision-making.
Mike Shiffman: "In terms of making the decision, you look at how they complement each other. Paul, Jalen and Jay each bring their own unique outlook on the NBA and all things surrounding the league. Woj is obviously the top basketball newsbreaker in the business. And Maria is one of our top-tier hosts and reporters, who has a terrific way of getting the most out of whoever she's interacting with -- whether that's analysts or reporters or players who are on as guests. We knew that from the work she's done hosting the Women's Championship and working on college football and college basketball; we knew she'd be the perfect person to sort of run point with everyone. I don't think there's any magic formula to create chemistry. Some shows develop it very quickly, others need reps and time together."
Adrian Wojnarowski: "I thought leading up to the shutdown, you could absolutely feel the chemistry. With this group, it was natural because everyone already had relationships. Then, we started feeling that rhythm on the set, but then the shutdown came and we were out for several months, so that was certainly an interruption. But I just think it speaks to the group of people -- they're really good people and everyone is really passionate about the game and working together. Everyone has a role on the show and I think we play to everyone's strengths."
Maria Taylor: "Right before the shutdown, we traveled to L.A. to do Lakers-Bucks and Lakers-Clippers in the same weekend. We did the show on the court [at Staples Center] and after we finished, we kind of all looked around and were like, 'This is what it's supposed to feel like. This is the kind of show that could have longevity.' We were still working through things and trying to figure everything out, but we felt really comfortable with one another. I think traveling together really helped with that, along with having dinners together after the show. I remember that being a moment [when we knew this could be special]. But there have been a lot of those moments. Luckily, I had already worked with Jalen Rose on 'Get Up' for the last two years and I had traveled with J-Will when I was doing the college basketball prime games and I did the NBA Combine with Woj, so we all kind of knew of each other and it just kind of flowed from there."
Jalen Rose: "Woj and I go back a long way actually. He went to St. Bonaventure and a high-school teammate of mine went there, so we've had a kinship ever since. Once ESPN signed him, I knew that was a terrific move for obvious reasons. Maria is like a little sister to me. She is the only person in this industry that has a Heisman vote and an MVP vote, so she isn't just your normal host. Jay and I were teammates before; we played together on the Bulls in what was his only NBA season. This is our team."
Shiffman: "I remember very early last year, around the start of the season, that's when we had an idea that this was on its way to developing into something really special. We were pretty optimistic [about this group] and some of it was based on what we saw off camera; the show would end and we'd all be watching games all night. It's a special group. You can't just snap your fingers and create chemistry. Genuinely, what you see on the screen is what they're like before the show and after the show. They enjoy one another's company, and they bust each other's chops when it's called for."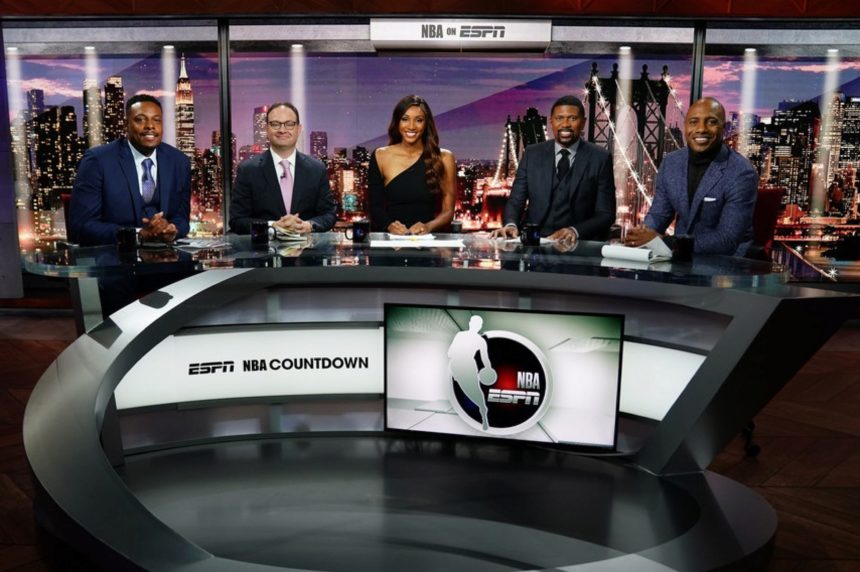 Paul Pierce: "It is like a family. We check in on each other and see how everyone is doing. We hang out together when we can. Before COVID, we'd go out and have dinner together, have some drinks. But that's what makes the chemistry so good, too -- we took time to get to know one another outside of just showing up at the studio or talking to each other on Zoom from across the country."
Shiffman: "It's incredible because while it feels like forever, it's only been a year-and-a-half that they've been together. This is only their second season; we started a year-and-a-half ago, then we were on pause for five months, and what that group -- both in front of the camera and behind the camera -- has been able to do in a really short amount of time and in these unique circumstances is just a testament to all of them."
Taylor: "I think it's a testament to the chemistry that we really, truly do have and that it's been organic since day one. None of it has been forced, and that obviously shows. When we are together, we're genuinely happy to do a show together."
Pierce: "When you look at the group, everybody kind of has their own identity. It's sort of like a great team. I don't think we have any two people who are the same. If everybody were alike on our panel, that's when it gets kind of repetitive. Everyone has their own identity, and I think that's what makes it great."
Pierce compared the Countdown crew to the star-studded Golden State Warriors with Stephen Curry, Kevin Durant, Klay Thompson and Draymond Green, since everyone thrives within their role and there's great chemistry.
Rose: "You take people who are the crème de la crème at what they do and put us all together and it's like a super-team! Usually, you become a super-group first -- like New Edition -- and then everyone sprouts out and becomes Bobby Brown and everybody [has individual success]. I think this team happened in reverse. Each person has a chance to express themselves and play to what they consider their own strengths. You take what each person feels like they're extremely good at and allow them to cook on that."
Shiffman: "A few weeks ago, they brought out a birthday cake for Jalen; a while ago, the guys gave Maria flowers on the set [after a radio host criticized her outfit in her first Monday Night Football game]. That's all driven by them. These are things that they really wanted to do; it's not some 'made-for-TV moment.' They just really enjoy being around each other -- on and off camera."
Taylor: "I was literally almost in tears, and I didn't know how to throw to the game at all. I was completely caught off guard. I didn't see flowers coming into the studio or anything. At the time, Amina Hussein was our coordinating producer and she got in my ear afterwards and was like, 'I swear, I had nothing to do with it! The guys just decided that they wanted to salute you and be there for you, so that's what they did.' To hear that… For them to be so sensitive and empathetic to what I was going through that week, that just meant everything. For them to say, 'We've got your back,' and for it to be so public and such a statement, that's family. That's the type of people you really want in your life, and I'm so blessed that I get to work with them."
"Don't come for the Queen" — @MariaTaylor

"You know who we're talking about" — @RealJayWilliams pic.twitter.com/Egnjsbf9SN

— Parakeet A. Cortes (@Ryan_Cortes) September 15, 2020
Jay Williams: "Having the game taken away from me early on, there was a void. When you're in the locker room, you feel like you're with family. Those are your brothers. I think I missed not having that. When I found my wife and we had our first child, I felt like, 'Man, this is my team and I don't know what I would do if something happened to them.' Now, with J-Rose and Paul and Maria and Woj, I'm not working; I'm kicking it with my family and talking about hoops! I can't wait until I get the vaccine and we're all back together in-person in the studio."
Pierce: "From the time that you start playing basketball and travel hoops, that's been your whole life. That's kind of what you need. When you get to the end of your career and there's no more hoops, no more bus rides, no more plane rides -- it's almost like, 'Where's that fix at?' You've been doing it your whole life, being around teammates and coaches and you're hanging with these guys and they're a big part of your life. Not that they won't be [part of your life] when you're done, but you don't do as much stuff together. You lose that. That was the hardest thing for me as I was adjusting to retirement, just missing the group."
Williams: "J-Rose and I were teammates and I was a young pup when I came into the league, so we always keep it really real with each other. He always showed me love. He's my vet, and he always looked out for me. My wife is pregnant and my daughter is immunosuppressed, and we went through a very scary situation with her last February and March where she was really sick. It was close to a month, and she got diagnosed with pneumonia and then she got re-diagnosed with RSV (respiratory syncytial virus) and then they really didn't know what it was. A year later, they still don't know if it was COVID or not, but there were some issues and it was really scary for us. For me, I've been doing a lot of 'NBA Countdown' from home, and they've all been so supportive of it. And it hasn't made the show easy. But that kind of camaraderie and people understanding your situation [is special]. The first thing J-Rose said is, 'You stay home and you protect your baby. You can work from home and do what you do, but you be there for your family.' That's internal leadership that I don't think a lot of organizations have, and that's what J-Rose provides each and every day. And that support means the world to me."
Wojnarowski: "Jalen has been a mainstay of Countdown through several incarnations of it across the years, and he really, really understands the audience we're trying to reach, and how to reach it. But more than that, he isn't just only one of the best and most important talents at ESPN, but he's also really a 'glue guy' of the entire operation. He's the person who pulls people together, who rallies people -- both with those he works with on-air, but also with the folks behind the scenes. He's strong in his convictions about right and wrong, both when everyone is watching and -- more importantly, I think -- when almost no one is watching. Jalen is really a conscience of ESPN."
Pierce: "He's been there the longest, and he has his own perspective on the game. Even though he's a former player, he's been doing shows for a long time now. He adds a different perspective and sometimes he sounds like he's been an analyst all his life; you may not even know that he was a player! That's the great thing about Jalen, he's very knowledgeable and he's very educated -- sometimes he throws out words that I don't even understand! (laughs)"
Williams: "We're all so comfortable together, and we all feel comfortable in who we are. All of the pieces just fit. I think it was like that from the beginning. One of the things that we all recognized early on is that there's so much respect, and I think we all have this same drive. There's this hunger to be us and to prove that we can be really informed, but also have chemistry and bust each other's chops. This is our team."