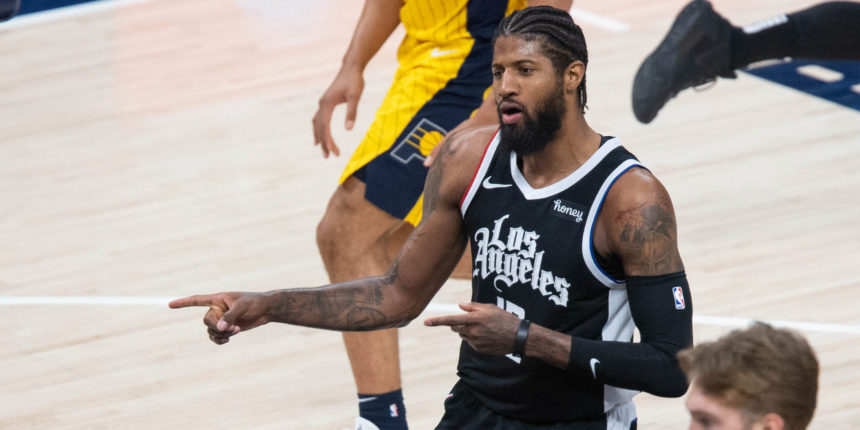 As playoffs approach, Paul George seems eager to rewrite his story
It just slipped away.
In the end, the Los Angeles Clippers couldn't keep up their end of the bargain.
Alone, Paul George stood in the corner. Doubled-over, he clenched his shorts as he probably wondered how his team had gotten to this point. Trailing by 15 points in a Game 7, could the Clippers muster the necessary resilience to pull out a win?
This was soon answered by George himself.
Kawhi Leonard missed a stepback three-pointer over Nikola Jokic, and when Patrick Beverley corralled the long rebound, the Clippers — just as Doc Rivers had taught them — whipped the ball around until it landed in George's open arms.
Gary Harris lunged to disrupt, but George got off a clean look.
What happened next was a surprise to everyone.
The shot clanged off the side of the backboard — never even getting close enough to the rim to say hello. For all intents and purposes, the 2019-20 Clippers died right then and there.
Do you believe in reincarnation?
It appears that Paul George does.
Not shying away from the role he played in last season's disappointment, George started the 2020-21 campaign attempting to keep last season a distant memory. As he's learned firsthand, however, it's not about how you start, it's about how you finish, and to this point, he's done a pretty good job of that.
The Clippers enter play on April 21 having flown under the radar. The Utah Jazz and Phoenix Suns have grabbed much of the attention, while the defending champion Los Angeles Lakers are expected to reassert their dominance once LeBron James and Anthony Davis return to the lineup.
Meanwhile, George has quietly proven capable of carrying the Clippers on his shoulders. Since last season, he's improved in a number of areas, but his offense deserves specific kudos. He's scoring 23.8 points per game this season compared to 21.5 last season and is currently boasting the highest true shooting percentage of his career — 61.5%. Similarly, he's shooting career-highs both from the field (48.3%) and three-point territory (43.2%). That's something we've rarely been able to say about a soon-to-be 31-year-old player in his 11th season.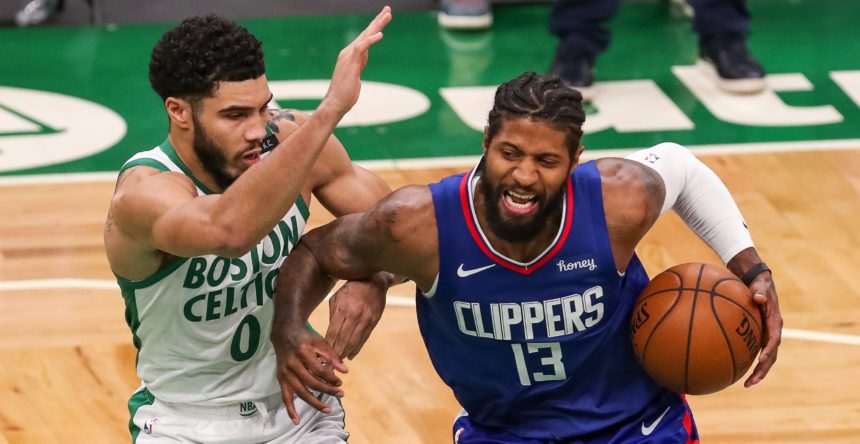 What's been most inspiring about George's play is his ability to carry these Clippers in the absence of Leonard, who has missed 14 contests through games played as of April 21.
Specifically, in games played without Leonard in the past month, George has admirably led the club. After going just 1-2 in the first three contests that Leonard sat out in which George played, the Clippers are 4-1 in their last five such contests. The only loss came at the hands of the Philadelphia 76ers, who happen to be the Eastern Conference's top team.
In the Clippers' last seven games — two of which we played with Leonard — George is averaging 32.9 points, 6.7 rebounds, 5.6 assists and 1.6 steals. He's shooting 54.2% from the field and 47.5% from three-point territory.
The truth about George, though, is this: for someone who's been as good as he has for so long, his regular-season accomplishments won't get him anything he doesn't already have. Similar to Russell Westbrook and Chris Paul, we've gotten used to their displays of greatness, at least in the regular season. Success in the postseason, or a lack thereof, is what separates the good players from the greats.
An All-NBA talent and a player who is respected by his peers as one of the most gifted in the game, those who see the George glass as half-empty will refrain from giving him his just due until he is able to put a team on his back and carry them at least as far as he was able to carry the Indiana Pacers many moons ago. With the memory of last season's playoff failure still fresh, that's especially true of George's Los Angeles incarnation.
Performances like the one he turned in on Wednesday night's 113-112 victory over the Portland Trail Blazers — a contest in which he converted the game-winning free throws — will work to that end. But everyone, including George himself, knows that the games — at least from a legacy standpoint — won't truly matter until the postseason begins.
Once upon a time, George was able to stand toe-to-toe with LeBron James. It seems so long ago that his upstart Pacers valiantly battled the Miami Heat for supremacy in the Eastern Conference.
Now, as fate would have it, George sees James still standing in his way. And the coach who pushed him toward the throne, Frank Vogel, is flanking the King.
Unlike last season, there doesn't appear to be much noise around the Clippers. Somehow, despite being an arguably more talented bunch, they've gotten less attention than last year.
Nonetheless, for George, an opportunity at redemption awaits.
"PG's cool as a fan," DeMarcus Cousins said of his teammate on Wednesday night.
"[He's] one of the most talented players I've ever seen lace them up. We gotta stop the PG slander. It just won't be accepted around me… [He's] one of the most gifted players in this league..."
Of that, we've all been reminded.