There are many unknowns surrounding this NBA offseason. The 2020 NBA Draft is on Nov. 18, but that's the only day that is set in stone. Bubble is over and the only thing NBA fans have to do at this time is hang onto hope.
But that is the nifty thing about the NBA, especially when it comes to the have-nots. The draft brings hope for the long-term, while free agency brings hope for the short-term.
With that in mind, let's take a look at the NBA teams that project to have the most salary-cap space this offseason and what they are positioned to do in terms of possible wants and needs.
Teams That Definitely Have Cap Space
Atlanta Hawks
Despite getting nearly 30 points per game from Trae Young and more than 20 from John Collins, the Hawks were 20-47 last season. At the trade deadline, they went out and traded for Clint Capela, who is 26 years old and should anchor the middle long after Dewayne Dedmon and his two years and $26.6 million of salary eventually come off the books. If Atlanta could find a way to move Dedmon this offseason, the organization's committed salary number would drop to the $45 million range. As it is, Capela and Dedmon will be the two highest-paid players on the team next season. Jeff Teague will likely head elsewhere as a free agent, meaning a point guard should be a priority in free agency. The best young one out in the market is Fred VanVleet of the Toronto Raptors, who likely will have his choice of destinations once free agency begins sometime after the draft.
Atlanta has always been a favored destination city for a lot of NBA players because of the usual nightlife, although the pandemic has made nightlife a fond memory in most major American cities. Still, operating under the assumption that things will eventually return to normal, players and their agents who look at the Hawks see a terrific youthful trio in Young, 22, Collins, 23, and Capela, 26. The Hawks missed the postseason in each of the past three years after making it for 10-straight seasons, and general manager Travis Schlenk has stuck to a steady rebuild plan. Cam Reddish will be entering his second NBA season, and Atlanta selects No. 6 in this year's draft.
Having the most cap room in the NBA (about $40 million) will allow the Hawks to broker deals and add players without having to match salaries, so this is a franchise that should be positioned to grow into a contender over the next few years. Given the fact that they MUST spend 90 percent of the cap on somebody, it is incumbent upon head coach Lloyd Pierce and the ownership group (led by Tony Ressler) to sell perspective additions on the prospects for long-term success. The city is an easy sell. The goal of winning soon is a little more tricky.
New York Knicks
Assuming they do not pick up the Bobby Portis' player option ($15.75 million), New York's committed salary number will drop to roughly $67 million. That provides a heck of a lot of flexibility for new general manager Leon Rose (and new head coach Tom Thibodeau), and the team's braintrust is scheduled to meet in two weeks to map out a free agency plan. The Knicks have won exactly one playoff series in the past 21 seasons, and a significant portion of the fan base has given up on the team, believing sustained success will never come until James Dolan ceases being the owner. But since that is not happening anytime soon, Rose must become a super salesman to free agents later this year -- or a master craftsman in making trades.
There is a school of thought that trading for Chris Paul might be a way to lure Giannis Antetokounmpo in free agency after the 2020-21 season, but The Greek Freak's long-term plans will be impacted more by what changes Milwaukee Bucks general manager Jon Horst is able to make on the trade market this season, and he will probably kick the tires on a number of moves. Nearly every player on the Knicks' roster -- aside from RJ Barrett and Julius Randle -- will come off the cap a year from now (New York has only $21 million committed for the 2021-22 season), so free agency after another season of mediocrity is where Rose has to set his sights. But until players are convinced that the Knicks are capable of having a winning culture, they will stay away -- the same way Kevin Durant and Kyrie Irving did.
Detroit Pistons
The Pistons were 20-46 last season and traded away Andre Drummond to Cleveland for John Henson, Brandon Knight and a second-round pick, creating an immediate nomination for Head-Scratcher of the Year. Drummond has led the league in rebounding in each of the past three seasons (and four of the past five), and little did the Pistons -- who expected Drummond to leave in free agency -- know how the pandemic would change everything for everyone in the NBA.
Unrestricted free agent Christian Wood should be Drummond's replacement at center if re-signed, but his market value will determine if Detroit brings him back. With Derrick Rose now trade bait on an expiring $7.68 million deal, Detroit currently has only $68 million in committed salary for next season, so there will be new faces joining the team through trades or free agency. Incoming general manager Troy Weaver has waited his whole career for this opportunity, but there is not much young talent there to build around.
The first order of business will be taking the best-available prospect with the No. 7 pick in the draft. As of now, Detroit does not have a second-round pick; it was dealt to Phoenix in the home-run deal that brought Marcus Morris, Reggie Bullock and Danny Granger to the Pistons back in 2015, but the Sacramento Kings now own that selection. Blake Griffin is on the cap sheet for two more seasons for nearly $76 million as well, so Weaver has his work cut out for him.
Charlotte Hornets
Michael Jordan can do better, one would think. How's this for preposterous: Nicolas Batum will earn $27.13 milllion next season if he picks up his player option. If there is an expression for "no brainer" in French, it would be fitting here, but at least Jordan can sleep tight at night knowing that Michael Kidd-Gilchrist and Bismack Biyombo will not be getting any more of his money. The Hornets went for Terry Rozier in free agency a season ago, and he responded by averaging 18 points and shooting 40 percent from three-point range.
The two best players on this roster are guards after Devonte' Graham's strong second season, which was largely overlooked by Most Improved Player voters (perhaps because of this franchise's low profile). They are building a young core with P.J. Washington and Miles Bridges at the forward spots, and they now need a center. Montrezl Harrell and Serge Ibaka are among colleague Spencer Davies' top-10 free agents, and landing Harrell would be a coup for Jordan. There have been reports that Harrell was among the Los Angeles Clippers players turned off by former coach Doc Rivers' load management of Kawhi Leonard and Paul George, but the hiring of Ty Lue could be the proper fix. Ibaka would be a riskier long-term investment given his age (31). Mitch Kupchak is on the spot this offseason with Charlotte currently sitting on roughly $30 million in cap space.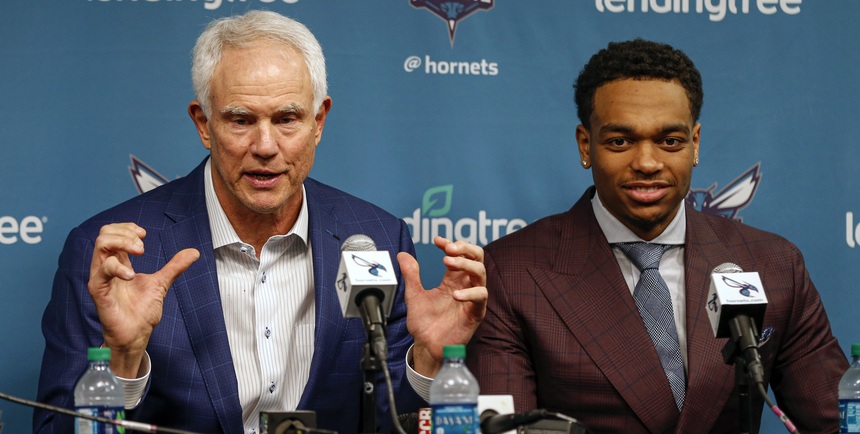 Teams That Could Have Cap Space (Depending On Moves)
Miami Heat
This is where things get very interesting, with a lot of moving parts. Already the defending Eastern Conference champions, the Heat are sitting roughly $28 million under the projected salary cap number (or $41 million if Kelly Olynyk opts out), which means they can probably entice anyone out there to join a team anchored by Jimmy Butler and Bam Adebayo -- and yes, Miami remains enticing in the COVID era. But that cap space is an illusion because the cap holds on Goran Dragic and Jae Crowder prohibit using it unless one or both leave in free agency.
If Dragic and Crowder leave for big money elsewhere, things get interesting because, in addition to the cap space, the Heat have trade chips in Andre Iguodala's expiring $17 million deal and Olynyk's expiring $13.6 million deal. Put the two of them together with a Kendrick Nunn or a Tyler Herro, and the sky is the limit in terms of what can come back in a trade. It remains to be seen what Miami has its eye on short-term (perhaps Victor Oladipo?), but the team is most certainly watching the Giannis situation for the longer-term. Pat Riley is a master recruiter, and let's just say that Miami is a nice place to live even during a pandemic. It should be a very interesting offseason...
New Orleans Pelilcans
First thing's first: They need to hire a coach; then comes the decision on whether to trade Jrue Holiday while his value is sky-high, having just been voted by his peers as the most desirable teammate in the league. The keeps long-term are Zion Williamson, Brandon Ingram (the NBA's Most Improved Player) and Lonzo Ball. There is a glaring need for a big man, which is where executive vice president of basketball operations David Griffin and general manager Trajan Langdon may look to spend with his cap number currently sitting at $83 million -- unless they makes an uneven trade salary-wise and bring in more money than he sends out in a Holiday trade (this is a scenario looked at in my Khris Middleton/Eric Bledsoe column).
The Pelicans' cap situation will depend on a couple of things. The first is Brandon Ingram, who is a restricted free agent with the ability to sign an offer sheet anywhere (but New Orleans has the ability to match any deal). The Pels were also one of the NBA's top-six rebounding teams last season, but Derrick Favors is an unrestricted free agent after averaging nearly 10 boards per game, which led the team. If they choose to re-sign him, their cap space is illusory because Favors' cap holds eats it all up. If he leaves, New Orleans is right behind Miami on the list of Best Cities In Which To Ride Out a Pandemic.
Phoenix Suns
The beasts of the bubble (8-0) looked fantastic in Lake Buena Vista, FL, so maintain a healthy skepticism of rumors out there that Devin Booker could be traded to Minnesota for the No. 1 pick. Suns general manager James Jones has a nice young core in place with Booker, Deandre Ayton, Kelly Oubre Jr. and Mikal Bridges; two factors that will impact their cap space is whether they tender a qualifying offer of $4.8 million to Dario Saric and whether they pick up the team option on Frank Kaminsky's $5 million option.
Phoenix had seven double-digit scorers last season led by Booker's 26.6 points per game, and their performance in the bubble made folks wonder whether the NBA should have included a play-in contingency plan for a team that outperformed expectations. As it was, they got squeezed. If Saric, Kaminsky (and Cameron Payne) are kept, the team's cap space shrinks to roughly zero when also accounting for the No. 10 pick in the draft. They are a work in progress, building to be a legit contender as this young core has another year together. Adding another piece with all or part of the $9.3 million mid-level exception, if it does not create luxury-tax problems, seems the most likely route.
Note: The cap and tax levels have not yet been set.