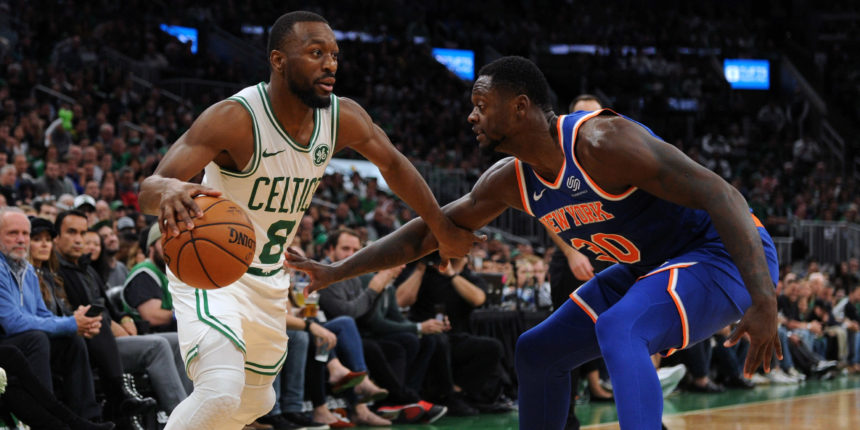 An in-depth breakdown of how and why Kemba Walker will help the Knicks
More than anything else last year, the downfall of the New York Knicks could be tied to insufficient shot creation. They grinded their way to the league's fourth-best defense and the Eastern Conference's No. 4 seed in the regular season, but their 22nd-ranked offense was a house of cards waiting to be toppled come playoff time.
That's precisely what the Atlanta Hawks did in a 4-1 first-round victory, flooding Julius Randle's every touch, cornering him into a bevy of difficult looks and encouraging ill-suited secondary options to commandeer the offense. As a response to those postseason struggles, the Knicks inked Evan Fournier to a four-year, $78 million deal and will reportedly sign Kemba Walker to a two-year deal worth about $16 million.
Following an injury-riddled 2020-21 campaign where he showed obvious signs of decline, Walker is a bit of an enigma. He played in just 43 of 72 games and missed the final two playoff bouts against the Brooklyn Nets, but when he's on the floor, he will undoubtedly give the Knicks a substantial boost. Walker will mainly help with perimeter creation and options for stylistic variance, having averaged 19-5-4-1 on a true shooting percentage of 55.9 last season.
When he's on the floor is, of course, a daunting caveat, given the knee issues that have hampered him since, approximately, the 2020 All-Star Break. Of further concern is the degree to which he may be relied upon in New York. Nonetheless, Walker represents a massive upgrade of the Knicks' previous floor generals in Elfrid Payton and Derrick Rose. He still holsters a good bit of offensive juice and should help them improve upon their 22nd-ranked offense.
From the jump, a point guard who's a legit pull-up threat is a massive shift. Since 2018-19, Walker has drilled 377 of his 1,057 (35.7%) off-the-bounce triples. Over that same span, Payton (53) and Rose (184) took a combined 237 pull-up threes. A staple of the Knicks' early offense should be double drag. Walker is the handler, Mitchell Robinson dives to the paint and Randle drifts beyond the arc with Fournier (41.3% from three in 2020-21) and RJ Barrett (40.1%) stationed along the perimeter.
Walker's dynamism as a pull-up guy could invigorate that action, while Robinson's rim-running threat and Randle's jumper further stress defenders. Despite some athletic regression, Walker can still stop-and-pop on a dime to create space for open looks, which will prove fruitful in this action. Any set involving three strengths of New York's starters should be spammed. The Knicks need to find ways to lift the offense that caused their 2020-21 downfall. Double drag is a path toward growth.
When the defense settles and the Knicks must organize in the half-court, Walker's ball-screen savvy will serve them well. According to Synergy, he ranked in the 66th percentile in pick-and-roll efficiency (0.923 points per possession) last season, a welcomed dimension to an offense that was 18th in pick-and-roll ball-handling PPP at 0.877.
Rostering a starter who can create his own shot off the dribble and get to his spot for pull-ups is critical. Last year, Rose, Alec Burks and rookie Immanuel Quickley were New York's guards who met this criteria. Walker is better than all of them by a comfortable margin, albeit with looming injury worries.
He remains superbly shifty, is a masterful decelerator and knows how to manufacture space for his jumper, despite his (perhaps graciously listed) 6-foot frame. His downhill burst has deteriorated, but he is nonetheless one of the most electric side-to-side athletes, shaking free of defenders and rising for pull-ups. New York needs this skillset. Walker brings it.
With Walker at the helm as the guard who ties everything together, the Knicks should run more Spain pick-and-rolls next season. Walker offers the pull-up flair, Robinson is the roll man and Fournier, Barrett or Randle is the back-screener darting beyond the arc. Barrett's long-range prowess is best utilized in stationary contexts currently, so Fournier or Randle (likely Fournier) are the better choices. Even so, it's a level of optionality produced by the personnel absent last season.
There are counters to the traditional Spain pick-and-roll, too. Before actually making contact on his screen, Fournier can leak out to the wing and attack a titled defense. Randle or Barrett can replace Fournier as the back-screener before Robinson flows into a pindown for Fournier from the corner or wing. All of this is possible because Walker is a point guard who can play starter's minutes and forces the defense to respect him as a pull-up shooter. That wasn't the case last season for New York.
Head coach Tom Thibodeau's track record as an offensive innovator isn't sterling, so it's plausible some or many of these choices fall to the wayside. At the very least, though, greater flexibility exists than it did before the acquisition of Walker (and Fournier) and that elevates the possibilities for this team.
Aside from health, which is a relevant and pressing worry, the primary concern could be the magnitude to which the offense banks on Walker's creation, especially in conjunction with his knee troubles. In Boston, Walker was a secondary handler. Jayson Tatum assumed the reins midway through 2019-20 and Jaylen Brown took a considerable step forward offensively in 2020-21, both of which enabled Walker to flank rather than lead them from the perimeter.
Randle will continue to be the team's offensive hub, but Walker will likely catalyze a ton of possessions. He did not prove capable of such a role with the Celtics. Instead, he's best as an ancillary creator. Walker eases the tension for his All-NBA mate, but the offensive infrastructure in place is worse than it was in Boston. He will help the Knicks, but it seems dubious to expect them to help him as much as his previous employer did and that probably mitigates some of his offensive contributions.
Even though he has maintained many of his principle athletic trails, his downhill burst is not of the same ilk from his prime. Because of his size, he demands every ounce of separation possible to find angles and room for shots. Some of those avenues have dried up. Wings or bigs with mobility who can alter his jumper and close off driving lanes pose hurdles. Navigating the paint or frequenting the paint is arduous. He doesn't torch switches like he used to, nor does he get the same level of lift off the ground, allowing defenders to contest more shots. As a result, the dribble-to-impact ratio can skew far too negative for stretches.
According to Cleaning The Glass, his rim frequency was a career-low 20% last season (23rd percentile among guards), down from 26% in 2019-20 and 31% his final year in Charlotte. His free-throw rate of .220 was also a career-low and well below his .287 mark from the first nine years.
It's a whole lotta tough shot-making in his arsenal these days, an MO of New York's offense and subsequent faltering. Because he's a stellar shooter, Walker is well-equipped to handle that diet, but there will be dry spells in his on-ball creation. His inability to comfortably turn the corner, separate downhill from defenders or consistently function in the paint are shortcomings that must be priced into the deployment and understanding of his game.
Despite the creation decline, Walker carries a great deal of offensive value via off-ball scoring. The Knicks must tap into that and avoid saddling him with improper usage. Use him as a screener in inverted pick-and-rolls for Randle. Run dribble handoffs between him and Randle that send him into motion, gaining a step over his man, and watch the space-creation and shooting acumen take over; if his pull-up gravity draws two defenders, he can wiggle in a pocket pass to Randle with Robinson in the dunker spot as an alternative.
A release valve who's converted 37.9% of his catch-and-shoot threes, is adept off-movement and can capitalize on advantages fashioned by Randle's interior gravity beyond mere spot-up volume is an apt partner for the All-Star forward.
Feature him in pick-and-pops where Fournier or Barrett are the handler. The guard-guard actions between Fournier and Walker, both on and off the ball, should be a routine means of leveraging their shooting gravity and involving two perimeter guys with creation equity. They established some connective actions together in Boston last season and Walker's chemistry with Tatum is another template of usage for New York. Plus, its starting big men, Robinson and Randle, are a noteworthy improvement over Boston's 2020-21 (unfortunately) revolving door in the front-court.
Let Randle facilitate actions and empower Walker to create off-ball advantages with his short-area quickness and manipulation of screens. If generally healthy and roughly the same player as last season, when he was certainly an above-average starter in the games he suited up, he provides the necessary potential to expand this uniform offense.
Another virtue of a retooled guard rotation is the offensive continuity among New York's three best ones in Fournier, Walker and Quickley. T.J. Ferrick explains the value of this concept in great detail here as it pertains to Trae Young and Sharife Cooper, but it can be applied to the Knicks.
Last season, their perimeter fleet of Payton, Rose, Quickley, Barrett and Reggie Bullock did not enjoy much overlap in offensive repertoires. Stylistic diversity has its merits, but it also changes schemes and affects how the surrounding players interact and function with one another. Fournier, Walker and Quickley are somewhat synergistic in nature offensively, particularly the latter two, which simplifies responsibilities for others, both players and coaching staff.
Walker and Quickley each tout pull-up and off-movement chops, and struggle as drivers; these similarities could breed some offensive harmony across lineups and generally staggering their minutes seems prudent. The Knicks' offense will benefit from Walker's pull-up gravity, which he parlays into facilitating and could impart upon Quickley's development. Robinson will also reap rewards from Walker's probing and interior passing when he does populate the lane, even if it's rarer than ideal for the fourth-year center.
Although not the All-NBA initiator of 2018-19 or the All-Star of 2019-20, Walker is an excellent player. Fretting over his availability is legitimate because last season did not inspire credence for a small guard who rarely missed games his first eight years and shouldered a hefty workload each of those years. Joining a team lead by Thibodeau might not portend well for careful minutes either.
Yet as long as he's out there, he bolsters the Knicks' offense dramatically, malleably operating alongside their cornerstones and incorporating more dynamism. Eastern Conference rivals only grew stingier this past season. The acquisition of Walker may not bear another top-four finish, but New York's team quality improved and his arrival is the foremost reason.