It's the most wonderful time of the year. We've reached the end of another NBA regular season, and the playoffs are just around the corner. Good teams are prepping for their matchups, bad teams are looking forward to next season, and media types are debating awards.
From Most Valuable Player to Defensive Player of the Year to Sixth Man of the Year, end-of-the-season awards are meant to honor players, coaches and executives for a remarkable season. And yet, despite a failed season, one man keeps finding his way onto people's All-NBA ballots: LeBron James.
Now, let me preface this by saying: I do believe there's a case to be made for LeBron earning All-NBA honors. I just also believe that for the first time in a long time, there's also a case to be made that he should be left off of the ballot.
All-NBA slots are awarded to the top 15 players of a given season, divided by positions: six guards, six forwards and three centers. James is certainly one of the six best forwards in the league, but I'd argue that he isn't having a top-six season and that's a demarcation that should nudge James off of anyone's ballot.
As the old NBA saying goes, "If you believe someone should make a roster, you must name who they would replace." So, if I don't believe LeBron is All-NBA worthy, I should name the forwards who ought to make it ahead of him.
In my opinion, those slots should be reserved for Giannis Antetokounmpo, Jayson Tatum, DeMar DeRozan, Pascal Siakam, Kevin Durant and Jimmy Butler. All six forwards listed are on winning teams.
LeBron's case for All-NBA appears to be twofold — one is his statistical dominance, and the other is his legacy.
This season, many point to his scoring proficiency to bolster his All-NBA case. James is the second-leading scorer in the league, averaging 30.3 points, 8.2 boards and 6.2 assists on 61.9 TS%.
These are gaudy numbers that are certainly hard to ignore. But let's take a closer look.
LeBron leads all forwards in points per game and assists per game. However, because he only played 56 games this season, Tatum, Antetokounmpo and DeRozan all scored more total points than James.
Still, LeBron would finish with 144 more total points than Siakam. But if we dig a little deeper into these numbers, we'll see that James also leads forwards in total points scored while their team is trailing big, per NBA.com. LeBron scored 189 points this season when his team was down by more than 16 points. By comparison, only 35 of Siakam's points came when his Raptors were trailing big.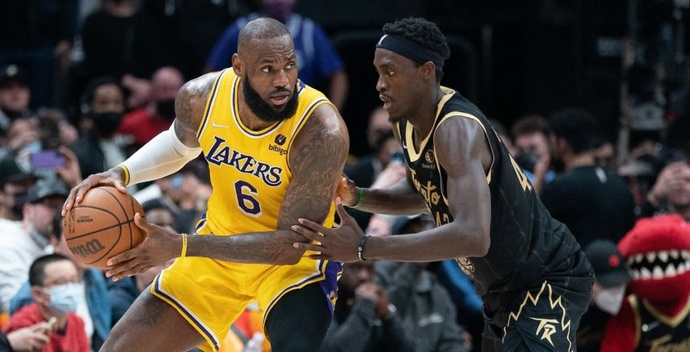 It's easy to poo-poo LeBron's scoring as having happened in low-leverage moments. In fact, James has been criticized quite a bit this season for chasing statistical milestones when his team had no hope of winning. His defenders would argue the Lakers needed every point, rebound and assist to have a chance in the game, and detractors would point to the times he's hunted for baskets even after the game was out of reach.
This isn't to say LeBron is scoring maliciously and padding his stats. The question I ask is: if much of his case is bolstered by his scoring prowess, should we not question how much of his scoring was done in low-leverage moments or why it didn't translate to wins?
Despite being in contention for the scoring title, LeBron would not have qualified because he didn't meet the requisite number of games. A player must play in 58 games to qualify, and LeBron only suited it up for 56.
Though there aren't similar benchmark requirements for an All-NBA selection, this is also something that voters should take into account. The best ability is availability, and LeBron would have played the second-fewest games of all potential All-NBA forwards, only ahead of Kevin Durant (who will finish one game shy of LeBron).
I can already hear you asking: does that mean Durant should also be written off All-NBA ballots? I don't think so, and that's because of one key factor: wins. The Nets are 44-38 and in the Play-In Tournament as the East's seventh seed. The Lakers are 32-50 and are the 11th seed.
Though it's easy to point to the Lakers' roster flaws for their bad record, a similar argument could be levied at the Nets. Without LeBron, the Lakers are 7-19. Without Durant, the Nets are 8-19 — similarly bad records on par with the worst teams in the league.
But, with Durant, the Nets are 36-19 in contrast to LeBron's record of 25-31, so it's easy to see how a case can be made that Durant's presence elevated one of the worst teams in basketball to contention. And this season, LeBron simply has not.
In fact, LeBron has a negative net rating (-2.5) for the first time since his rookie season. For the first time in nearly two decades, James' team is not winning the minutes he's on the court. And though that isn't entirely his fault, it's hard to mount an argument that you've had one of the six-best seasons at your position when your team loses with you on the court.
LeBron has celebrated more birthdays than he has celebrated wins this season. I'm not sure if that's more a testament to his greatness and longevity or an indictment on the Lakers' poor season.
However you choose to see it, remember that only one of those numbers matter when honoring a player for end-of-the-year awards, and that's wins.