Even from behind the black mask he'd grown accustomed to wearing, Tom Thibodeau's raspy voice could be heard from the sidelines by every player on the New York Knicks' bench. Just 54 seconds into his NBA career, Immanuel Quickley was getting an earful from his new head coach.
Starry-eyed he may have been, but the neophyte was far from a deer in the headlights. Quickley nodded and stared. He understood. In the NBA, preseason game or not, fouling a three-point shooter is a no-no.
Indeed, from the jump, the rookie was out to prove he belonged. Content to wait his turn, he humbly accepted his DNP-CD in his team's first preseason game. But he wanted to make sure his fingerprints were on this one.
In the end, a modest stat line in a 99-91 preseason loss to the Detroit Pistons meant nothing in the grand scheme of things, but from the moment he set foot on the floor, Quickley displayed impressive instincts and feel for the game. When Knicks fans salute and anoint Quickley for what he's shown through the first 16 games of his pro career, it's less about who he is and more about what he represents.
Change we can believe in.
Since the turn of the millennium, wishing upon a star and selling its fanbase on a savior has been one of the constants at Penn Plaza. The Knicks have tried to acquire stars -- from Isiah Thomas and Stephon Marbury all the way through Carmelo Anthony and Phil Jackson -- but they've missed on plenty of big names as well. Lusting after other teams' cornerstones has long been the norm at Madison Square Garden.
Some franchises, from ownership on down, pursue wins as if their lives depend on it. Others view them as a welcomed byproduct in pursuit of increased valuations, status and prestige. Some players love basketball. Some just love being an NBA player. There's a difference between the two. The same principle can be applied to the league's ownership groups and front offices.
You can draw your own conclusion about what the priorities in New York have been over the last two decades. With every splash and every big name, there's been one constant — losing.
And every few years, when a new savior is anointed, we wonder whether this time will be any different.
At least to this point, with Scott Perry by his side, Leon Rose has done nothing but instill confidence in the educated observer. Perhaps he and his regime are, in fact, the truth serum.
Some, in years past, would have tossed absurd money at mediocre free agents as if the team's salary-cap dollars had an expiration date. Others would have gladly paid a hefty price to the Oklahoma City Thunder, Houston Rockets or Washington Wizards for the remains of Chris Paul, Russell Westbrook or John Wall.
Instead, with a bunch of kids barely old enough to drink and $17 million in cap space, Rose and Thibodeau declared themselves ready for the 2020-21 NBA season. Obviously, the front office will continuously attempt to improve, but with no superstar to cater to and no personal agendas or motives poisoning the locker room, the hope among fans is that the team will find its way back to respectability in the same organic way that so many other franchises — including the championship contender that plays about five miles from The Garden at Barclays Center — have done.
To that end, Quickley provides hope.
When he took the floor in Detroit, on the very first possession that he was asked to captain Thibodeau's offense, he received the initiating pass from Frank Ntilikina before instructing Obi Toppin to screen his defender. Recognizing a hard show and switch by Killian Hayes, Quickley instinctively found R.J. Barrett, who had a clear lane to the basket. With an unobstructed beeline, Barrett drove to the basket before dumping a pass off to a rolling Mitchell Robinson for an easy dunk.
Quickley would end the night with a plus-minus of plus-2. He'd played just nine minutes and scored only two points. On that play in particular, he received no credit in the box score, but those who do more than number-watch would recognize that contribution.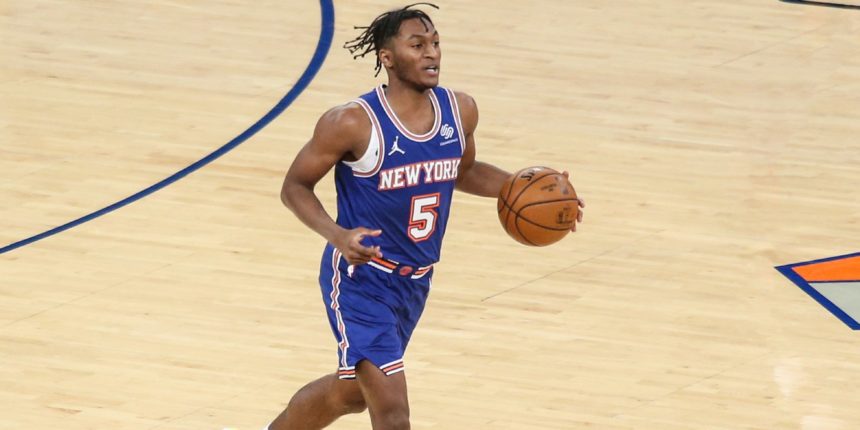 In less than 20 games since, the rookie, like all others, has had his ups and downs, including a few more DNPs. But in the early goings of the youngster's career, the fact that there are any ups at all is reason enough to watch with a raised eyebrow. That's where we find ourselves — watching and wondering whether Immanuel Quickley could actually be the real deal.
The 21-year-old is currently averaging 11.6 points, 2.5 assists, 2.1 rebounds and 1.6 threes in 18.5 minutes per game, with 35.7/37.9/95.2 shooting splits. Among all rookies, he has the third-highest scoring average despite playing the 16th-most minutes.
The night he was drafted, absent the fanfare and the bright lights of New York City, among the things Quickley talked about was the fact that he had to scrap and earn his keep at the University of Kentucky. It's not every day that someone goes from a reserve to the conference's Player of the Year, but that's exactly what he did in the SEC.
"I feel like I can accomplish anything that comes my way," he said with a smile, as he met virtually with the New York City media for the first time on draft night.
He certainly has his work cut out for him. But at this moment, there's plenty of reason to be intrigued by his potential.
In the NBA, all it takes is a few players to turn potential energy into kinetic.
We don't know where Quickley will end up, but we do know that along with Leon Rose, R.J. Barrett, Mitchell Robinson and Obi Toppin, he represents a sharp divergence from the path most taken.
It's about time things changed. And already, at this point, we are well within reason to wonder whether Immanuel Quickley is the turning of the tide.