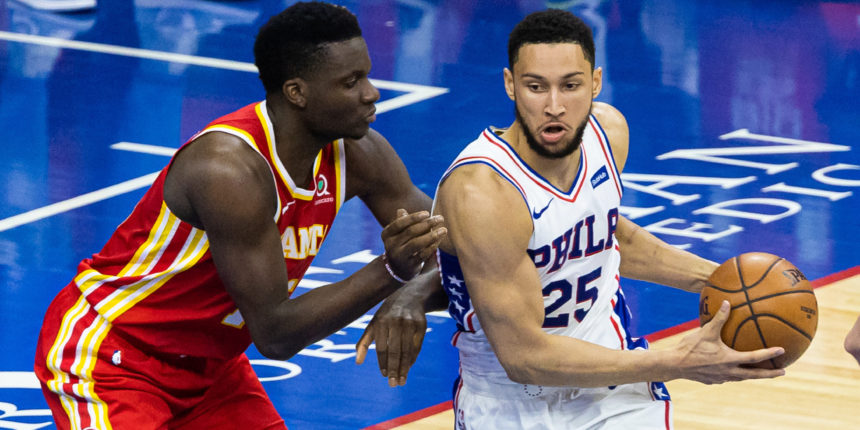 76ers have list of 30 elite players they'd accept in Ben Simmons trade
We're now one month into the 2021-22 NBA season and there hasn't been any movement in regards to the Ben Simmons saga. It's the NBA's biggest storyline and there's seemingly no end in sight, as neither side seems willing to budge.
Philadelphia 76ers general manager Daryl Morey has said that he won't consider trading Simmons unless the team gets back a "difference-maker." What exactly does that mean? According to Sam Amick of The Athletic, Morey and his staff "have an actual list" of players that they'd be willing to accept in return for Simmons and it's "approximately 30 players" long.
That list includes players like James Harden, Damian Lillard, Bradley Beal and Jerami Grant, according to Amick and The Philadelphia Inquirer's Keith Pompey. Of these names, "there's an internal belief that a fair amount of them — let's say five to 10 — could become available in the next year or two," per Amick.
In other words: the 76ers are in no hurry to move Simmons and they're willing to wait for a star to become available. This lines up with what Morey said on 97.5 The Fanatic last month.
"You are going to think I'm kidding, I'm not: This could take four years," Morey told The Mike Missanelli Show. "The conditions I pointed out to you don't change unless Ben Simmons is traded for a difference-maker. We are in the prime of Joel's career... So this could be four years. This is not a day-to-day thing. This is like every day we are going to expect Ben Simmons to be back here or we are trading him for a difference maker. There's no other outcome that doesn't materially hurt our chance to win the championship in Joel Embiid's prime."
A Sixers source reiterated this to Amick, describing this saga as "a multi-year thing."
In the case of Harden, the thinking is that the Sixers may be able to swoop in this offseason and complete a sign-and-trade for the nine-time All-Star since he didn't sign an extension with the Brooklyn Nets prior to the start of this season. It makes sense that Morey wants to reunite with Harden, but this seems like a long shot.
Beal could also be an unrestricted free agent this offseason, as he has a $36,422,136 player option for the 2022-23 season. However, Beal didn't show any interest in leaving the Washington Wizards when the team was struggling, and it'd be shocking if he suddenly decided to move on now that they have one of the best records in the Eastern Conference.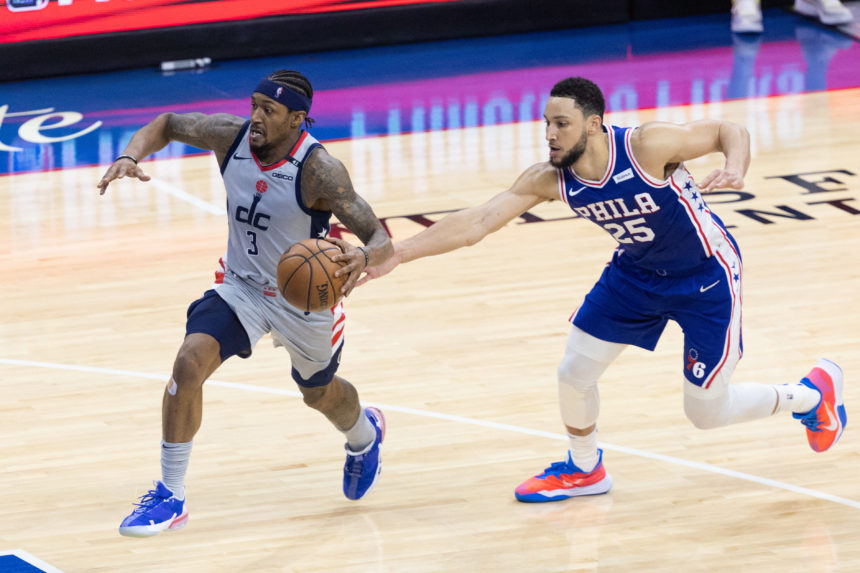 Lillard recently committed to remain with the Portland Trail Blazers long-term, stressing that winning a title in Oregon would mean way more to him than getting a ring elsewhere.
Grant is likely lower on the 76ers' list, as a team source told The Philadelphia Inquirer that they "would want a more high-profile player than Grant in exchange for Simmons." However, Philly has reportedly had ongoing discussions with the Detroit Pistons about Grant, with Saddiq Bey and Kelly Olynyk also being mentioned. Grant has never been an All-Star, but he's coming off of a big year with the Pistons in which he averaged 22.3 points, 4.6 rebounds, 2.1 threes and 1.1 blocks. The 27-year-old started his career with the 76ers, who drafted him No. 39 overall in 2014.
While a trade doesn't seem close, don't expect Simmons to suit up for the Sixers in the near future either. Amick reports that he doesn't "see a return happening anytime soon — if ever." Again, neither side is willing to budge.
Will the league get involved in the Simmons saga? That seems unlikely too. A league source told Amick that getting involved would be a "last step" and stressed that "Simmons' contract is not with the league but with the Sixers." According to Amick, the NBA would "strongly prefer to let the situation play out."
It remains to be seen how long that takes.