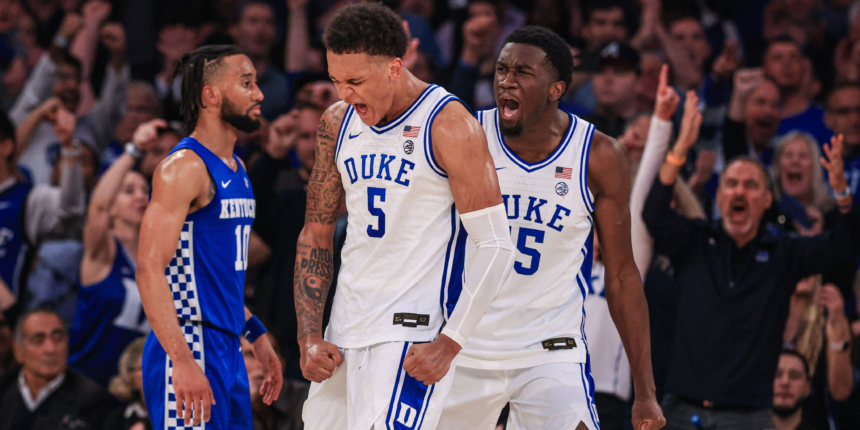 2022 NBA Draft: Opening night stat lines from potential one-and-dones
The 2021-22 college basketball season is officially underway!
Subsequently, our scouting staff will have its eyes glued on NBA prospects across the country. However, considering that the bulk of top draft selections are one-and-done freshmen each year, we will take an emphasized look at college newcomers.
I recently shared a list of the top freshmen we will be keeping close tabs on. Below are last night's stat lines from a number of those NBA prospects that we currently have included on our 2022 NBA Draft Big Board:
Chet Holmgren - Gonzaga vs. Dixie State
MIN: 28 PTS: 14 REB: 13 AST: 6 FG: 4-6 3FG: 0-2 FT: 6-9 TO: 2 BLK: 7
Paolo Banchero - Duke vs. Kentucky
MIN: 31 PTS: 22 REB: 7 AST: 0 FG: 7-11 3FG: 0-3 FT: 8-9 TO: 1 STL: 2
Jalen Duren - Memphis vs. Tennessee Tech
MIN: 31 PTS: 15 REB: 6 AST: 2 FG: 7-10 3FG: 0-0 FT: 1-2 TO: 3 BLK: 5
Jabari Smith - Auburn vs. Morehead State
MIN: 21 PTS: 8 REB: 6 AST: 3 FG: 3-6 3FG: 2-3 FT: 0-0 TO: 0 STL: 3 BLK: 1
Patrick Baldwin Jr. - UW Milwaukee vs. North Dakota
MIN: 37 PTS: 21 REB: 10 AST: 1 FG: 6-14 3FG: 2-7 FT: 7-8 TO: 3 BLK: 1
AJ Griffin - Duke vs. Kentucky
MIN: 11 PTS: 2 REB: 2 AST: 0 FG: 1-3 3FG: 0-1 FT: 0-0 TO: 0
Peyton Watson - UCLA vs. CSU Bakersfield
MIN: 20 PTS: 7 REB: 5 AST: 0 FG: 2-11 3FG: 0-5 FT: 3-4 TO: 3 BLK: 2 STL: 1
TyTy Washington - Kentucky vs. Duke
MIN: 28 PTS: 9 REB: 3 AST: 3 FG: 3-14 3FG: 0-2 FT: 3-4 TO: 0 STL: 1
Kennedy Chandler - Tennessee vs. UT Martin
MIN: 22 PTS: 20 REB: 1 AST: 4 FG: 7-10 3FG: 4-4 FT: 2-2 TO: 3
JD Davison - Alabama vs. Louisiana Tech
MIN: 26 PTS: 12 REB: 6 AST: 6 FG: 3-4 3FG: 1-2 FT: 5-7 TO: 2 STL: 1
Daimion Collins - Kentucky vs. Duke
MIN: 2 PTS: 0 REB: 0 AST: 0 FG: 0-0 3FG: 0-0 FT: 0-0 TO: 1
Max Christie - Michigan State vs. Kansas
MIN: 31 PTS: 9 REB: 3 AST: 0 FG: 3-10 3FG: 2-4 FT: 1-2 TO: 2
Brandon Huntley-Hatfield vs. UT Martin
MIN: 19 PTS: 7 REB: 6 AST: 0 FG: 3-5 3FG: 1-1 FT: 0-0 TO: 1 STL: 2 BLK: 2

Others:
Nate Bittle - Orgeon vs. Texas Southern
MIN: 7 PTS: 0 REB: 0 AST: 0 FG: 0-1 3FG: 0-0 FT: 0-0 TO: 0 BLK: 1
Nolan Hickman - Gonzaga vs. Dixie State
MIN: 17 PTS: 11 REB: 2 AST: 2 FG: 5-9 3FG: 1-4 FT: 0-0 TO: 1 STL: 1
Harrison Ingram - Stanford vs. Tarleton
MIN: 31 PTS: 16 REB: 7 AST: 1 FG: 7-11 3FG: 1-2 FT: 1-1 TO: 1
Trevor Keels - Duke vs. Kentucky
MIN: 34 PTS: 25 REB: 1 AST: 2 FG: 10-18 3FG: 1-4 FT: 4-6 TO: 2 STL: 3
Bryce McGowens - Nebraska vs. Western Illinois
MIN: 39 PTS: 25 REB: 6 AST: 0 FG: 7-18 3FG: 1-6 FT: 10-12 TO: 2
Efton Reid - LSU vs. UL Monroe
MIN: 24 PTS: 16 REB: 6 AST: 1 FG: 7-10 3FG: 0-1 FT: 2-3 TO: 2 BLK: 1
Hunter Sallis - Gonzaga vs. Dixie State
MIN: 13 PTS: 9 REB: 2 AST: 0 FG: 4-7 3FG: 0-0 FT: 1-1 TO: 0