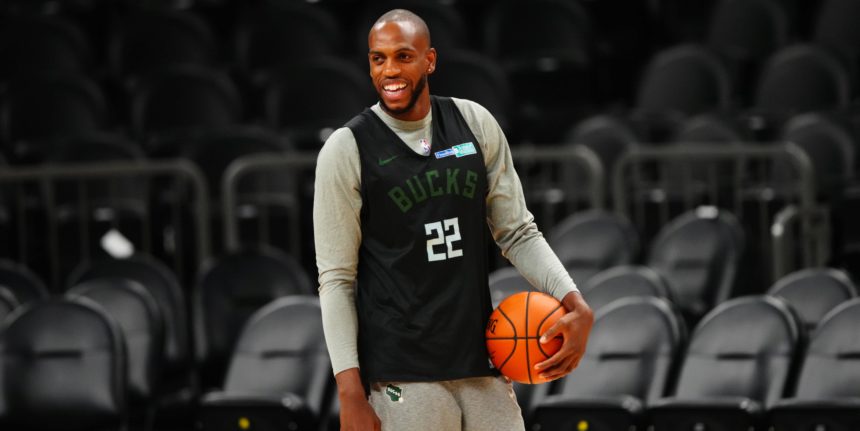 2021 NBA Finals: 6 keys for the Bucks against the Suns
With the 2021 NBA Finals set to begin on Tuesday night, BasketballNews.com will have you covered every step up the way with the top storylines, breakdowns, player quotes and more. Alex Kennedy will be reporting with a focus on the Phoenix Suns, while Spencer Davies will take the assignment for the Milwaukee Bucks. Nekias Duncan will have film breakdowns for both teams.
Monday afternoon at Phoenix Suns Arena marked NBA Finals Media Day, where both teams discussed the upcoming spectacle. Neither team has a single player on its roster that has won a championship – the first time that has happened since 1971. There is just one player who has reached the championship stage, and that is Jae Crowder on the Suns, who made the Finals in back-to-back years.
In the regular-season series, the Suns swept the Bucks 2-0 in a pair of one-point victories, the latest of which was an overtime thriller in Milwaukee.
As a team, the Bucks have not appeared in the Finals since 1974, and head coach Mike Budenholzer will be making his Finals debut in addition to the players.
Here are the main takeaways from the Bucks' side of things from Media Day, including keys to Game 1 and the series as a whole:
What is Giannis Antetokounmpo's status?
It's the burning question on everyone's minds in Wisconsin. Unfortunately, we did not get an answer. Budenholzer indicated that he didn't have a feeling one way or another, but did seem encouraged by the progress Giannis Antetokounmpo is making.
His Bucks teammates didn't seem to know much on the matter, either.
"Obviously, Giannis attracts a lot of attention. He's a huge part of what we do," Brook Lopez said. "But I think, in a way, with or without Giannis, we know we have to just go out there and play Bucks basketball. We're going to have to play great team basketball, rely on each other, play together, and play great defense for 48 minutes."
"[We're] just a team that's trying to play unselfish, trying to do it as a committee [without Giannis]," Khris Middleton said. "When Giannis is out there, a lot of times we can just give him the ball and let him go to work and let him orchestrate a lot of things out there. Without him, we have to do it by committee, moving the ball around, driving it a little bit more, playing just a little bit faster with a little bit of different flow. But I think guys have done a great job of adjusting with him out – with him not out there in two of the most important games of our season."
According to NBA TV's Jared Greenberg, Giannis will work out in a private gym in Phoenix in front of "an army of observers" to test his injured knee. Per Greenberg, he's made significant progress over the last several days, originally going through drills on one leg to now being able to use the recovering leg. Giannis has been able to do individual workouts, but hasn't been doing them with the team itself. Greenberg said that he is "fighting tooth and nail" to be in the lineup for Game 1.
"You can't replace a player the caliber of Giannis -- two-time MVP, the things he does on a nightly basis on both sides of the ball, you can't replace it," Pat Connaughton said. "But I would say, as a human being, it's even more impressive what he does, and what he's done since he's been injured, continuing to be vocal (if not even more vocal), pulling players aside individually, addressing the team collectively, making sure he's still present and more than a big part of what we're doing has instilled confidence in both individual players as well as the team in general.
"Obviously, you're talking about a guy that puts up 30 points a night. You're talking about a guy that rebounds the basketball, passes the basketball, defends as well, if not better, than anybody else. You're not going to necessarily replace that with one guy or with one thing.
"The way we've tried to make sure we've put our best foot forward to have his back while he's out is doing it together. Obviously, Khris, Jrue [Holiday], Bobby [Portis], there's been a bunch of guys that have stepped up in his absence, but it's been a collective group effort. It's been playing together. It's been sharing the basketball. It's been defending as a team and gang rebounding and doing all of the little things that it takes to win a basketball game so that we can try to put ourselves in this position, [getting] to the Finals to give Giannis some more time to get healthy because, without him, we wouldn't be here. We all see what he does on the court, but the things he does off the court are, in my opinion, even more impressive."
In Budenholzer's eyes, it's next man up.
"I think it's one of those sports clichés. There's a reason for those clichés, because you see it happen time and time again in different sports, in the playoffs and what the group was able to do without Giannis in Game 5 and Game 6," Budenholzer said.
"Bobby Portis, obviously, shouldered a lot of that, but I think what Pat Connaughton was able to do, Jeff Teague, Bryn Forbes, Brook taking on a more significant role, how Jrue and Khris led and P.J. Tucker, everything he does that's about winning. So I think the whole group, I guess next man up is the phrase, but it's really each man taking a little share of that load, and the guys did that well. We may have to do that going into Game 1 and until Giannis hopefully is able to return."
Khris Middleton and Jrue Holiday look to step up
Speaking of "next man up," the attention shifts to Khris Middleton and Jrue Holiday, who both played a huge part in the Eastern Conference Finals against the Atlanta Hawks.
Middleton didn't quite have the three-ball working consistently when Giannis went down, but he put plenty of pressure on the defense with his mid-range game and foul drawing, averaging 24.7 points, 8.3 rebounds and 6.7 assists in the three games without his superstar teammate.
Holiday's aggressiveness ramped up when Milwaukee needed him most, as his shot attempts exploded to 20 tries per game. He stepped up to average 23.7 points, 10.3 assists, 6.3 rebounds and 1.7 steals in that window as well, helping send the Bucks to the Finals.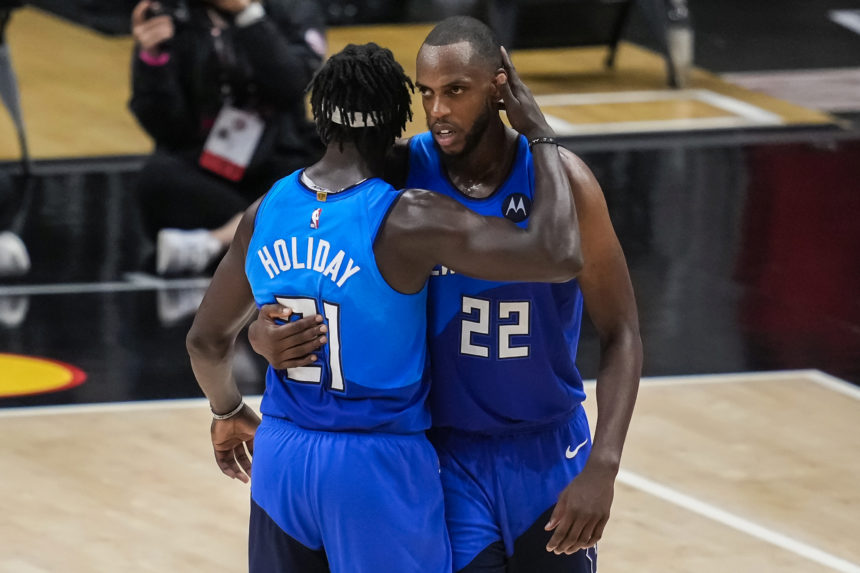 "Just to continue to be aggressive," Holiday said of his mentality. "No letdowns, because the way Giannis plays, there are no letdowns. He's continually going to the basket, being aggressive on both ends of the floor. He brings so much to this team. He does so much for us that I feel like losing that would really be hard for us. So just continuing to be aggressive from minute zero to 48."
"'I'm going to ride with [my teammates]," Middleton said. "I think we're all having each other's back out there. Jrue has been fantastic. Giannis has when he's been out there. Brook, Bobby, Pat. I can go down the line. P.J. Tucker. We all use each other out there. We all need each other out there."
Defending Devin Booker and Chris Paul
Coming off an Eastern Conference Finals where Trae Young did damage out of the pick-and-roll and in the in-between areas, the Bucks will have their hands full with Devin Booker's incredible pull-up game.
Booker scored 54 total points in two games against Milwaukee in the regular season (on 20-for-45 from the field). He was able to score and get to the line at will in those contests, as well as dish off the attention he drew, doing most of his work inside the perimeter.
"[He's] just a guy that hits tough shots, a guy that can score from the three, the mid-range and the paint, a guy that can get to the free-throw line," Middleton said. "He's a guy that really can score in every single way, which is tough to guard because you don't know when he's going to stop and shoot, when he's going to keep going, when he's going to look to create for others. It's just a great balance he has."
Chris Paul also diced up the Bucks in those regular-season contests, registering 50 points on 50% from the field to go along with 20 assists. The Suns' backcourt duo will be a major thorn in Milwaukee's side if the East representatives aren't attentive to defensive details.
"They're very special players. They're gifted, talented. We have to do our best to make everything hard on them," Budenholzer said. "Limit their easy looks. Limit their good looks. Keep them off the free-throw line. I feel like we have a lot of guys we can throw at them, but they test you and challenge you like great players do."
"They're different players," Holiday said. "You just really have to know their tendencies, what they like to do. I think everybody has watched Chris Paul play as a little kid – not saying he's old, but we have seen him play a lot, and he gets to his mid-range and he's great at his mid-range, especially in the pick-and-roll. Book is great in the iso, going left or right, pull up. He's athletic, so he can get to the basket too. Just attention to details and try to be as solid as possible.
PJ Tucker has been teammates with both Paul and Booker, and knows what each is capable of, especially when they get a mismatch they like.
"For the switching defense, it's always a problem. You're getting a lot of what are presumed to be mismatches on sometimes centers on guards," Tucker said. "We've done that pretty much most of the playoffs – Brooklyn, Atlanta. It's tough. No matter what, at this level, at this point, all the guards are really good. They can all score. Even putting guards on bigs now, it's tough trying to rebound.
"That's something we carry heavy on our shoulders. Guys know to guard their own, be able to guard to take guys off the glass, being able to help and fight with each other, that's just a part of it. Obviously, it's going to pose that situation a lot of times, but we like our chances. We like our guys out there."
Battle of the Big Men: Brook Lopez and Deandre Ayton
Brook Lopez will have the task of slowing down a thriving Deandre Ayton in these Finals. Ayton has been a dominating force in multiple facets to this point, including a ridiculous 70.6% mark from the field in the postseason as a whole thus far.
"I mean, he's obviously developed very rapidly and even this season and even in the playoffs, he just continues to get better, and so I know he's going to be a load down there," Lopez said. "He's very talented in the post. He can step out and shoot it. He's great in the pick-and-roll, and he crashes the offensive boards hard, just plays hard in general. So, he's definitely going to be a load to guard and it's going to be a fun matchup."
"Definitely O-boards," Ayton said of his focus area. "I think I'm great at it. Just attacking the glass and being relentless on the glass. Being the first man in transition. If he crashes, I'll probably be the first man on my end to probably get early seals, just to try to put some pressure on the rim to change the game up a little bit. Angles, just finding good angles on the way I set screens to get people open – pin-downs, on-ball screens. Just ways to put pressure on him having two against one."
Clash of the Second Units
Bobby Portis and Pat Connaughton were crucial in their roles of helping the Bucks get to this point, particularly when Giannis went down in the East Finals. Bryn Forbes has been able to catch fire as well.
But the bench bunch for Phoenix can be just as deadly, consisting of a confident Cam Payne, Cameron Johnson, Dario Saric and former Buck Torrey Craig.
Portis feels that it will play a pivotal part in who comes out on top.
"It's big, man. Obviously, me, Bryn, Jeff and Pat, we're the catalysts of the second unit," Portis said. "We have to come in and be ourselves and come in and bring some energy to the game, some scoring and things like that. So, I think it's going to be very vital to help out the starting lineups and things like that. They do a good job on their end too, with Cameron Payne and Saric and those guys. Cam Johnson as well coming off the bench and scoring the basketball and bringing some energy to the game.
"I think whoever has the most energy and plays with the most effort is going to win these games. That's what it's really going to come down to. Obviously, it's July. Guys have been playing since December, and it was a short offseason last year. I think whoever is the most conditioned, the most well-rounded, and the most energetic team is going to obviously come out victorious."
Game 1 Woes
Budenholzer was asked about the last two series openers that Milwaukee has failed to win, and how the team will approach that going into the first game of the Finals.
"I think everybody is locked in going into a Game 1," Budenholzer said. 'I think sometimes the team that's maybe more free and more competitive and more just playing basketball – you know, it's players, coaches, we're all similar. You have time and you talk about things and you work on things, and the great debate is does that free you up to go compete or does that put you in a place where you're overthinking? Every coach that's ever been through this, and I guess to some degree players, that's the great – you got to walk that line. And I think we want our guys to be free and to play and compete tomorrow."
Stay tuned to BasketballNews.com for coverage on the 2021 NBA Finals.