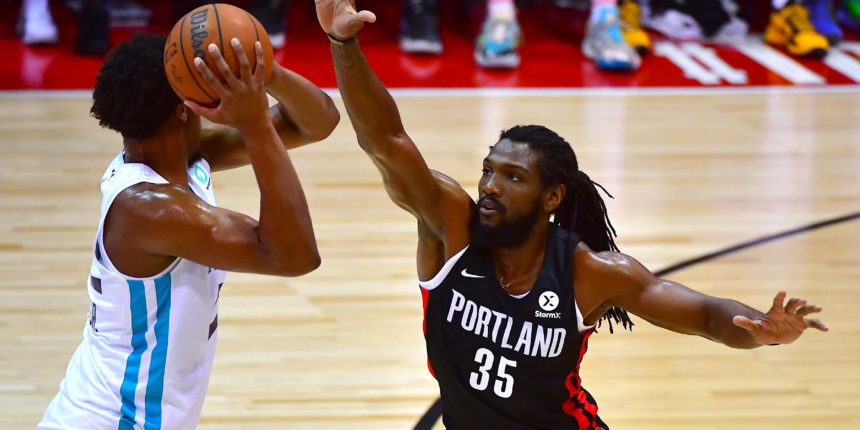 10 under-the-radar players worth watching in the NBA Summer League
The basketball universe is assembling in Las Vegas this week, and it is not just NBA personnel. Officials from EuroLeague teams and EuroCup teams will be in Sin City, too, because teams around the world are looking for players who will not make the NBA. An exception is China, where foreign players will be barred because of COVID factors.
So let's have a look at who is there and has the potential to be "eating pasta" next season (basketball vernacular for playing overseas) or playing their way onto an NBA roster.
There are some very talented younger players who do not have the height or athleticism that NBA scouts and general managers gravitate towards. Can they break through anyway?
But there also are some accomplished vets who would ordinarily play in China because they can make more money there than they can in the United States. Many of them may end up in Europe, but some may end up making NBA rosters if injuries open up jobs.
Here are 10 names worth keeping an eye on:
Kenneth Faried, Portland Trail Blazers: He was a very productive NBA player for nine years before becoming one of many veterans who got squeezed out because NBA teams turned to developing younger prospects and players on two-way contracts. He was a member of the U.S. National team that won the 2014 Basketball World Cup and was one of 30 finalists for the 2016 U.S. Olympic team. He last played for the Houston Rockets in the 2018-19 season where he averaged an impressive 12.9 points and 8.2 rebounds in 25 appearances. He will be joined on the Blazers' roster by two players who also spent last season in China, Emmanuel Mudiay and Michael Beasley.
Eugene Omoruyi, Dallas Mavericks. Regarded as one of the top undrafted players in 2021, the Oregon product tied for the Ducks' team lead in scoring at 17.1 points per game and is considered a strong two-way player. Omoruyi averaged 1.5 steals per game and grabbed 41% of his rebounds on the offensive end. He did so playing alongside the more highly regarded Chris Duarte, the 13th overall pick of the Indiana Pacers.
Jimmer Fredette, Denver Nuggets: He was supposed to play for the Nuggets after spending most of the past five seasons in China, but was a late scratch. Still, his return stateside could land him an NBA job. The 10th overall pick in 2011 played two-and-a-half seasons for Sacramento, averaging seven points per game for the Kings in 15 minutes. He then played briefly in Chicago, New Orleans, Phoenix and New York. He eventually went over to China to play with the Shanghai Sharks, where he averaged 37 points per game in his first three seasons with the team from 2016-2019. He scored 75 points in a 2018 game. Because of COVID restrictions, China is not likely to allow foreign players to compete in its 2021-22 season, so Fredette may end up landing an NBA job without even suiting up in summer league. His pedigree still makes him a name to watch, though.
Mac McClung, L.A. Lakers: He's a longshot to make the roster for a Lakers team that has loaded up on veterans to flank LeBron James and Anthony Davis. When your prospective team adds the likes of Russell Westbrook, Carmelo Anthony, Malik Monk and Kendrick Nunn (among others), there's bound to be a roster squeeze. But somebody has to buy the donuts for the vets. McClung's college stats at Texas Tech were pedestrian, but he would not be with the Lakers unless someone in the organization saw something in him. The team also desperately needs some youth.
Yves Pons, Memphis Grizzlies: The 22-year-old Haitian guard led the Tennessee Volunteers in blocks in each of the past two seasons, and that is pretty much his major skill set. He was the Southeastern Conference Defensive Player of the Year in 2020, and with a dearth of perimeter defenders in the NBA who also can block shots, the Grizzlies are giving him a look-see because they watched him play in their backyard for four seasons. Try to name another shot-blocking guard. There are not many of them.
Asbjorn Midtgaard, Orlando Magic: The Danish 7-footer rode the bench for three years at Wichita State and then transferred to Grand Canyon, where he averaged 14.2 points and 9.7 rebounds per game. His team made the NCAA tournament, where they lost to Iowa. Still, he led NCAA Division I in field goal percentage (70.6), which is no small accomplishment. He also shot 8-for-11 against Luka Garza in his team's first-round loss in the NCAA tournament.
Keon Johnson, L.A. Clippers: An exception here, because Keon is not exactly "under the radar" after being selected with the 21st overall pick in the draft. He is an exception because his athleticism is exceptional; he recorded a 48-inch vertical leap at the NBA draft combine, shattering a 20-year-old record of 45.5 inches recorded by Kenny Gregory in 2001. One of his teammates will be Jason Preston, who was drafted 33rd by Orlando and was dealt to the Clippers for a future second-round pick and cash.
David DeLeo, Philadelphia 76ers: His father, Frank, was a scout for the Sixers, and he clearly taught his son a bit about how to shoot the ball. DeLeo was the all-time leader in the MAC in three-pointers made with 337, and has spent the past two seasons playing in Spain and Greece. He may end up in an NBA camp before ultimately finding another European job, but then again, Philly needs a three-point marksman to develop behind Danny Green. So you never know.
Derrick Alston Jr., Golden State Warriors: A former ball boy for the Houston Rockets, Alston made the team at Boise State as a walk-on his freshman year. He progressed to the point where he was First-Team All-Mountain West after averaging a team-leading 17.0 points. He is one of 12 undrafted rookies on Golden State's summer league team.
Rokas Jokubaitis, New York Knicks: He finished second behind Rockets draft pick Usman Garuba (the 23rd overall pick) in EuroLeague Rising Star voting after a solid season for FC Barcelona, where he is under a four-year contract. This will be a chance for Knicks fans to get their first look at the pick they acquired from Oklahoma City at No. 34. If he impresses and can negotiate a buyout of his current contract, he could end up battling Luca Vildoza for the final point guard spot on the Knicks.
Every year, whether it be undrafted players or second-round picks, players who end up making an impact manage to fly under the radar. These 10 (nine if you exclude Fredette) hope to do exactly that.