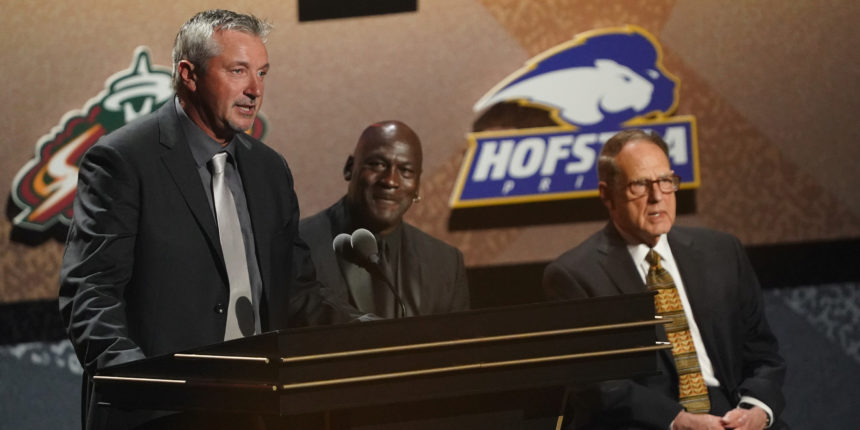 Hall-of-Famer Toni Kukoc opens up on modern-day NBA, older era
The following article first appeared on BasketballNetwork.net:
Reaching the mountaintop gives a man perspective. For Toni Kukoč, joining the Naismith Basketball Hall of Fame was that mountaintop. He achieved everything a basketball player could ever dream of, and it gave Kukoč the freedom to talk about the game with as little bias as possible.
As a key member of one of the greatest teams ever to play, Kukoč is often asked to compare teams to the 1990s Bulls. The "back in my day" arguments are often superficial, but the Croatian big man sees something good in them — fire and passion about the game that never leaves a true champion's heart.
"Everyone's going to say their generation played the best basketball and everyone has their arguments," Kukoc told Croatian online newspaper Index.hr. "The older generation will say 'If only I had private jets, massage therapists, nutritionists and a million dollars to spend on oxygen chambers, and YouTube to watch other players and learn from them.' When I hear that, and I want to be clear, there's a case to be made there; I'm happy because it means the old guys still have the competitive spirit and would like to take on the younger generations."
Most of the time, we hear a guy saying, "Get off my lawn" when discussions like that start. That's where age and experience can provide perspective. It's easy to say older players are haters when pointing out the circumstances they had to play in vs. what the league is today, and social media programs us to take people at their worst. What Kukoč is saying is that we should take them at their best. It's not hate; it's the competitive drive that made those from the previous era the champions they are.
However, that doesn't mean Kukoč won't compare his era to today's NBA. He just does it without any bitterness or an ax to grind.
"You could get away with more in my day. I'm primarily talking about defense when I say that It was a more physical game," Kukoč said. "Detroit, Boston, New York, Indiana — all East teams played a similar game. Back then, the consensus was East teams played better defense and West teams played better offense. Games were a lot stronger back then — not quicker, but stronger. The NBA's put in a lot of effort to protect the best players. We won't see the heavy fouls as we use to on [Isiah] Thomas, [Larry] Bird or [Michael] Jordan. And that's normal."
Kukoč disagrees with older fans who fell in love with basketball in the '90s when they say today's game and the players are weak. He believes the modern game has a lot more speed, and still has strength and new elements that make it a lot more dynamic. His Bulls were avant-garde by playing Dennis Rodman as a small-ball 5. Still, they did certain things the old way, and there was a price to pay if you broke the rules.
"I remember we had a rule [with] the Bulls. 4s and 5s could only shoot the three if it was the last second of the possession," Kukoč said. "If they launched one with more than a second on the clock and missed, Phil [Jackson] would fine them $500. Players like that [today] are expected to launch it early in a possession."
The drawback to power forwards and centers having free reign to shoot from behind the arc is that some players never develop an inside game. But that doesn't mean shooting is terrible — it just means the pendulum swung way too much in that direction. Still, a time where guys in Chicago got fined on rangier shot attempts simply because of their size also wasn't great. You don't get a Dirk Nowitzki if he had so much pressure every time he took a shot.
The pinnacle of basketball is a complete game. The players we adore the most, like MJ and Kobe Bryant, were special because they could do it all. Speed it up, and slow it down. Drain it from outside, go to work in the mid-range and back a smaller guy down.
Toni said it best: "The game is fast, beautiful, and I like it this way, but that doesn't mean I have a bad word to say about the game back then."
Check out more articles from BasketballNetwork.net here.