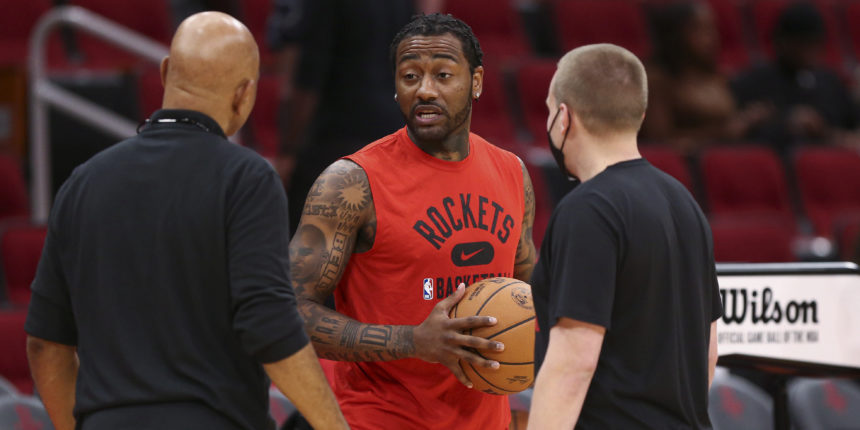 With no trade or buyout on the horizon, John Wall remains in limbo
It's unclear what the future holds for John Wall.
The 31-year-old point guard has yet to appear in a game for the Houston Rockets this season, and recent reports suggest that he's going to remain in limbo for the foreseeable future.
The five-time All-Star "seems entrenched in Houston with zero inclination to accept any type of buyout," sources told Jake Fischer of Bleacher Report.
Wall is owed $44,310,840 this season (plus he has a player option worth $47,366,760 for next season), and it sounds like he doesn't want to leave any money on the table in a buyout.
Several teams have expressed interest in adding Wall in the event that he becomes a free agent, but "a trade or buyout remains unlikely," according to Shams Charania of The Athletic.
Since Wall isn't willing to accept a buyout and the Rockets haven't been able to find a trade due to his massive salary, it remains to be seen how both sides will proceed.
In late November, Wall met with general manager Rafael Stone and coach Stephen Silas to discuss the possibility of returning to the Rockets' lineup. However, the two sides couldn't agree on what role Wall would play, as the point guard reportedly wants a featured role while the Rockets' decision-makers want him to play a complementary role behind youngsters Jalen Green and Kevin Porter Jr. While the two sides couldn't reach an agreement, they agreed to keep talking and left open the possibility of Wall returning at some point in the future. In the meantime, Wall continues to train with the team.
The last time we saw Wall in an NBA game was April 23, 2021, when he had 27 points, 13 assists, 3 rebounds, 2 blocks and a steal in a loss to the Los Angeles Clippers.
Last season, he appeared in 40 games with the Rockets, averaging 20.6 points, 6.9 assists, 3.2 rebounds, 2.0 threes, 1.1 steals and 0.8 blocks on .404/.317/.749 shooting splits. The fact that Wall was able to produce at a relatively high level after returning from a ruptured Achilles was one of the better comeback stories of the 2020-21 season.
At this point, Wall is likely holding out hope for a trade, while the Rockets are probably hoping that Wall will want a change of scenery enough to budge on his no-buyout stance. However, since neither seems likely, the electrifying point guard remains in a holding pattern.
Worst case, Wall might have to wait until this contract is up after next season and then sign with a new team as a 32-year-old unrestricted free agent.