Every night, NBA stars spoil us with their incredible abilities. They deliver jaw-dropping performances and rather than appreciate their talents, we tend to take them granted.
Dropping 20 points and 10 assists in an NBA game is incredibly difficult. However, there are a handful of players who have been consistently posting 20-10 stat lines all season. Here's a look at which players have the most 20-point, 10-assist outings this year (via Sportradar's radar360):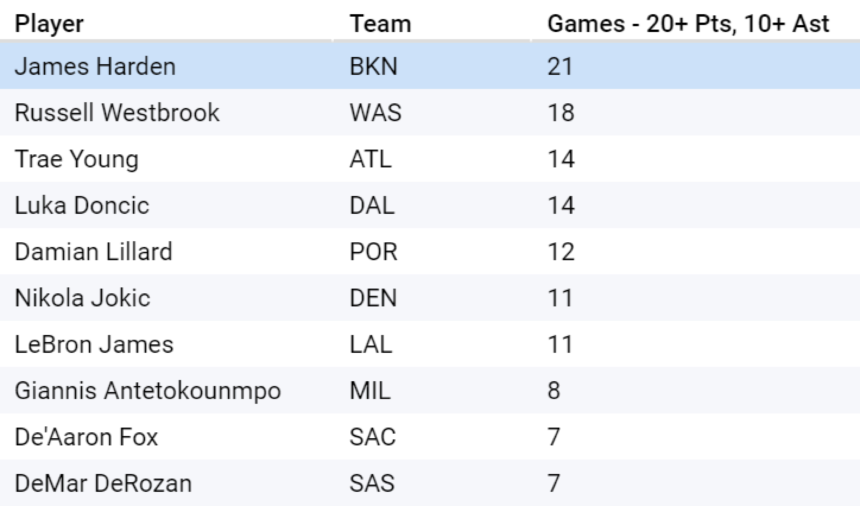 Not only does James Harden have the most 20-10 games this season, he also has the most 30-point, 10-assist performances (8) and the most 20-point, 10-assist, 10-rebound outings (12). Perhaps what's most impressive is that Harden has only played in 33 games, which is significantly fewer than most stars. By comparison, Nikola Jokic has played in 49 games so far. The fact that he's atop this leaderboard with so few games played is a testament to how great he's been when he has suited up for the Brooklyn Nets.
Interestingly, the two players who round out the top-three -- Russell Westbrook and Trae Young -- weren't All-Stars this season.
Westbrook is a nine-time All-Star, but he wasn't selected this year. By now, we're used to Westbrook filling the stat sheet, and he's once again averaging a triple-double (21.8 points, 10.5 assists, 10.4 rebounds). If he's able to keep this up, this will be his fourth time averaging a triple-double over a full season.
Young is averaging a career-high 9.4 assists per game, and the 22-year-old's stats have been translating into wins for the Atlanta Hawks, who have climbed to the fourth seed in the Eastern Conference.
After that, the next few names aren't surprising: Luka Doncic, Damian Lillard, Nikola Jokic, LeBron James and Giannis Antetokounmpo. These are some of the NBA's biggest stars, and several have been mentioned in the MVP race this season.
No. 9 and No. 10 are two players who tend to fly under the radar.
De'Aaron Fox is having a career-year, averaging 24.5 points, 7.1 assists, 3.2 rebounds and 1.4 steals while shooting 47.7% from the field, 32.4% from three and 70.9% from the free throw line.
At 31 years old, DeMar DeRozan is still producing at a high level, posting 21.1 points, 7.2 assists (a career-high), 4.4 rebounds and 1.0 steals per game for the 24-24 San Antonio Spurs.
We'll see whether anyone can take the No. 1 spot from Harden or if any new names can crack the top-10 before the regular season comes to an end in mid-May.