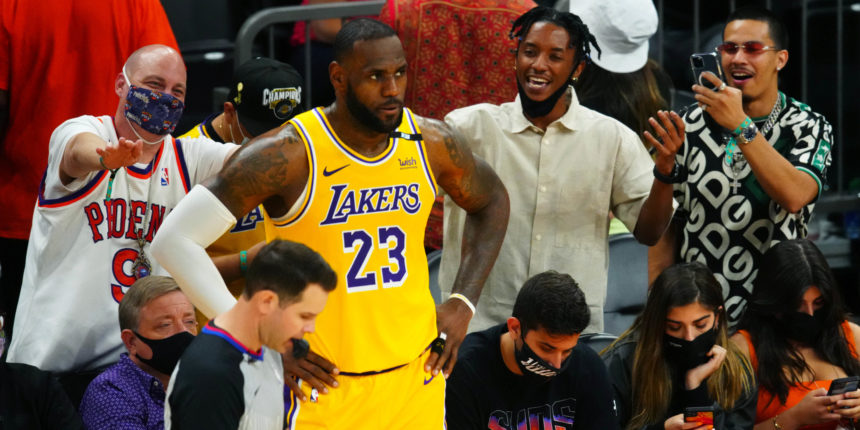 What can the NBA do to prevent more ugly fan incidents?
Over the last week-and-a-half, nearly every notable NBA player has been asked about the ugly fan incidents that have occured at playoff games recently.
The NBA Players' Union put out a statement that read: "True fans of this game honor and respect the dignity of our players. No true fan would seek to harm them or violate their personal space. Those who do have no place in our arenas, and their conduct is appropriately evaluated by law enforcement just as if it occurred on a public street. Respect our Players. Respect our Game."
The NBA also released a statement to address these incidents: "The return of more NBA fans to our arenas has brought great excitement and energy to the start of the playoffs, but it is critical that we all show respect for players, officials and our fellow fans. An enhanced fan code of conduct will be vigorously enforced in order to ensure a safe and respectful environment for all involved."
What will that "enhanced code of conduct" entail?
According to Shams Charania of The Athletic, the NBA has introduced new measures such as encouraging teams and arena staff to develop processes for pursuing arrests (as opposed to a lifetime ban for the individuals), announcing the Fan Code of Conduct three times during games and enhancing arena security.
Will this be enough? Are there any additional changes that the NBA will implement?
The NBA's top priority seems to be ensuring that these fans are prosecuted, which is the right move. The entire sports world was talking about how multiple NBA fans received lifetime bans after acting out, yet that didn't stop other fans from disrespecting players the very next day. Even if the fan is banned from all NBA games and all events at the arena (as some players suggested), it likely isn't enough.
Since a lifetime ban hasn't been an effective deterrent, arrests must be made and publicized.
For example, 21-year-old Cole Buckley is the Celtics fan who threw a bottle at Kyrie Irving during Game 4, and he was charged with assault and battery with a dangerous weapon. That's a felony and he could face 10 years in prison, if convicted.
The consequences of this fan's actions were reported everywhere, so hopefully other fans will fall in line. A lifetime ban from an arena is an inconvenience that's somewhat frustrating when Ariana Grande comes to your city; a felony obviously has a much bigger impact on one's life.
Even if the fan pleads guilty and has to pay a large fine (in addition to the legal fees), the punishment is significant enough to dissuade most. As Hall-of-Famer Reggie Miller said during a recent broadcast, "Hit 'em in their pocketbooks." Miller was involved in the "Malice at The Palace" (receiving a one-game suspension), and he stressed that the NBA needs to do something because this "is getting ridiculous."
Several players including James Harden, Russell Westbrook and Draymond Green called for the NBA to improve security, but it's hard to imagine how additional security could've prevented a number of these incidents. Perhaps the security guards can warn fans who are out of control and seem on the verge of crossing the line, but there's only so much they can do.
"You can put more security in the stands, and try to monitor as many people as possible, but somebody throwing a bottle from their seat, you can't really control that," Damian Lillard told reporters on Monday. "That's who that person is. That's what they decide to do in that moment, and a security guard can't jump 20 feet in the air and grab the bottle before it flies onto the court. Some things you just can't control, so you got to just trust that fans are going to be respectful and behave themselves correctly when they come into these arenas."
It remains to be seen what the NBA means by "enhancing security," since that's somewhat vague. But if these issues persist, here are some other ideas for the league office:
LIMIT ALCOHOL SALES
It's no coincidence that most of these incidents are happening later in games, after many fans have been drinking for much of the night. By limiting alcohol sales a bit or cutting fans off sooner, perhaps these fans will be in their right mind and less likely to act out. The NBA likely doesn't want to miss out on beer sales, but there is a precedent for this.
The last time the NBA adjusted their alcohol policy was in 2005 in response to the "Malice at The Palace." The NBA investigated what factors contributed to the brawl and instituted new league-wide guidelines. In addition to tightening arena security, the league started preventing alcohol sales at the start of the fourth quarter, restricting the size of drinks to 24 ounces and limiting fans to purchase just two alcoholic drinks at a time.
They also trained arena staffers to manage drunk fans and introduced designated driver programs. They also posted the Fan Code of Conduct in all arenas. Perhaps we see the league make a similar move now, even if it's only temporary.
PUNISH THE TEAM
This seems unfair to the players, but if these fans are so passionate about their team, this should put an end to these incidents rather quickly. This method has been effective overseas when fans become unruly; they simply ban all fans from attending the next game and the team loses their home-court advantage.
Fans throwing objects at players is a huge issue overseas, as former player Josh Childress recently tweeted. He recalled having "coins heated by a lighter, bottles filled with urine and feces, broken down toilets from the arena and M-80 [fireworks]" thrown at him while playing abroad.
Perhaps the NBA can take a page out of FIBA's book. It's hard to imagine the NBA blocking fans from attending the next game (and giving up the playoff revenue), but if a fan misbehaving led to a technical foul, perhaps the crowd would act differently. This would also lead to the fans policing each other because they wouldn't want the team to be affected.
No fan wants to be the reason their favorite team loses.
ORIENTATION FOR SEASON TICKET-HOLDERS
Again, in the past, the NBA posted the Fan Code of Conduct in arenas. According to Charania, the league plans to read the Fan Code of Conduct three times during games to ensure that fans understand the rules (which are as follows):
Players and fans respect and appreciate each other.

Guests will be treated in a professional and courteous manner by all arena and team personnel.

Guests will enjoy the basketball experience free from disruptive behavior, including foul or abusive language and obscene gestures.

Guests will consume alcoholic beverages in a responsible manner. Intervention with an impaired, intoxicated or underage guest will be handled in a prompt and safe manner.

Guests will sit only in their ticketed seats and show their tickets when requested.

Guests who engage in fighting, throwing objects or attempting to enter the court will be immediately ejected from the arena.

Guests will smoke in designated smoking areas only.

Obscene or indecent messages on signs or clothing will not be permitted.

Guests will comply with requests from arena staff regarding arena operations and emergency response procedures.

Guests will comply with all COVID-19 health and safety protocols.

Guest will comply with the

list of prohibited items at NBA arenas
Fans are encouraged to "report any inappropriate behavior to the nearest usher, security guard, or guest services staff member." What happens to guests who don't adhere to these rules? "They will be subject to penalty including, but not limited to, ejection without refund, revocation of their season tickets, and/or prevention from attending future games. They may also be in violation of local ordinances resulting in possible arrest and prosecution."
While reading the Fan Code of Conduct several times at games may help, it could be smart for the NBA to have orientations for season-ticket-holders to go over these rules and train the fans to police each other. Teams do plenty of events for season-ticket-holders like Q&As with the front office, meet-ups with the players and so on; covering these topics at those functions could help.
There's no simple solution for this issue, but the NBA must do something and take this seriously or there will absolutely be another player-fan brawl in the near future.