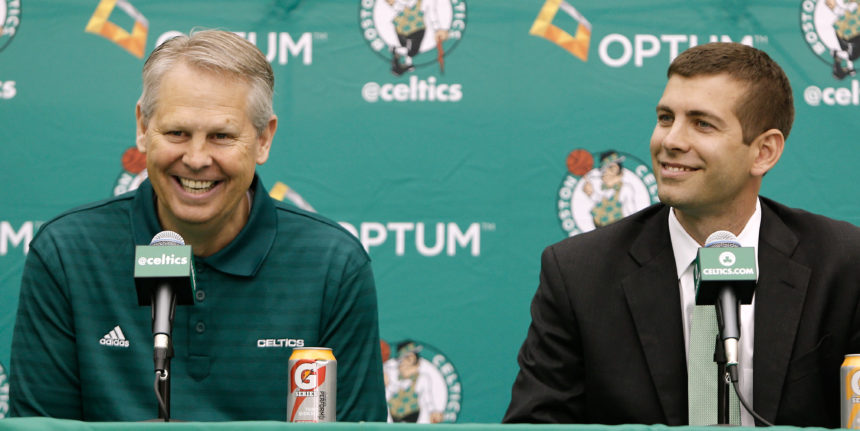 Mission Accomplished: Danny Ainge revived the Boston Celtics
I was just getting comfortable in my seat — 4F.
I took a deep breath and exhaled, waiting for takeoff. AirPods in, waiting for the cabin door to close.
Since the pandemic began, I'd only gotten on a plane a few times, but it would be nice to get away from the noise for a couple hours. Then, I clicked the in-flight entertainment system over to ESPN.
Danny Ainge is stepping down.
The flight attendants hadn't started handing out headsets yet, and since the flight to Tampa was less than two hours, I didn't bring any cabled headphones. I had to resort to lip reading.
Even though I couldn't hear what was being said, my mind starting racing. It's impossible for me to see or hear the name "Danny Ainge" without recalling one of the best things that'd ever happened to me in my basketball career. If he and Doc hadn't welcomed me to Boston and believed in my ability to help bring a championship to that city, I would have missed out.
(We probably could've gone back-to-back if they brought me back after the 2007-08 season, but that's a different story for a different day. Ha.)
But what I took from my experience in Boston is this: putting on that Celtics jersey and taking the floor at TD Garden, it just hit different. The history, those retired numbers staring down at you from the rafters, the championship banners, the expectations… I'd never experienced anything like it.
And after 18 years, Danny decided that it was time for him to move on. All I can say is: Mission Accomplished.
Even though I won championships in Miami (in 2006) and Cleveland (in 2016), for some reason, I feel like I'm recognized a lot more for my contribution to the 2008 Celtics. People are going to look back at the "Big Three" era in Boston and say the team should've won more, and they'll probably even look at the Celtics over the last five years or so and wonder why all those talented pieces couldn't get it done. Me, personally? I know how hard it is to succeed in the NBA and what you have to have in your favor — luck, health, talent, chemistry — so when I look back at Danny's tenure, I think "success." Period.
They've just been mostly unfortunate to not always have those elements at the same time.
So yea, criticize him for not winning more, if you want. But by being proactive about the demise of the core (KG, Pierce and Ray), Ainge helped prepare the Celtics for the future and ended up with Jayson Tatum and Jaylen Brown. Those guys are building blocks, for sure. Danny is leaving the franchise with one more banner than it had when he took over and with much more hope for a brighter future than when he accepted the position in 2003.
Back then, it had been 17 years since Boston won a championship. I can tell you from experience that trying to live up to the expectations of a franchise with such a storied tradition can be scary. In a place like Boston, you know that the expectations are championship-or-bust; anything less isn't acceptable. And not everyone is cut out for that kind of pressure. Danny dove in, head-first.
To make things even worse, the New England Patriots, Boston Red Sox, Boston Bruins each have had success. You don't want to come into that type of scenario and end up being the only team in the city that doesn't win. We face that as players, and members of the front office deal with that external pressure, as well.
Even though I only spent one year there, I learned a lot about what it meant to carry on that kind of winning tradition. I felt like I helped to establish that in Miami — in 2006, we won the franchise's first championship. But in Boston, I felt like I was joining a special fraternity.
As I continue to learn about the game and develop as a coach, I have a newfound appreciation for the kind of dedication and resilience it takes to deal with the expectations that a franchise like the Celtics has of its coaching and front office staff.
I don't know Brad Stevens on a personal level, but I do know that for eight seasons, he gave it his all.
Most people would probably agree that he can vacate the coaching spot with his head held high. He's a Celtic and he knows what it takes to succeed in Boston. Over the years, injuries and a lack of chemistry seemed to be issues, and to an extent, the coach has to take accountability for those shortcomings, but for the most part, he had his team playing the right way and had them playing inspired basketball. As he takes on a new role in the front office, I know that he'll be able to bring the experience of the past eight years on the bench with him.
The next coach that comes into Boston needs to know a thing or two about those expectations, but more importantly, he'll have to be able to get Tatum, Brown and the rest of the team to understand that winning requires real sacrifice. Stevens faced a challenge in getting buy-in from his roster at times because he had young players who were trying to prove themselves while a few of his veterans were trying to establish themselves as superstars. It was a difficult situation to manage, but I know they'll head into the future being wiser about how they reconstruct themselves into a contender.
As far as what lies ahead, when guys like me decide to pick up a clipboard and get into coaching, we do so with dreams of drawing plays in a huddle with an arena full of fans. We also dream of doing so for a franchise that puts winning above all and one that has a proud tradition.
The Lakers, Spurs, Heat and Bulls all get maximum respect from the players.
But at the end of the day, there's only one Boston.
After 18 years on the job, it's safe to say Danny Ainge did it proud.