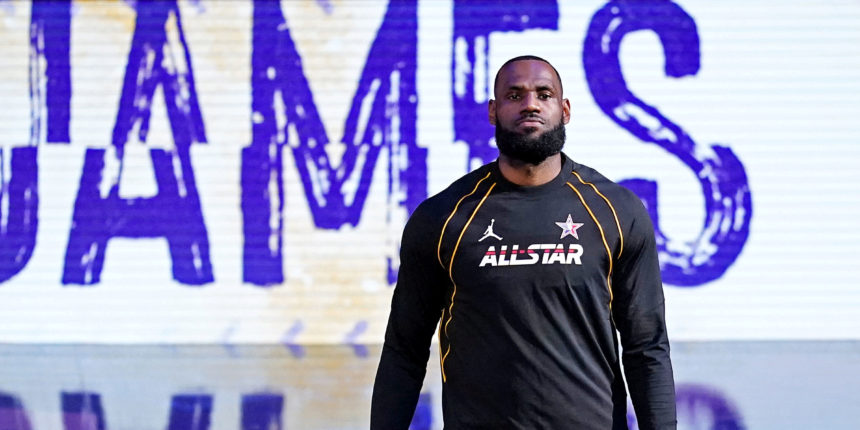 Truth be told, LeBron James still reigns as king of the NBA
It's hard to believe that the 2020-21 season is more than halfway over. The All-Star break has come and gone, and the playoffs are nearly here.
For real, it's been a season unlike any we've seen before, but when I watch games and find myself thinking about which team is gonna walk away with the Larry O.B. trophy, there's one thing that has remained the same, even after all these years.
'Bron is still that dude.
I played against him for a number of years and had the opportunity to coach him in Cleveland. And even though people have spent a lot of time talking about him, the work he puts in and the amount of money he spends maintaining his health, when you see it with your own eyes, it's a completely different thing.
I'll never forget the time I learned that he was different different.
Right after 'Bron came back to Cleveland, I went down to Miami to do some group workouts with him and some of our players. He always liked to get some summer work in and would invite people to join him, whether it was in Miami or L.A.
We were using some small gym down there for our workouts, I'm not even sure where it was, maybe a YMCA or something. But even though I don't remember where the gym was, I damn sure remember what I saw.
It was me, 'Bron's longtime trainer Mike Mancias, Phil Handy (who, like me, was an assistant coach with the Cavs at the time) and Randy Mims (one of 'Bron's close friends and business partners).
We're down there working out, getting it in: dribbling, shooting, balancing drills, all that.
We spent a good couple hours, but what caught me off guard, was how 'Bron ended his workout.
After putting in a good session, he asked for a rebounder at each basket and once he had them in place, he took off, dribbling the ball full-speed ahead to the other end of the court. The workout was over, so I wasn't sure what was going on, and next thing I know: BAM! One-handed windmill dunk.
Without stopping for a second, he turns around, gets the ball back, sprints back down to the other basket full-speed ahead. BAM! One-handed reverse dunk off one leg.
Most players can do that a few times before they get tired. 'Bron did it about 12 times without stopping. One crazy dunk after another, and he made it look easy as hell.
He ran back-and-forth, basket-to-basket doing all kind of insane dunks: Statute of Liberty, cradle dunks, gliding from damn near the free throw line, everything. I lost count after 10, but after seeing that for the first time, I knew this dude was a true maniac.
Most players, including me, would do a drill like that to warm up before a workout because we'd be too damn tired after putting in some work to do anything like that. And, honestly, we'd probably do six lengths of the court, not 12. And yeah, we'd probably be laying the ball in, not pulling off these crazy dunks.
Not 'Bron, though.
Over the years, I saw first-hand that he does everything 110%, even practice. I also came to find out that this dunk drill is something that he does every so often, just as a way to get some extra cardio in. It's not something I've even seen anyone else even attempt, much less pull off.
As a leader, 'Bron is one of the few guys who forces everyone else to step their game up and come correct. He's one of those guys who you couldn't fully appreciate unless you saw him with your own eyes.
Fortunately, I did.
In the gym with @KingJames #Throwback pic.twitter.com/YNfHAaRVnA

— James Posey (@James_Posey41) March 19, 2021
In my opinion, it's him — not Kevin Durant, not Giannis and not Kawhi — who's still the top dog. And what I respect most about him is the fact that, for as long as I've known him, he's done everything possible to get to the top. And since getting there, he's refused to let anyone take his throne.
For someone who's so busy with everything he's got going on, no matter where he is — even if he's on vacation — 'Bron is gonna go to bed by 9:00 p.m. and be up early as hell in the morning to get his workout in. If you get to the gym at 6:00 a.m., you'll find him there already in a full sweat.
In-season or not, whether back in Akron or in the Bahamas, he's always approached the game as a 24/7/365 priority. I truly think that's why he's been able to perform at such a high level this season despite being 36 years old and playing in nine of the last 10 NBA Finals.
Unlike a lot of other guys, he doesn't have to use training camp or the preseason to "ramp up" or get in shape because he never ramps down.
As far as leading is concerned, the only guy I could even compare him to is Ticket — Kevin Garnett. And it's funny because they had a little bit of a rivalry back in the day.
When you talk about competitors, you're talking about these guys. Whether they were on the court, playing cards or arguing about which TV show was better than the other, these guys didn't ever want to lose at anything. You ever heard of a "competitive conversation"? I've had many of those with KG and 'Bron over the years. They didn't want you to win at anything, not even a discussion about something they disagreed with.
It seems like such a long time ago that kids have been able to come out of high school and head straight to the league, but they both did that. They also became MVPs and champions and had some of the longest, most productive careers we've ever seen. Both of these guys would wake up early and be the first ones in the gym. Ticket got Paul Pierce and Ray Allen to be more competitive in practice and we saw the effects carry over into games. 'Bron did the same thing for every single player he crossed paths with in Cleveland, and I'm sure he had a similar impact in both Miami and L.A.
By now, everyone knows that he's the first player in NBA history to win NBA Finals MVP for three different teams. That doesn't necessarily make him the G.O.A.T., but it definitely counts for something. Now, the Lakers, even without Anthony Davis in the lineup, are hanging tough near the top out West. No matter where he goes and what the situation, 'Bron's team is always gonna find a way.
As always, there are a bunch of players who are in the conversation for MVP. But just like last year, whether he wins it or not, in all likelihood, you're gonna have to see him if you plan on playing for the championship.
He's been sitting on that throne for a good while now. Many players that he beat on his way to 10 Finals appearances have moved on but still haven't reached his level of royalty.
For my money, he's still the top dog, and based on what I've seen from him and what I know about the man, he's striking the right balance between leading the Lakers to a productive, winning season and saving himself for possibly another title run.
So yeah, in one major way, even though this season is much different than any other we've ever seen before, there's still one constant: 'Bron's team is one of the favorites to win their conference and he's still leading a title contender, even after all this time.
Still the constant, there's no doubt that LeBron is still that dude.
Real talk: he's still the king.