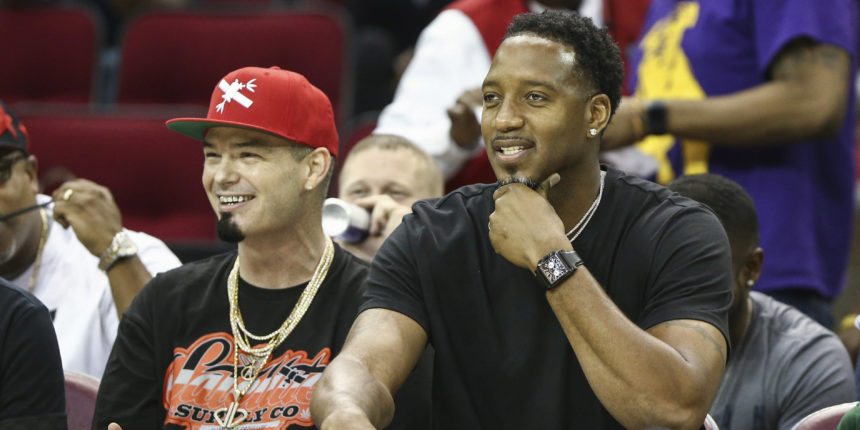 Tracy McGrady to launch one-on-one nationwide basketball league
The following article first appeared on BasketballNetwork.net:
The success of Ice Cube's BIG3 basketball league showed there is a hole in the market for alternative-format basketball leagues. Now, Tracy McGrady is trying to come up with a concept of his own:
"Ones Basketball Association"
The Hall of Famer joined Jamal Crawford and Quentin Richardson on "NBA HooperVision," a broadcast on NBA League Pass. While watching the Bucks blowout the Magic — the final result was 136-118 — T-Mac announced he's in the process of starting a professional one-on-one basketball league.
"I'm creating something, a one-on-one league that I'm creating," McGrady said. "Nationwide. Not a tournament, a league. 18 and up. It's called OBA. Ones Basketball Association. Coming to you."
Tracy McGrady just announced on HooperVision he's in the process of starting a professional 1-on-1 league, for 18 and over adults, called the OBA (Ones Basketball Association)

Details ⬇️ pic.twitter.com/YkkfTbuaW4

— Rob Perez (@WorldWideWob) December 31, 2021
McGrady has yet to reveal more details about the project. He also didn't specify when he plans to launch it. But judging by Jamal Crawford's reaction, who is one of the greatest one-on-one players the NBA has ever seen, the potential entertainment value of such a league is enormous.
"I'm calling you, man," Crawford said to McGrady, aspiring to join the project both as a player and a business partner. "I need in."
Following BIG3's example
When Ice Cube launched BIG3, he wanted to allow guys who had "honed basketball skills to the highest level to continue to play at a high level." T-Mac aims to do the same thing, just through a different format, arguably an even more exciting one to watch.
Following the 2020 season's cancellation due to the COVID-19 pandemic — going into its fourth season — the BIG3 faced the challenge of regaining momentum and keeping the league alive. The league even lost one of its biggest sponsors in Adidas due to financial losses caused by the pandemic.
But the project's core idea — returning favorite former NBA players back to pro-level action — is still alluring to the basketball public. Now it's just a matter of regaining awareness and reminding people of what they liked about the league in the first place.
McGrady's project seems to be along the same lines. If executed properly, assuming Crawford isn't the only one-on-one artist interested in participating, Ones Basketball Association has the potential to be a huge success. We can't wait for it to launch — fans always welcome any form of competitive basketball involving NBA-caliber players.