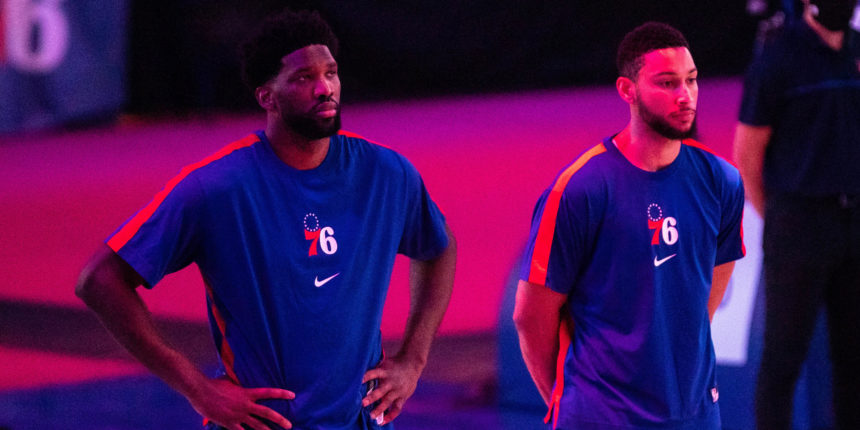 The 76ers owe it to Joel Embiid to trade Ben Simmons… and fast
It turns out the Philadelphia 76ers will begin the 2021-22 season without Ben Simmons, after all.
Except this probably isn't what anyone had in mind.
On Tuesday, the Sixers announced that they had suspended Simmons for one game for conduct detrimental to the team, a penalty levied against him after head coach Doc Rivers reportedly sent the All-Star home from practice on Tuesday.
As a result, Simmons will miss the club's season opener against the New Orleans Pelicans on Wednesday.
Whether or not Simmons has indeed played his final game as a member of the Sixers remains to be seen, but it certainly sounds as if Joel Embiid has seen enough of the All-Star who was once considered the other half of Philadelphia's championship puzzle.
"At this point I don't care about that man," Embiid said in reference to Simmons.
"I'm only focused on trying to make the team better, win some games, play hard every night, try to lead the guys we have here."
"At this point I don't care about that man." 🤯🤯🤯 pic.twitter.com/telIeAGsyi

— NBC Sports Philadelphia (@NBCSPhilly) October 19, 2021
Embiid used the term "babysit" more than once in his diatribe, and if there was any doubt as to whether the conflict between Simmons and the franchise had reached the point of no return, it was answered by Embiid.
Toiling to the point where he's become a legitimate MVP candidate, Embiid, in relatively short order, seems to have come to understand that winning at the highest level requires unity of purpose within the locker room as much as it requires talented individuals.
In the end, where Sixers president Daryl Morey finds himself with Simmons is exactly where his successor in Houston, Rafael Stone, found himself with James Harden when Harden decided he wanted to move on to Brooklyn. Unfortunately for Morey, what players have realized in this day and age is that they wield quite a bit of influence with respect to where they play — contract or no contract. And they earn so much money both on and off the floor that if they holdout they can usually make ends meet just fine.
If it seems like we've seen this story before, it's because we have. When Anthony Davis decided he no longer wished to be in New Orleans, he had nearly two full seasons remaining on his then-current contract. Ditto for Harden. In the end, each got exactly what they wanted.
Although the same can't necessarily be said of Kawhi Leonard (he had one season left on his deal when the San Antonio Spurs dealt him to the Toronto Raptors), what we learned from his departure was that there will be a trade market for a superstar player, even if there is no guarantee that he'll re-sign with his club once he becomes a free agent.
So in some respects, it's natural to believe that Simmons will report to and be a professional. Including the 2021-22 season, he has four years and about $140 million remaining on the five-year max extension he signed with the Sixers just over two years ago.
But on the other hand, Simmons — who has seen many of his predecessors successfully hold out in order to be traded — has realized an important truth: the Sixers can't force him to play.
Including Wednesday night's game, Simmons will have missed five games for Philadelphia, resulting in more than $1.5 million in lost salary. Playing under the final year of his rookie deal last season, Simmons earned just over $8 million, so the $1.5 million in lost earnings is a fairly significant sum. However, it's a fraction of the $30.5 million he is scheduled to earn this season.
At some point, the Sixers will trade Simmons and he'll be paid the remainder of this season's salary from his new team, as well as another $108 million for the three seasons proceeding this one.
In other words, for Simmons, money really isn't a grave concern.
Said differently, by virtue of his suspension on Tuesday, Simmons and the Sixers have fully engaged in a high-stakes game of chicken whereby the Sixers can continue to dock his salary if he fails to perform, while Simmons can pout until he gets his way.
What's most unfortunate is that Embiid and his teammates find themselves stuck in the middle.
Brooklyn Nets general manager Sean Marks recently made the difficult decision to effectively banish Kyrie Irving as a result of the point guard's refusal to get vaccinated against COVID-19. In the release announcing the franchise's position on Irving, Marks, among other things, stated the following: "Our championship goals for the season have not changed, and to achieve these goals each member of our organization must pull in the same direction."
Simmons, obviously, has his own agenda.
Under normal circumstances, a 25-year-old who's a three-time All-Star would fetch a major haul on the trade market, but the organization's public conflict with Simmons has undercut its leverage tremendously. And while there's a long list of teams who have registered interest in Simmons, the Sixers are reportedly holding out for a player who, according to ESPN's Adrian Wojnarowski, will keep the team in the championship conversation.
Since arriving to the league, Embiid has become the epitome of a franchise player. He's meticulously plied his trade and has improved in nearly all facets.
Far from perfect, it's obvious that he's dedicated himself to maximizing his potential and pulling both his teammates and the Sixers franchise up with him.
Simmons, to say the least, has not.
Legacies can be made and broken in an instant. Had Kawhi's shot-heard-round-the-world missed in 2019 or had Simmons thrown down a dunk in 2021, the conversation might be completely different.
But alas, it simply wasn't meant to be — just like Simmons' career in Philadelphia.
A fresh start somewhere — perhaps Sacramento or Portland — would probably serve Simmons well.
Truth be told, it would serve Embiid, too. At this point, he's earned the right to be surrounded by others who are willing to perform as professionals and dedicate themselves to the Sixers and the City of Philadelphia.
Sadly, without question, we now know Ben Simmons to not be among them.