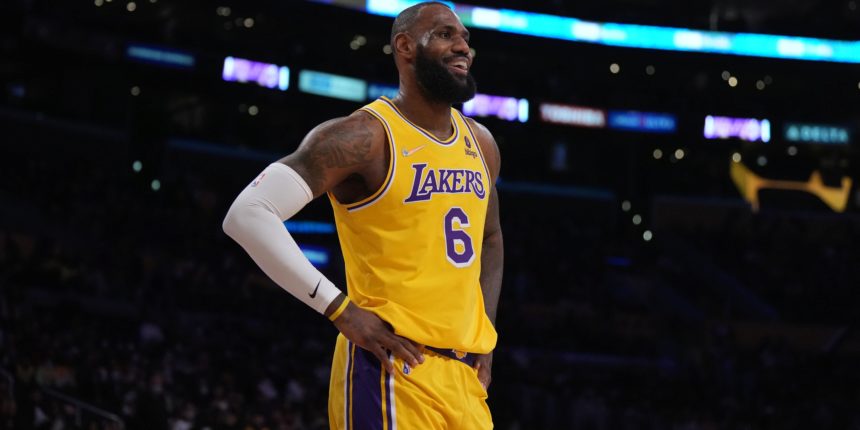 The next evolution of LeBron James is finally here
I'm about to say something that seems absurd about one of the most visible sports stars in history: we may have missed it with LeBron James.
Let's go back to the 2011-12 season for a moment. LeBron is a Heatle, coming off of one of the most disappointing big-stage outings we've ever seen from a superstar. He puts together a ridiculous season — 27.1 points on a then-career high 60.5 True Shooting percentage (TS%), 7.9 rebounds, 6.2 assists, and 1.9 steals — after officially taking reins of the offense from Dwyane Wade.
He gives big performances in the postseason en route to his first title, most notabaly his 45-15-5 masterpiece against the Boston Celtics. Seriously, watch that game again when you have some free time.
Aside from the monkey-off-his-back, does-he-have-the-clutch-gene rhetoric that filled the air that year, there was an on-court shift. Erik Spoelstra, unlike other coaches before him, got buy-in from LeBron to use him on the block.
Including passes, LeBron averaged 2.7 post possessions during his last season in Cleveland, per Synergy. In his first Miami season, the needle didn't move much (2.9). But during the first title year, we saw some real movement (4.9).
He succeeded then in the way that he's succeeding even more consistently now. Face-up jumpers after catching a groove. Baseline turnarounds. Aggressive backdowns if an undersized player draws the dreaded 'Bron assignment. Easy kickouts if help comes.
He made quick work in stationary sets. Post split action was (and is) a fave of his, as were the flex options that allow him to pick out cutters or shooters — you know, dependent on which defender inevitably screwed up.
With this newfound utilization, we thought we had it figured out. "LeBron is the complete package!" we exclaimed. More annoyingly, his embracing of mid or low post play was seen as a rite of passage to more comparisons to Kobe Bryant or Michael Jordan. A tacit acknowledgement that he did, in fact, need to be more like them in order to win.
(We can quibble about how truthful or silly those discussions were in hindsight, but they did happen. I'm still not sure if we're better or worse off for them.)
But that shift was the precursor to a more drastic one this season. One borne from injury, roster imbalance and, ultimately, a little bit of desperation.
LeBron isn't just mixing it up in the frontcourt with more comfort — the man is making sweet music as a center.
On the offensive end, the fruits of the position-changing labor are obvious to see. LeBron playing the 5-spot means the Lakers' non/worst shooters are not. There's more space to operate in, which makes LeBron even more difficult to defend.
That self-creation growth in Miami? It's even more evident right now.
If he wants to boogie in isolation, he has more real estate to map out (and attack) if he so chooses. He becomes harder to deal with on the block. Consider the recent outing against the Timberwolves, where LeCenter logged seven post-ups and generated 13 points per Second Spectrum.
Surprise, surprise: pick-and-rolls are even more deadly in this set-up. LeBron has always been a deadly screener when he taps into it — doing so as the only "big" makes him arguably the most dangerous roll threat in the sport.
On the other side of that, inverted ball screens with Bron at the helm have been nearly impossible to defend. Send two to the ball, and he'll beat you with the pass. Switch assignments, or leave your guard in a drop for some reason, and LeBron can bulldoze his way to the rim for a shot, a drawn foul, or a kickout once the defense collapses.
The LeBron-Malik Monk pairing has been especially effective as of late. The Lakers, with LeBron at center, have generated north of 1.2 points per possession on trips featuring their two-man dance per Second Spectrum.
Just about everything is working better for LeBron within this lineup construction, and that's while acknowledging that there are still kinks to work out. Here's a quick chart, via Second Spectrum, that further lays it out.
| | | |
| --- | --- | --- |
| Trip featuring a LeBron-led action | Overall | Without a big on the floor |
| Isolation | 0.93 PPP | 1.05 PPP |
| Post-up | 0.99 PPP | 1.07 PPP |
| Pick-and-roll | 1.07 PPP | 1.03 PPP |
Defensively, LeBron can and has been moved around the chess board a bit. He can work within the status quo, "guarding" a team's worst perimeter shooter so he can fly around on the back-end. Another player, like Carmelo Anthony for example, can take the beefier matchup while knowing LeBron can provide help when needed.
Other times, LeBron just flat-out defends big men. It's kinda funny to think about the transformation. The same dude the Heat threw on prime Derrick Rose during a playoff series is now playing the gap in drop coverage on occasion. Versatility remains a virtue for LeBron, even if it looks very different now.
And so that brings us here.
The Lakers have now played 345 minutes with LeBron on the floor without a big man (Anthony Davis, Dwight Howard, DeAndre Jordan) to complement him, according to the good folks at PBP Stats. They've outscored opponents by 7.2 points per 100 possessions in those minutes, while shooting a must-be-a-typo 60.7% on two-point shots.
LeBron's per-36 numbers in this alignment: 32.1 points (61/41/83 split), 9.9 rebounds, 6.5 assists (2.0 turnovers), 1.8 steals, 1.5 blocks.
LeBron's overall averages through the last five: 33.8 points (59/46/76 split), 9.8 rebounds, 6.4 assists (2.2 turnovers), 1.6 steals, and 1.6 blocks.
Let's just say the Lakers might have something here.