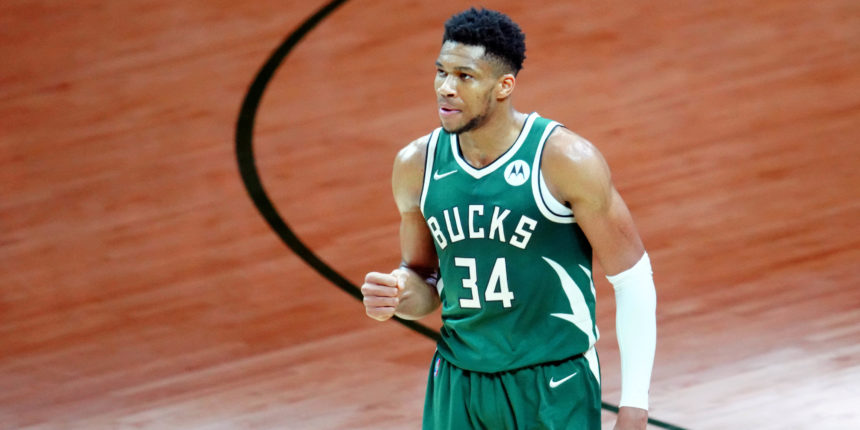 Superman 2.0: Giannis Antetokounmpo is the modern Shaquille O'Neal
Giannis Antetokounmpo has one of the greatest resumes of any 26-year-old in NBA history: a champion, Finals MVP, two-time MVP, Defensive Player of the Year, Most Improved Player, and five-time All-Star. Antetokounmpo joins Michael Jordan as the only players to ever win NBA MVP, Finals MVP, All-Star Game MVP, and DPOY. The stratosphere that Antetokounmpo has vaulted himself into at this stage of his career is rare territory.
Throughout the 2021 NBA Finals against the Phoenix Suns, Giannis was unstoppable. And he didn't miss any Finals games after it was originally feared that a season-ending knee injury would derail his incredible postseason run. What Antetokounmpo accomplished during this legacy-cementing run is truly "Greek Freak" stuff.
When glancing over Antetokounmpo's Finals barrage, it's truly absurd how he ran roughshod over Phoenix's roster. Nobody stood a chance against Giannis on his way to averaging 35.2 points, 13.2 rebounds, 5.0 assists, 1.8 blocks and 1.2 steals on an elite 65.8 True Shooting percentage.
After Giannis claimed his first championship in historic fashion – a 50-point performance in the Bucks' series-clinching Game 6 win at Fiserv Forum – what parallels can we draw for the 26-year-old superstar who's just now beginning to reach his prime years? Not many players come close to the athletic marvel that Antetokounmpo is, but former No. 1 overall pick and BasketballNews.com's own Kenyon Martin made a comparison that holds up well.
"This is the 2021 version of Shaquille O'Neal," Martin said on the latest episode of Neat & Unfiltered. "The domination that he plays with, the determination, and just the sheer force."
When diving into the numbers from Antetokounmpo's 2021 Finals compared to O'Neal's dominance against the Indiana Pacers in the 2000 Finals, the production is eerily similar:
2021 Giannis (age 26): 35.2 points, 13.2 rebounds, 5.0 assists, 1.8 blocks, 1.2 steals, 39.8 minutes, 14.2 free throw attempts; 61.8 FG%, 65.8 TS%, 31.4 USG%; 53-of-63 (84.1%) inside the restricted area
2000 Shaq (age 28) = 38.0 points, 16.7 rebounds, 2.3 assists, 2.7 blocks, 1.0 steal, 45.7 minutes, 15.5 free throw attempts; 61.1 FG%, 57.6 TS%, 34.0 USG%; 52-of-64 (81.3%) inside the restricted area
How Antetokounmpo and O'Neal both dominated their Finals matchups in otherworldly fashion, especially in the restricted area, shows that it's fair to say the new-and-improved Superman has arrived.
"It's only one Superman now and that's you," O'Neal said on Instagram after the Bucks' clinched their first NBA championship in 50 years. "Thanks for bringing old-school bully basketball back."
What Giannis can do within his 6-foot-11, 240-pound frame is jaw-dropping. He can glide down the length of the floor with a few dribbles. The explosion around the basket is second to none. Instinctually, his two-way game continues to improve each season. When Giannis is in rhythm, nobody in the league can guard him. It was proven on the Association's biggest stage, as the Suns' best version of potential Giannis stoppers in Deandre Ayton and Jae Crowder were victimized relentlessly.
The way Giannis handles his business within the restricted area is very Shaq-like. During O'Neal's prime, he would post up defenders and knock them through the basket with ferocity. Two decades later, Giannis is doing the same thing but with even more athleticism, soaring above the cylinder for gravity-defying alley-oops or chase-down blocks.
Having Antetokounmpo on their roster opens up endless possibilities for the Bucks and how they can build a potential dynasty around him. Giannis can play three positions on the floor, maybe even running point guard sometimes as a primary facilitator. However, the long-term outlook could be to have Giannis ease into a full-time center role.
In small-ball lineups with Antetokounmpo at center, the Bucks torched the Suns in the Finals with optimum floor-spacing surrounding their freak of nature inside. Brook Lopez is still under contract for two more seasons, but it's fair to wonder whether Milwaukee should eventually explore moving his $13 million salary for even more perimeter shooting.
Giannis keeps so many roster-construction options open, though. There's no need to break up a championship core, especially a piece like Lopez at this stage, but, post-Lopez, Giannis seems poised to become the modern version of Shaq. The Giannis-Shaq comparison is spot-on.
Milwaukee has one of the greatest players in the world on their roster, and there's no denying that now. Once Antetokounmpo signed the super-max extension, officially closing the book on leaving Milwaukee anytime soon, he proved he can win a ring the homegrown way. He knew it would be harder this way, but that the reward would feel even sweeter at the end.
"It's easy to go somewhere and go win a championship with somebody else," Antetokounmpo said postgame while clutching the Larry O'Brien trophy and Finals MVP award. "It's easy. I could go to a super-team and just do my part and win a championship, but this is the hard way to do it, and we did it. We f***ing did it."
Antetokounmpo is on the fast-track to a Hall-of-Fame career. Just as O'Neal did for years in places like Orlando and Los Angeles, Antetokounmpo is ready to become a sheriff in the paint as the Bucks' global two-way superstar for many years to come.