Things didn't look so good for the Philadelphia 76ers or L.A. Clippers heading into their Game 6 matchups. A meniscus tear for Joel Embiid and a knee injury for Kawhi Leonard meant both squads were dealing with injured star players to varying degrees. Typically, this sort of news would have us prepping their eulogies. The easy assumption was that absent and hobbled stars would equal an unwatchable series. Thankfully, it was the efforts of Sixers rookie Tyrese Maxey and Clippers sophomore Terance Mann that spared us from such a fate. Each of the two played career-catapulting games with some of the most memorable postseason moments we've seen in a while. Good vibes abound.
The Atlanta Hawks were met with the opportunity to close the series in six games, but the 21stst pick of the 2020 NBA Draft, wasn't ready to go home quite yet. The crafty rook had shown flashes of potential throughout the season with his go-to floater and natural passing reads, and with Ben Simmons' inexplicable struggles this series, Maxey rose to the occasion and blindsided the Hawks' defense. Atlanta's defensive vulnerability is in their backcourt, but with Simmons' limitations, the All-Star couldn't exploit Trae Young or Lou Williams on the perimeter. Instead, Simmons, when not running in transition, was content hanging in the paint and dunker spot and routinely had to deal with a forest of flailing limbs courtesy of John Collins, Clint Capella and Danilo Gallinari.
The offense-first Hawks backcourt wasn't too worried about having to navigate through tough screens, unless dealing with Seth Curry's formidable dribble handoff play. As a result, Curry has had a breakout series, averaging 21.8 points on nearly 60% shooting from three-point territory. Maxey suddenly orchestrating a playoff offense better than Simmons becomes less confusing when considering these facts. The rookie was able to spread the floor a little more and open running lanes that weren't present before, the latter of which was especially clear with this impressive pass to Dwight Howard.
June 19, 2021
Because of Maxey's confidence and willingness to assume the burden of postseason point guard duties, the Sixers now have a Game 7 to look forward to in front of a rabid crowd at the Wells Fargo Center. With the bench guard repeatedly answering Trae Young's arena-shaking, deep, clutch threes with plays of his own, it'll be exciting to see whether we witnessed a flash in the pan with Maxey, or a true leap in his growth as a playmaker.
The L.A. Clippers found themselves in a comparable position to Philly. With their star compromised and now absent from the series, their 3-2 lead didn't feel completely safe.. Surely the top-seeded Utah Jazz wouldn't lose a series in which they led 2-0, especially with Leonard out. And Utah had all their most vital contributors present. Surely not.
Well, much like Utah, we didn't account for Terance Mann being possessed. Mann was otherworldly in his 39-point performance. He almost singlehandedly spearheaded a 25-point comeback against the Western Conference's top seed and helped secure his franchise's first ever appearance in the conference finals in its 50-year history. The performance reached its peak in the fourth quarter—precisely when it felt less like a live basketball game and more like scenes of a hoops film. The crowd's elation was palpable, and Mann shared his joy with them after each bucket, clearly aware that history was to be made and flashing a smile with a jump for joy with each snap of the net. The Jazz seemed deflated by the end; however, they could simply have been in awe. With the availability of usage in Leonard's absence, the Clippers put their trust in the second-year wing, and he answered the call, unbothered by the vibrating roar of the Staples Center. He was clearly invigorated by the enthusiasm.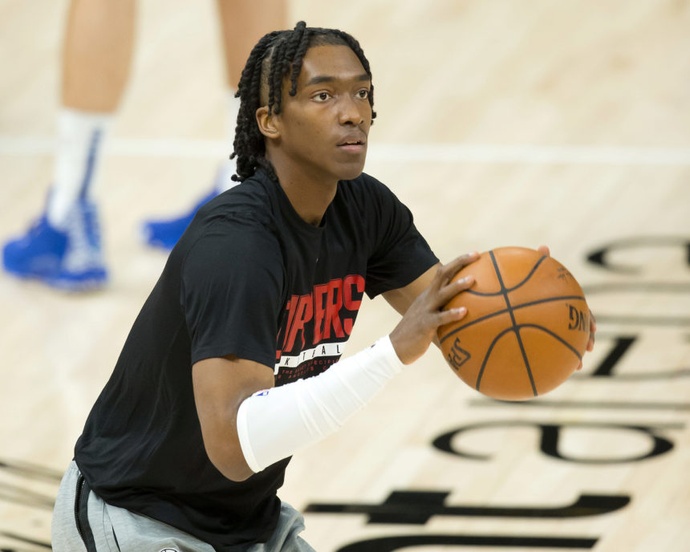 Not only did the Florida State recruit live up to the moment, he also actively sought it out. Paul George said about as much regarding his young teammate following the matchup.
"You saw a full, complete game from a second-year player. I mean, you saw him stretch the floor. You saw him defensively. You saw him rebound. You saw him muscle his way to the basket. I mean, you just saw flashes of so many different things, and he did it in the most crucial part of the game. I think that's what's most impressive. Honestly, he single-handedly willed us back."
One could chalk up the performances of Maxey and Mann to the unpredictable, randomness of the game as of late, but that takes credit away from the confidence required to play the best game of your career in front of the brightest lights and hysterical wails.
Because of this, I'm inclined to believe that both may have reached milestones in their development. Can't wait to see what's next in store.