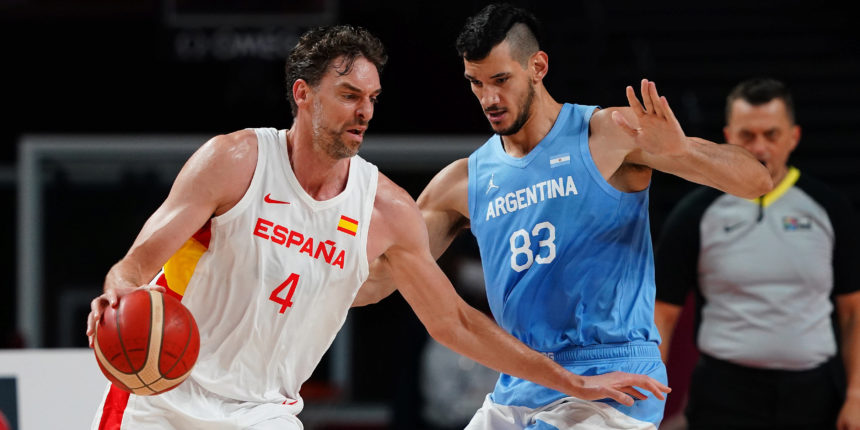 Pau Gasol contemplating retirement: 'I have not made a decision 100%'
In November of 2018, Pau Gasol suffered a stress fracture in his left foot while playing for the San Antonio Spurs. It required season-ending surgery, and some wondered whether Gasol would ever play again. After a 17-year NBA career, Gasol seriously considered retirement.
However, he ultimately decided that he wasn't done playing. Rather than limping off into the sunset, Gasol wanted to go out on his own terms.
He fought his way back and, last season, he suited up overseas with FC Barcelona (which is also where he started his pro basketball career back in 1998-99). He averaged 8.6 points, 4.2 rebounds and 0.7 blocks in 15.8 minutes per game, while shooting an uber-efficient 56.2% from the field, 46.7% from three and 88.9% at the free throw line. He also played for Spain's national team during the Tokyo Olympics.
"I love the game. I wanted to finish my career playing," Gasol told Tim Reynolds of The Associated Press in Tokyo. "I had such an incredible, extraordinary career that I didn't want the injury to finish it for me. It was a very difficult and challenging injury. So, I set myself this goal to get back on the floor and potentially play the Olympics again with my national team – and I worked my butt off to do it."
Now, after an incredible 23-year career, Gasol is once again contemplating retirement.
"I keep thinking about whether to continue or not," Gasol told Joan Solsona of Marca.com (as translated by HoopsHype). "It will not be an easy decision and when I know it, I will let you know. I have been a professional for 23 years and I am considering all the factors to make a decision soon and be able to communicate it. I have not made a decision 100%. If I look back, it has been many years enjoying very interesting things."
If he does resume his career, he wants to re-sign with FC Barcelona.
"I keep thinking about my future; I don't see myself on any team other than Barça," Gasol said.
Over the course of Gasol's NBA career, he averaged 17.0 points, 9.2 rebounds, 3.2 assists and 1.6 blocks across 1,226 games. The future Hall-of-Famer totaled 20,894 points (44th-most in NBA history), 11,305 rebounds (29th-most all-time) and 1,941 blocks (23rd-most all-time).
He won five championships (two in the NBA and three in Spain's Liga ACB) and made six NBA All-Star appearances. He also led Spain's national team for two decades, earning three Olympics medals (two silver and one bronze).
Three years after he was nearly forced into retirement due to an injury, Gasol gets to decide whether he will continue playing – a luxury very few professional athletes have.