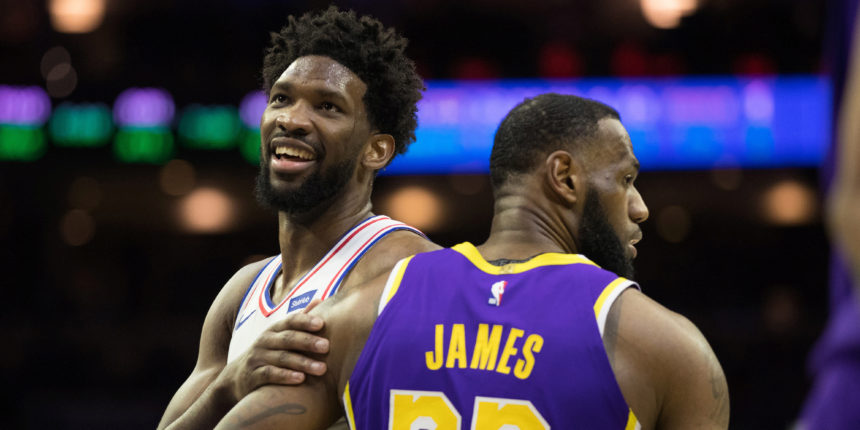 Sportsbooks now have Joel Embiid as MVP favorite over LeBron James
There's a new MVP favorite, and he is a worthy one… especially after scoring 40 points last night in the Philadelphia 76ers' victory over the Utah Jazz.
So congratulations to Joel Embiid, who has leapfrogged LeBron James in the MVP futures market at FanDuel, one of the largest legalized sportsbooks in the U.S. gambling industry. What's more, PointsBet, which is affiliated with NBC Sports, has made Embiid an even bigger favorite.
The sportsbook industry is fractured on this one. Bet MGM and DraftKingsSportsbook both have Embiid and LeBron at +250, also known as 5/2. That makes them co-favorites and for those unfamiliar with the lingo, 5/2 basically is the same as 2 ½-to-1, meaning a $100 wager would be worth $250 in winnings.
This much of a disparity is extraordinarily unusual in the sports gambling industry, which tends to be in lockstep on most gambling lines, especially the point spreads and over/unders on nightly matchups. But William Hill is the only major book that still lists LeBron ahead of Embiid, +175 to +225.
James sat out last night's loss to the lowly Sacramento Kings, taking a rest night -- something he had earlier said he was loath to do. The loss dropped the L.A. Lakers into a tie for third-place in the Western Conference behind Utah and the L.A. Clippers, while the Sixers stayed a half-game ahead of the Brooklyn Nets, whose James Harden is priced anywhere from 18-1 to 25-1.
Last night, Embiid reached at least 40 points and 15 rebounds for the league-leading fifth time, and the fact that he did it against Rudy Gobert (the leading candidate for Defensive Player of the Year) was especially impressive.
LeBron has three 19-point games among his last six outings, and the Lakers have lost six of eight.
James took over as the MVP favorite back in January, surpassing Luka Doncic as the Dallas Mavericks got off to a poor start, and money came pouring in on him. Most of the major books are significantly exposed on him, but he has not helped his chances, while Embiid has done quite the opposite. Question: Ever watch NBA TV or ESPN and not hear them preface all Embiid comments with "MVP candidate"? Maybe a few weeks ago, but certainly not this morning. The NBA TV crew was actually chanting it.
Not that this is a two-horse race, because Nikola Jokic is sitting at +350 (William Hill) to +450 (DraftKings), with nobody else less than 12-1 with the exception of Doncic at 7-1 at PointsBet.
With more than half of the season remaining, things could change further in this category. The Phoenix Suns are peaking, and Devin Booker is somehow at 150-1. If Phoenix somehow manages to win the West, and both Brooklyn and Philadelphia are overtaken by the Milwaukee Bucks, Booker is certainly not going to be sitting at 150-1. If Utah goes back on an extended run of success like they did before their current two-game losing streak, Donovan Mitchell is going to be a lot lower than 100-1, which is where he stands on this particular Thursday as we get ready for the All-Star break.
But for now, what we have today is a major, major shift of odds for the league's signature individual award. And there are a lot of people in the Philadelphia area who are cherishing the day they made wagers on his back during the preseason.
From PointsBet spokesman Patrick Eichner:
MVP (Bet Count):
LeBron James - 1st in bet count (20%)
Joel Embiid - 2nd in bet count (9%)
MVP (Handle):
LeBron James - 1st in handle (34%)
Joel Embiid - 2nd in handle (7%)
"In our eyes, LeBron only wins MVP if the Lakers finish as one of the top-two seeds in the West," Eichner said. "With AD being sidelined for at least another month, plus the Suns and Jazz playing as well as they are, we anticipate a top-two seed will be difficult for the Lakers to secure. Looking at Joel Embiid and the Sixers, however, it is a totally different story – the East is much more wide open, and Philly has a very legitimate chance to finish as the No. 1 seed, in large part thanks to Embiid's play.
"Anticipating the 76ers will finish higher in their conference standings than either the Lakers (LeBron) or Nuggets (Jokic) has elevated Embiid to the overall clear favorite – we are shorter on Embiid (+160) and longer on LeBron (+275) than most of the market, but we feel comfortable taking that lean."
From John Sheeran, Director of Risk and Trading for FanDuel Sportsbook:
"LeBron's performance levels have dropped off, especially since Anthony Davis got injured, and Embiid continues to increase his lead in key statistical performance metrics," Sheeran said. "James bettors need AD back and quickly."
"Right now, Embiid is second in the league in points per game (30.2), while LeBron is 12th (25.8), Embiid's field goal percentage is better at 52.1% vs. 50.9% for LeBron, and the 76ers star is more impactful right now on the defensive side of the ball with an average of 11.6 rebounds per game, good for fourth in the league while LeBron averages 8.0 per game."
At FanDuel, the top NBA player by bet count in the MVP outright winner market is Embiid with nearly 20% of the bets. The top-five players by handle in the NBA MVP market are James, Embiid, Doncic, Kevin Durant and Jokic.
FanDuel's largest bet on Embiid was $3,600 at +550 on Feb. 6. In terms of how Embiid's MVP odds have moved, they were 36-1 on opening night, 26-1 in December and January, and 11-2 in February.
And this from Bet MGM's John Ewing: "All the tickets on MVP last night/today have been on Embiid. The tickets placed today account for 10% of all of Embiid's overall tickets."
Yet Bet MGM has James and Embiid as co-favorites.
"We've seen steady action on Embiid all season and after a game like last night against the league's best team, while being guarded primarily by Rudy Gobert, we felt it was time to make him a co-favorite with LeBron to win MVP," said Seamus Magee, head sports trader at BetMGM.
"The Lakers have struggled without Anthony Davis. Had LA continued to win, then LeBron would be the clear favorite. But at this point in the season, it is a two-man race for the award."