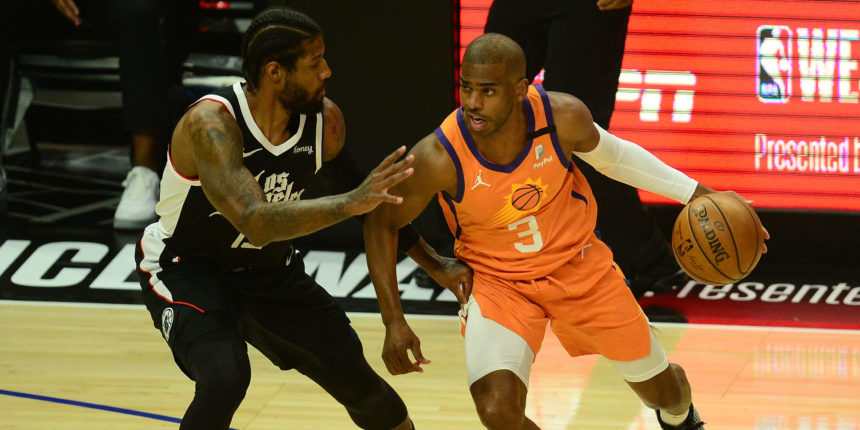 Sportsbooks looking for bounce-backs from Bucks, Clippers in Conference Finals
Injuries knocked out NBA championship contenders in the Brooklyn Nets and Los Angeles Lakers, which made the sportsbooks very happy. The star-laden teams were two of the most heavily-bet teams to win the title. As bettors and fans, we are now left with the Atlanta Hawks and Milwaukee Bucks in the Eastern Conference and the Los Angeles Clippers and Phoenix Suns in the Western Conference.
With only four teams left, the 2021 NBA Playoffs are nearing their end. When it comes to gambling, there have been huge swings and adjustments to the odds for the remaining two series, most notably in the East after the Hawks stole Game 1 on the road in Milwaukee.
When the series started, Milwaukee was at (-500) to win the series at BetMGM. The Bucks currently sit at (-200), per John Ewing of BetMGM. The Hawks are also a big NBA title liability at PointsBet Sportsbook.
"The Hawks are a huge liability to win the series, so the book will be rooting for the Bucks to bounce back after that Game 1 loss," said Michael Korn, Sports Analyst at PointsBet Sportsbook. "We took $5,000 at +900 on them to win the East, which would payout $45,000."
If you are betting on the Hawks-Bucks matchup in Game 2, or at any point in the conference finals, make sure you check out the most updated NBA, odds, lines, and spreads at BetQL.
In the West, the Phoenix series line was (-225) before Game 1 at BetMGM. The Suns are currently up 2-1 in the series after Los Angeles won Game 3, but the Suns' odds have jumped out to (-450). The Kawhi Leonard injury looms large for the Clippers, and you can tell by that number. Multiple books told the BetQL team that they are cheering for Los Angeles to come back and win this series.
"The book will be rooting for the Clippers to come back and win this WCF series," Korn said. "The Suns are our biggest liability to win the West, and biggest liability of the remaining teams to win the title."
Before you bet Suns-Clippers Game 4, check out BetQL, where you can get the site's NBA computer picks to see which way its model is picking the game.
One interesting tidbit about this NBA postseason is the fact that a new superstar will win his first NBA Championship.
Trae Young, Giannis Antetokounmpo, Paul George, Devin Booker and Chris Paul all are desperately trying to capture their first rings, so it will be a fun conclusion to an absolutely wild NBA season.
As a BasketballNews.com reader, you can get access to BetQL for 30% off when you use the code BBN30, check out BetQL and win the rest of your bets throughout the playoffs!