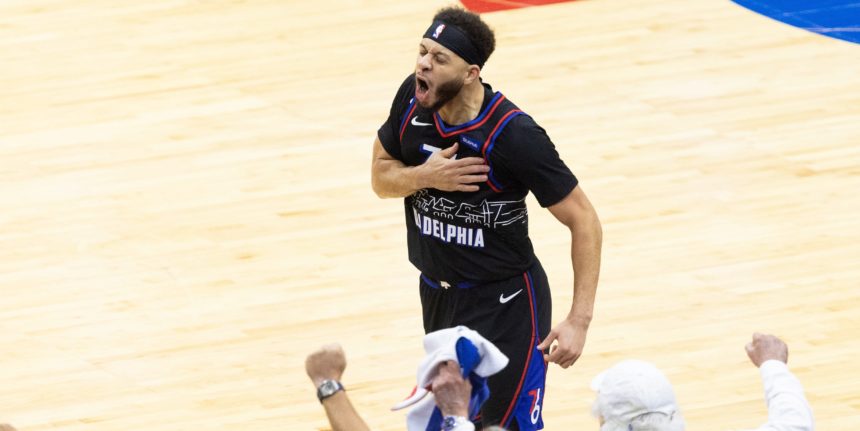 How Seth Curry's persistence led him to the NBA's biggest stage
Seth Curry has never lacked confidence.
In fact, to this day, he truly believes that he's the best shooter in his family (even though Stephen Curry is widely regarded as the greatest shooter in NBA history and on track to break every shooting record imaginable).
"Seth had the mentality, 'If Stephen's gonna do it, I know I can do it… I used to kill him in the backyard!' That is Seth Curry's mentality right now," Dell Curry said recently on The Rex Chapman Show when asked about his sons. "He'll tell you, 'I'm a better shooter than Steph, he just gets more shots than I do. He has free reign, he touches the ball more. But I'm a better shooter than him right now.' That's been his mentality the entire time."
On Wednesday night, Curry helped his argument by dropping 36 points, 7 rebounds, 7 threes and 2 steals (while shooting 68.4% from the field and 58.3% from deep), although it wasn't enough for the Philadelphia 76ers to beat the Atlanta Hawks in Game 5 of their series.
This self-assuredness is what allowed Curry to overcome plenty of obstacles early in his career. While he is now a key contributor and starter for the top-seeded 76ers, he spent years getting cut and bouncing around as a fringe NBA player.
In 2013, Curry went undrafted despite playing well at Liberty and Duke. His first pro stint was with the Golden State Warriors' G League affiliate in Santa Cruz. With Steph and Klay Thompson emerging as one of the NBA's top backcourts and garnering a ton of attention as the "Splash Brothers," the Santa Cruz Warriors had an idea. They decided to sign Seth and Mychel Thompson (Klay's brother), so they could have the Splash Brothers' brothers. It was essentially a marketing stunt to attract fans, but Curry used the opportunity to show what he could do, averaging 19.7 points, 5.8 assists, 3.1 rebounds and 1.4 steals in 38 games.
From there, Curry showcased his talents during NBA Summer League, which led to an opportunity with the Orlando Magic's G League affiliate (the Erie BayHawks). Once again, Curry shined in the G League, averaging 23.8 points, 4.2 assists, 3.9 rebounds and 1.4 steals.
Around this time, Curry signed 10-day contracts with the Memphis Grizzlies, Cleveland Cavaliers and Phoenix Suns. However, following the 10 days, none of the teams offered him a second deal. Year after year, Curry was showing the league what he could do at Summer League and in the G League, but NBA teams refused to take a chance on him.
Finally, in 2015, the Sacramento Kings inked Curry to a two-year deal that was fully guaranteed, which changed the trajectory of his career. Even though he played a minor role (averaging 6.8 points and 1.1 threes on 45.0% from three), he showed that he could help a team with his shooting. And in nine games as a starter, he averaged 14.4 points, 3.8 assists, 3.0 rebounds, 2.6 threes and a steal, while shooting 46.9% from deep. Curry's G League days were over.
Rather than opting into the second year of his deal with the Kings and taking the guaranteed money, Curry decided to opt-out and bet on himself. Shortly after, he signed a two-year, $6 million deal with the Dallas Mavericks. In Dallas, Curry started 42 games and averaged 12.8 points, 2.7 assists, 2.6 rebounds, 2.0 threes and 1.1 steals on 48.1/42.5/85.0 shooting splits.
Last offseason, the Sixers acquired him in exchange for Josh Richardson, and Curry became an every-night starter for the first time in his career and had one of his best seasons.
Now, he has elevated his game to another level in the playoffs; he's averaging 18.6 points, 3.2 threes, 2.4 assists, 2.3 rebounds and 0.8 turnovers, while shooting 57.7% from the field, 47.8% from three-point range and 80.0% from the free-throw line.
Curry has been arguably the best catch-and-shoot threat of this postseason, averaging a league-high 8.2 points per game off of catch-and-shoot attempts. He's shooting a ridiculous 53.1% on catch-and-shoot threes. He has also been knocking down pull-up jumpers, averaging 6.2 points per game off of pull-ups and shooting 57.1% on these attempts.
"I just try to be aggressive," Curry told reporters recently. "Obviously, I'm not the No. 1 option out there; we've gotta run plays for Tobias [Harris] and Joel [Embiid] the majority of the time. But when I get the ball, especially late in the [shot] clock, I've gotta be aggressive and put the ball on the floor and make plays and just be ready at all times."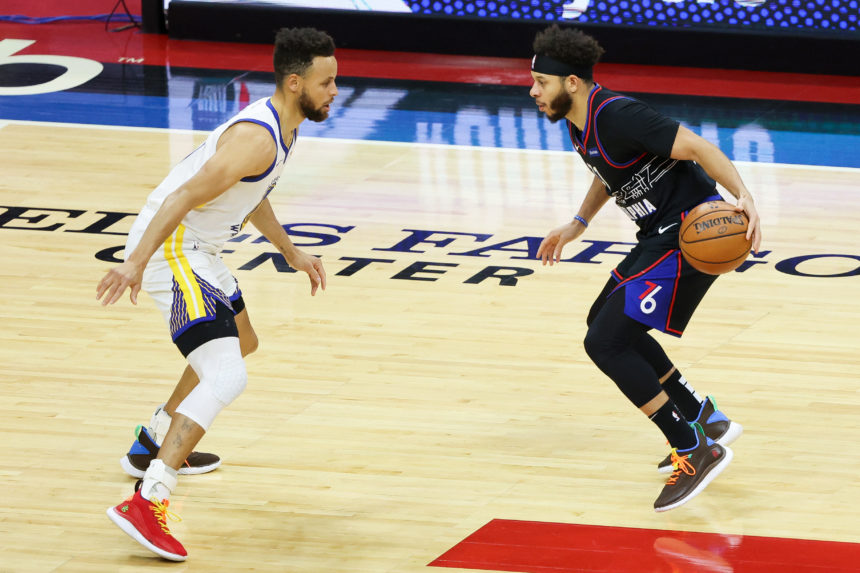 Stephen Curry is proud of his brother, and he admits that it still blows his mind that they were both able to beat the odds and make it to the NBA.
"It's crazy; it's surreal still, to this day," Steph said on The Rex Chapman Show. "There are only 450 jobs at this level, and to know that we took different paths to get here -- Seth going to Liberty for a year and playing amazing, then transferring to Duke, going the G League route, [signing] 10-days and getting training-camp roster invites to now signing a four-year, nice deal -- it's nuts. I appreciate every opportunity that we get to play against each other and compete, and it brings out the love of the game to a whole 'nother level.
"As kids, we were out in the backyard and we were acting like we were NBA players and shooting fake game-winners and wearing our Pop's jersey! And now we've got our own [jerseys], so it's special, for sure."
Growing up, Steph says that he and Seth got into "at least 15" fights when their backyard games got a little too competitive.
"You can ask Seth about this… We would play one-on-one -- and obviously I'm the big brother, so I'm supposed to win (but he'd get me every once in a while) -- but Seth had this thing where he'd call a foul and I would be like, 'No, it's not a foul, I literally didn't touch you,' and I wouldn't give him the foul. He would literally take the ball and just walk off the court," Steph said with a laugh. "And he knew all I wanted was to play and he knew I wasn't going to just let him walk off, so he'd play that card every single time. He'd be like, 'Nah, I'm done, I'm done,' and he'd walk off with the ball in his hand. So I'm like, 'You're really gonna…' (rolls eyes) He'd keep the ball and walk off. It was a trump card every single time. He knew I just wanted to hoop, and he wanted to hoop too, [but he knew I'd give him the foul]. It's the game within the game and that still exists, even [when we play now]. I love it."
Entering the playoffs, Sixers head coach Doc Rivers sat down with each of his players to discuss their role, how they'd be utilized in the postseason and what he wanted to see from them. Curry recalls their conversation, which ended up being a turning point for him.
"For me, personally, he was just trying to tell me to be a weapon and be a little bit more aggressive -- moving around and trying to find my shots," Curry told reporters. "And just be more of a playmaker, putting the ball in my hands, and just play with a little bit more energy, which has been up and down throughout this year."
Curry has delivered, and he's come a long way from the player who went undrafted and was signed as part of a marketing gimmick. Now, with the 76ers trailing the Hawks 3-2 and facing elimination on the road, he'll have another opportunity to showcase his talents on a big stage.