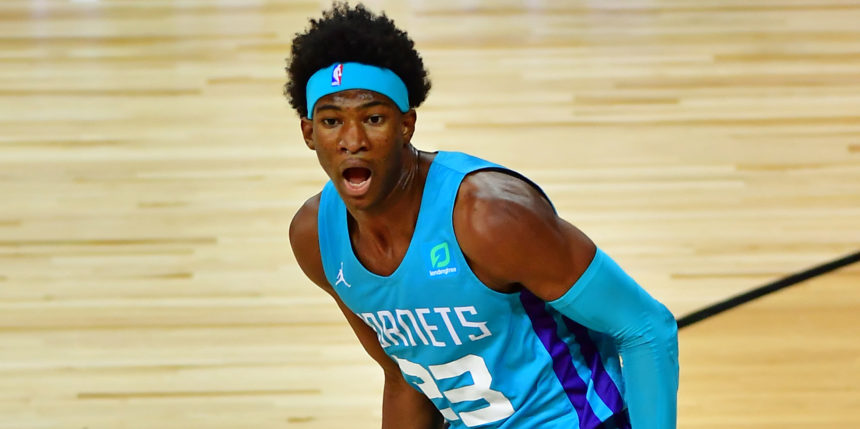 Self-aware Kai Jones is an unfinished product who won't stop learning
It only took three-and-a-half quarters for Kai Jones to explode onto the NBA highlight reel.
A catch at the left elbow, a jab step to the left and a dribble-drive with the right led to a leaping detonation on the one they used to call Manimal, who unwisely attempted to take a charge. That sky-high, one-handed slam was Jones' first viral moment as a pro.
"The couple previous plays, I had drove and I saw that Kenneth [Faried] kept stepping up, and I had passed it a few times," Jones recalled. "In my head, I said, 'I probably could've dunked it.' So the next time that I drove and I saw him step up, I was just like, 'Jump over him this time.'
"The moment itself was amazing, just getting that [spotlight]. But it was kinda, like, bittersweet because we lost the game and I felt like I could've had a better game too. I feel like I'm still working out some kinks, so I try not to get too high on it, but it was definitely good to show people that I'm able to do that type of play."
KAI JONES OH MY 🤯✈️ pic.twitter.com/VnAOShgBNr

— SportsCenter (@SportsCenter) August 8, 2021
When Jones had intentions of finishing with authority at NBA Summer League, you knew it. That doesn't mean it always worked.
In fact, the 20-year-old rookie forward out of Texas will be the first to tell you that he needs to learn, learn and learn some more about this level of basketball, and put that knowledge into action when he next steps foot on the court. There's much work to be done when it comes to Jones' game, and that isn't lost on the Charlotte Hornets' rookie. It's encouraging to hear his honesty regarding where he's currently at in his development and where he wants to get to.
"I feel like experience is the best teacher, and I feel like I've gained some experience from these past few games just learning — catching the pace of the game, finding the rhythm of the game. It's a lot faster, it's a lot more physical than college, so just figuring that out," Jones said after his second game in Las Vegas. "I'm glad I got to do this. I'm glad I'm getting to play at summer league 'cause I see why the NBA does this. I feel like it's necessary just for you to get your feet under you."
Starting with the good from Jones' five-game stint in Las Vegas, it's quite obvious that he carries a relentless nature with him. If he's in the dunker spot for a pass, he'll take off and throw it down with two hands. By the time you turn around or get there, don't even try to jump with him or attempt to contest it because you'll just send him to the line. Jones times up offensive boards off his teammates' misses pretty flawlessly as well.
Defensively, he's solid on switches and grasped the concepts that Hornets assistant and summer league head coach Dutch Gaitley threw at him.
"The main thing I'm seeing improvement-wise is his attention to the game," Gaitley said of Jones. "He's looking over, 'What are we in defense?' and understanding, 'Hey we're switching now. Now we're in zone.' We change a lot, that's how we do it. 'We're pressing, we're not pressing.' So I think that's the main thing I'm impressed by."
You can see flashes of a high-level defender, both when he's laterally keeping up with guys and, if he gets beat, in his recovery time. According to InStat, against pick-and-roll ball-handlers, Jones only allowed 0.54 points per possession.
As for the rest of the puzzle on the defensive end, it's going to take some time. There were more than a handful of instances when miscommunication led to wide-open shots. On top of that, by the time Jones recognized where a pass was going, the ball was in the shooters' hands and he was often late on contesting the attempts. Watching him out there against an offense that constantly moves the ball, it just feels like he's a bit off-balance and kind of in scramble mode.
Regarding his role on offense, Jones will require a good amount of polishing. He was used mostly in the pick-and-pop and had a decent amount of success with his jump shot — his misses were way off — but having him slip or roll off screens should be a priority going forward. He only did that twice at summer league (according to InStat), and the results were elementary. So even though he doesn't have the typical big-man frame quite yet, his athleticism will catapult him to the cup.
In some of the moments when Jones was operating with the ball in his hands on the outside, you could tell he was thinking a little too much.
"He's so used to looking, 'I need to have the ball in my hands.' He needs to get used to playing without the ball and now, when you do get the ball, attacking close-outs. So I think that's the main thing that can help him — being quicker with his close-outs and his reads," Gaitley said.
"What the team wants from me is just playing hard, be ready to shoot when I'm open and just quick decisions," Jones said. "I was talking to Coach Dutch about that. Just trying not to hold onto the ball too long… so I think that's gonna be huge for me, just making quick decisions out on the perimeter, out on the floor and dribbling."
In the following games, the message got across to Jones. And while it was good to see that progression, he appeared a little too antsy to pass the ball instead of letting the sets play out. Still, that's not nearly the area where he has to improve most when it comes to being a ball-handler.
In at least five different instances, whether in transition or on a catch-and-drive, Jones got ripped on his way to the tin. If he's going to have a strength disadvantage like this early in his career, he's got to keep the handle tight, or at least find a way to ensure the ball is secure. He has this tendency on the gather to bring it down with both hands, and pro-level defenders will take his lunch money every time if he continues to do that off the dribble.
Equally disconcerting was Jones' finish rate at summer league, particularly on layups: 3-for-17 with six of his shots blocked, per InStat. The good news is that the Hornets' first-rounder is well aware of these shortcomings, and intends to eliminate those mistakes as he gains more experience.
"I feel like I had a couple finishes that I should've finished — left-handed under the rim and that right-hand layup in transition. So just finishing, being more efficient, taking the right shots for me," Jones said.
"For me, this summer, I've been working on my shooting a lot. I feel like I'm really good at shooting. I just haven't gotten the opportunity to shoot, [and] shoot the right shots. I've been taking some bad ones... Just focus on taking the right shots, getting my feet set and everything should take care of itself. But shooting a lot and just finishing, my all-around game, ball-handling, passing — I'm working on everything."
The drive and the FINISH 🤯

Kai Jones drops the hammer on ESPNU! #NBASummer pic.twitter.com/uMnR2s3nWZ

— NBA (@NBA) August 12, 2021
Jones finished his first summer league with averages of 9.8 points and 9.4 rebounds on 40% from the field. Albeit in a loss, as Charlotte went winless in Vegas, he saved his best performance for last. Jones had 16 points and 9 rebounds to go with a block against the Chicago Bulls, an inverse showing from the previous night against the Toronto Raptors (when he had 9 and 16).
If summer league taught us anything about Jones, it's that the draft evaluations of him being a raw, high-upside prospect seem pretty spot on. He even gets that he is nowhere near close to a finished product, and he has to find that happy medium between understanding his individual maturation's timeline and the team wanting to win.
"I think the best way to strike a balance is to try to be the best version of ourselves every time we step out on the court and get better every day, taking what the coaches are saying, understanding that they're there to help us and continue to play hard," Jones said of the young Hornets. "Use our talent, because we are a really young, talented team, but have a growth mindset at the same time. I feel like that'll help us strike a balance.
"Go out, compete, play hard and try to kill everybody, but also understand that we're learning and growing. And I feel like that goes for even championship teams. They go out and they try to compete, but they understand that they have things to get better at too... The good thing about it is I feel like the organization understands the young guys [and that] it takes time to develop. You can tell that they're very patient with coaching us on the sideline, just saying all the right things. Also, you have a lot of young vets around you, guys who just recently were rookies, so they can give you some good insight on the way to be [in] the game, when things may not be going your way and how to keep your head up and stay focused."
To be fair to Jones, playing alongside established pros like Terry Rozier and Gordon Hayward, plus a true table-setter like LaMelo Ball, will help him get easier looks closer to the basket. Imagine all the easy, high-handoffs throughout the season if/when Charlotte does go to him for minutes.
(Truthfully, at least this year, that may be difficult with Kelly Oubre, P.J. Washington, Jalen McDaniels, Miles Bridges and Mason Plumlee all likely ahead of him in the frontcourt's pecking order.)
You can't put a price on in-game exposure, though, and Jones is sure that this time at summer league will be crucial when training camp rolls around.
"I think it's gonna be huge," Jones said. "Everything for me is gonna be experience, just getting the reps at summer league. We had a week of practice before we came out here. I'm the type of person who has a growth mentality, so I just feel like every game when we play, every time I get to get on the floor, I'm learning. So today was a learning experience, yesterday was a learning experience... Just continuing to learn and grow so by the time the season comes, I'm settled in completely, hopefully. And I feel like it's gonna be a ton to learn from there too.
"It's a marathon, not a sprint, and I'm aware of that."