This year's Western Conference Finals is a basketball nerd's version of the Spider Man meme. The Phoenix Suns and Los Angeles Clippers are a pair of switch-heavy, pull-up heavy teams with smart coaches that aren't afraid to mix things up. They're also missing very key pieces -- Kawhi Leonard (and Serge Ibaka) for the Clippers, Chris Paul for the Suns.
Elite three-level scorers (Paul George, Devin Booker) are the headliners. Unabashed gunners (Marcus Morris, Reggie Jackson, Cameron Payne, Jae Crowder) are prepared to swing a quarter or two. High IQ movers (Mikal Bridges, Nicolas Batum) are ready to fill the gaps.
Have I made my point yet?
I'm not a coach -- I'm just a pun-loving basketball fan with a hankering for film breakdowns. But instead of a traditional series preview, and with Game 1 behind us, I decided to go into the basketball trenches and devise gameplans for both teams. The tone of this piece will be a little more informal, but it will still be informative (at least I hope).
First, let's look at how the Los Angeles Clippers will try to stop the Phoenix Suns.
Defensive Matchups
Reggie Jackson --> Cam Payne
Terrence Mann--> Devin Booker
Paul George --> Mikal Bridges
Marcus Morris --> Jae Crowder
Nicolas Batum --> Deandre Ayton
The Nicolas Batum-at-the-5 lineup deserves a shot considering the success it had against Rudy Gobert in the last round. Sizing back up and inserting Ivica Zubac back into the starting lineup remains an option.
Something to watch for: Ayton offers more as a scorer than Gobert does, especially on the block. His 0.93 points per possession (PPP) on post-ups this season outpace Gobert's mark (0.62) by a solid margin. If Ayton is able to bully Batum -- or any of the Clipper wings -- it may call for the Zubac adjustment.
Top Priority on Defense: Discipline vs. Pick-and-Roll Attack
The Suns may have the most versatile pick-and-roll attack in the NBA. Drag screens in transition. Screen-the-screener actions from the wings. A buffet of options out of the HORNS alignment -- a player in each corner, and a player stationed at each elbow, for those who aren't familiar.
And Spain pick-and-rolls. So many Spain pick-and-rolls.
(For the nitty-gritty of their playbook, I highlight suggest this piece.)
Not only can this team get you in rotation with their variety of ball screens, they have built-in counters whenever you begin to figure things out. The switches have to be on-point and physical to prevent easy slips. When in drop, the backline will have to be on point. Pull in a bit early to take away easy rolls if necessary. Sprinkling in some zone could be a rhythm-breaking option in spurts.
Suns' Team Stats (and Phoenix's stats vs. Los Angeles)
Offensive Rating: 116.3, 7th (116.8)
Half-Court Offensive Rating: 102.7, 3rd (98.0)
True Shooting Percentage: 59.7, 3rd (59.5)
Assist Percentage: 62.2, 9th (56.9)
Turnover Rate: 12.6, 4th (14.3)
Pace: 98.00, 24th (91.17)
Free-Throw Attempts: 18.7, 29th (23.7)
Free-Throw Percentage: 83.4, 2nd (81.7)
Three-Point Attempts: 34.6, 15th (31.3)
Three-Point Percentage: 37.8, 7th (30.9)
Offensive Rebounds: 8.8, 28th (10.3)
Suns' Play Type Breakdown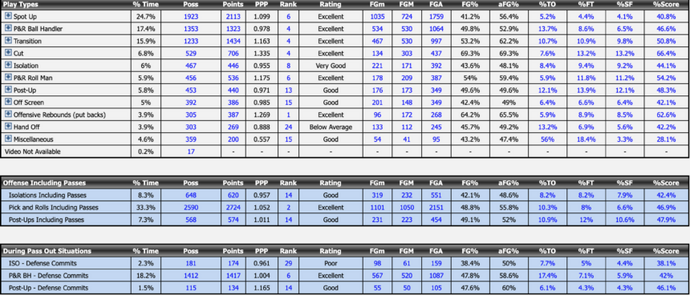 Defending Devin Booker
Booker is one of the most complete offensive players in the sport. Smooth off the dribble, physical when getting downhill. Superb footwork. Early reps as a point guard helped instill all the basic pick-and-roll reads.
There isn't a full-blown weakness to hammer home, which has allowed him to flourish during the postseason (28-7-5, 61.5 True Shooting %) so far. He wasn't as great against the Clippers this season (23-5-5, 60.6 TS); the absence of Paul (at least for the beginning of the series) should make it a little easier to hone in on him.
Major Key: Cut Off His Runway
It's easier said than done, of course, but you have to keep Booker off his spots. He's too good inside of the arc as a scorer, and he'll have an easier time picking out passing reads if he's able to pressure the rim if there's no friction beforehand.
If Zubac is in the game, he may need to defend pick-and-rolls closer to the level of the screen. Playing deep drop is inviting Booker to boogie his way into the mid-range area, get his defender on his hip, and fire away.
This is an early offense example, but you can see the issue with letting Booker get downhill with a ton of space.
Booker has turned himself into one of the best pick-and-roll players in the league, but it's worth noting he turned himself into this kind of threat. He isn't a natural playmaker, and as such, his processing speed is good, not great.
Playing the big higher can be a counter to throw him -- and the Suns' offense -- out of rhythm. Force him to string out those ball screens and trust the help behind the action.
The Suns go to "Chicago" action here, though one would wonder why they're running it inside the arc. At any rate, Nicolas Batum goes under the handoff. Luke Kennard is there to provide nail help so Booker can't flow into an easy pull-up at the right elbow.
Booker reverses course, only to be met by Zubac on the other side of the screen. The left elbow pull-up isn't there either. Booker retreats, then attempts to drive past the hedge. There's no clean driving lane, and no easy pass to make.
Now, there were a couple of windows. On the second retreat dribble after the hedge, Dario Saric is available. Booker loves jump-passes (something to keep an eye on), so that isn't completely out of his wheelhouse. But that's a tough play to make.
As he nears the end of the drive, you'll notice Lou Williams pulling over from the weakside corner. Bridges is wide open. A jump-pass to Bridges is available, but again: that's tough. If you're tasking Booker to make LeBronian passes on a consistent basis, you'll be in a good spot as a defense.
It's important to note that this isn't a foolproof plan, only one to make things more difficult for Booker. Here's a possession from earlier in the quarter.
Serge Ibaka doesn't bring enough funk, while Batum's footwork and positioning is awful. Booker's able to flip directions without any real ball pressure, and that allows him to hunt out the mismatch inside.
(This was a "good option vs great option" scenario for Booker. Considering just how open Bridges is, I'm not sure which is the great option in this case.)
Defending the Shooters (Perimeter)
Cam Payne: Hard, but controlled close-out
Payne and that funky form can do work. You can't be too reckless when closing out; he doesn't mind pump faking, watching a defender fly by, then letting an uncontested triple rip. Keep things in front.
Mikal Bridges: Hard, but controlled close-out
Bridges made a leap as a shooter this season, improving his efficiency (36.1% to 42.5%) and volume (2.7 attempts to 4.4) from last season. He's improving as a driver, and has become more willing to stop-and-pop for middies. Don't give him easy driving lanes.
Cam Johnson: Hard close-out
Don't let the middling numbers (34.9% on 5.6 attempts) fool you; Johnson can shoot the skin off the ball. He's often on the move, either lifting above the break in some of Phoenix's HORNS sets or finishing Spain pick-and-roll possessions. Don't lose track of him, and don't let him establish a rhythm.
Defending the Shooters (Frontcourt)
Jae Crowder: Soft close-out
Crowder has a strong argument for the streakiest shooter in the sport. Look no further than his playoff run last season in which he buried the Milwaukee Bucks in Miami's surprising second-round victory, then nearly buried Miami with his cold shooting in the Eastern Conference Finals. Muck up actions elsewhere unless Crowder proves that he's on a heater.
Torrey Craig: Let him fire
Craig has shot well in Phoenix (36.9%) on low volume, but those looks are almost exclusively open. He's a classic tip-your-cap candidate.
Dario Saric: Soft close-out
Saric shot 39.3% from three on over five attempts in his second season (2017-18), and hasn't matched that volume or efficiency since. He's a willing shooter but a somewhat streaky one. The real fear is his pump-and-drive game. Stay disciplined on his fakes and force him to drain contested shots.
Frank Kaminsky: Hard close-out
Kaminsky can stroke it as a pick-and-pop guy. He isn't an elite shooter, but a good enough one to pay attention to. He also isn't a dangerous passer on the move, nor is he a high-level finisher. Running him off the line shouldn't be too dangerous.
Deandre Ayton: Let him fire
Ayton has taken 20 threes this season. If he's flinging one, the shot clock is winding down or the game is out of hand already. Don't worry too much.
X-Factor: Chris Paul
One of the Ayton/Crowder/Bridges triumvirate would be the answer under normal circumstances, but nothing's quite normal about this season, is it?
Paul gets the nod here because 1) We have no idea when he'll be cleared from COVID protocols, and 2) We have no idea what kind of shape he'll be in once he's cleared to return.
Beyond that, Paul's pull-up game will be under a microscope in this series. He's seen a steady dose of drop and at-the-level defense throughout this postseason. The Clippers are a switchy bunch, and this isn't the Hornets Era Paul that could blow by virtually anyone.
Paul will hunt bigs whenever they're out there. Mr. Zubac, I'm looking at you. This will absolutely be a mini-battle that could swing the series.
Now let's take a look at how the Suns will try to defend the Clippers.
Defensive Matchups
Cam Payne --> Reggie Jackson
Devin Booker --> Terance Mann
Mikal Bridges --> Paul George
Jae Crowder --> Marcus Morris
Deandre Ayton --> Nicolas Batum
This should be pretty straightforward. If the Clippers go to their Batum-at-the-5 lineup as they did some in the opener, you could make the argument for flipping a couple of matchups. Maybe Ayton could "guard" Mann, Booker could take Batum and you just switch actions if necessary.
Top Priority on Defense: Contain Dribble Penetration
The Clippers want to spread you out. They want to bomb you away from three. Ask the Jazz how difficult it is to keep them from establishing a rhythm.
Without Kawhi Leonard, the Clippers are short their best overall player and their best rim-pressure guy. Paul George and others (namely Reggie Jackson) have stepped up in that regard, but it should be a little easier to keep things in front if the discipline is there.
Clippers' Team Stats (and LA's stats vs. Phoenix)
Offensive Rating: 116.7, 3rd (119.0)
Half-Court Offensive Rating: 103.5, 2nd (107.6)
True Shooting Percentage: 59.9, 2nd (61.6)
Assist Percentage: 58.4, 21st (60.2)
Turnover Rate: 13.5, 14th (13.1)
Pace: 97.63, 28th (91.17)
Free-Throw Attempts: 19.3, 28th (13.3)
Free-Throw Percentage: 83.9, 1st (82.5)
Three-Point Attempts: 34.7, 14th (32.3)
Three-Point Percentage: 41.1, 1st (48.5)
Offensive Rebounds: 9.4, 28th (7.3)
Clippers' Play Type Breakdown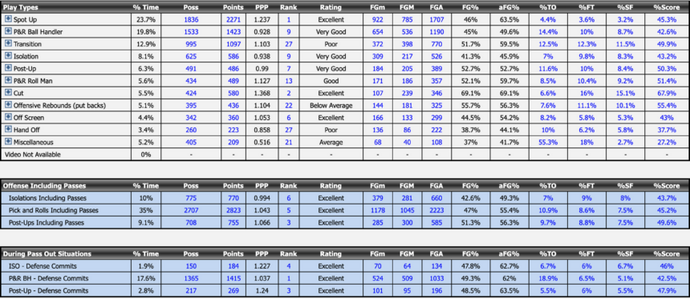 Defending Paul George
Pandemic P. Way-off P. Let's let all of that die right now.
Paul George is an absolute stud.
He was an absolute menace during the regular season series (32-7-4), and has been a menace during the postseason (26-9-5) so far. He's a three-level scorer in the purest sense of the word, able to fire from deep off the bounce, flow into pull-ups (more on that shortly), or put his head down and get dirty buckets at the rim.
With no Kawhi, George easily becomes priority number one to slow down.
Major Key: Shade Him Left
George, for better or worse, is a pull-up artist. His high release point makes his shot incredibly difficult to bother. Add in his smooth handle, and you have a guy that can shoot over the top of you and get to the jumper whenever he wants to.
But with that, he can lean on it a little too much. One of the shifts for the Clippers this season, and especially this postseason, has been George becoming a more willing driver.
Sending him to his weaker hand is a tendency play. Per Synergy, George pulls up nearly 67% of the time when driving left in isolation situations. When going right, that percentage drops to 42.9% -- still his most frequent action, but he's much more willing to drive (38.1%) and get into the teeth of the defense when going right.
Even outside of isolation situations, that tendency holds for George. Peep his pick-and-roll film, and you'll notice a healthy amount of those possessions that end in paint touches come with him driving towards his dominant side. If he snakes, resets and gets the ball in his left hand, you can bet he'll be looking to set up a pull-up or stepback.
You have to recognize that you're still choosing the lesser of two evils with a shade. George may be less inclined to pressure the rim when driving left, but he's much more comfortable getting into his jumper. The Clippers love beginning George-led actions -- traditional pick-and-roll sets, drag screens in transition, staggered screens off-ball -- on the right side of the floor so George can work right-to-left.
There's only so much you can do with him. Limiting his ability to get downhill -- thus limiting some of the drive-and-kick opportunities that could get others involved -- may be a safer bet.
Defending the Shooters (Perimeter)
Reggie Jackson: Hard, but controlled close-out
Jackson drained north of 43% of his threes this season on moderate volume. You don't want to get too reckless running him off the line. He possesses solid-enough passing chops to beat scrambling defenses. He's also, at worst, the Clippers' second best driver. Forcing him into some pull-up twos is the middleground you want, though that's easier said than done.
Patrick Beverley: Soft close-out
Beverley shot well from deep this season (39.7%), though he's struggled to regain that form since returning from injury. He's never been a high-volume guy to begin with; help elsewhere, and tip your cap if he gets hot.
Rajon Rondo: Let him fire
Rondo's another guy that shot well (40.4%) this season, but doesn't have the volume (2.0 attempts) or shot versatility to strike any sort of fear. Duck under picks against him in pick-and-roll. Help off him to muck things up elsewhere when he's off-ball. No need to run him off the line and unlock his playmaking.
Terance Mann: Soft close-out
Mann came off the game of his life (39 points in Game 6 against Utah) going into Phoenix on Sunday, and has shot well from the corners (44.2%) all season long. The volume/shot versatility isn't there, and his release a bit slow. A soft close should be enough to deter him. Contain the drive and things should be okay.
Luke Kennard: Hard close-out
Kennard is one of the league's better shooters. Letting him establish a rhythm could be a problem. Running him off the line should work on two counts, in theory. You minimize the three-point shooting, but he also isn't much of a rim threat. His likely counter will be a one or two-dribble pull-up. He's good enough to drain those, but it's unlikely he'll do so at a level that will move the needle of the offense.
Defending the Shooters (Frontcourt)
Marcus Morris: Hard close-out
Morris was one of four players to shoot at least 45% from three on north of five attempts (47.3%, 5.2 attempts). He's an absolute sniper, particularly from the corners. Don't let him set up shop behind the arc. He's also a bit hoggy; his close-out attacks are more likely to end in pull-ups or contested rim attempts than kick-outs to open shooters.
Nicolas Batum: Hard, but controlled close-out
Batum can still knock down shots at a high clip, particularly in the corners (43.2%). You don't want him to get comfortable, but you also don't want to unlock the playmaking if he gets an advantage. Batum is rare in that he'll make the correct pass against the scramble then continue moving to open spots.
DeMarcus Cousins: Let him fire
Cousins will get his looks as the trailer in transition, or off pick-and-pops. He doesn't mind firing, but he's an incredibly streaky shooter. If he gets hot like he did Sunday, tip your cap.
X-Factor: Reggie Jackson
Jackson's playoff run -- 16.6 points with a 61/44/92 shooting split -- has quickly shifted from "it would be nice if he could keep this up" to "he needs to keep this up" with the injury to Kawhi. He doesn't have the luxury of being a luxury anymore.
In Jackson, the Clippers have an end-of-clock bailout option to complement George. He's a spot-up threat that can loosen things in the half-court. He's a guy that can get to the rim and straight-up make things happen.
Thus far in the postseason, Jackson ranks in the 75th percentile or better as a pick-and-roll scorer (93rd percentile), spot-up threat (90th), and isolation scorer (76th). He can complement his scoring chops with basic passing reads, but he's wired to get buckets. Slowing him down could really hinder the Clippers' offense, because it's not like he'll get gun-shy.