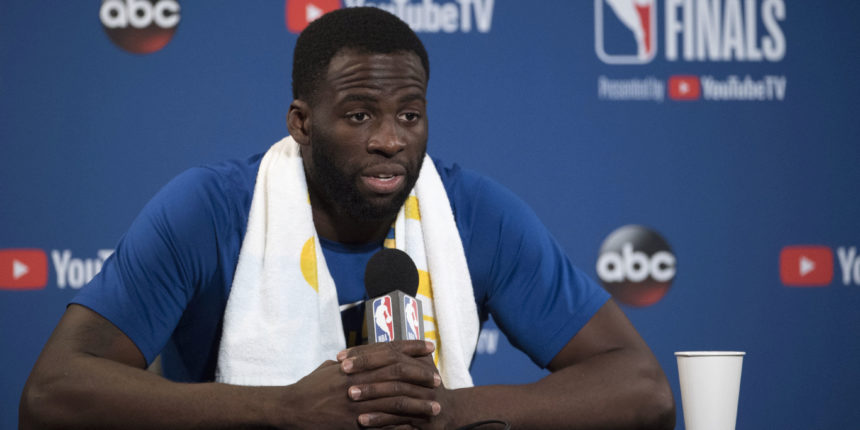 Roundtable: Which active NBA player will make the best broadcaster?
With NBA training camps open for business, teams are getting back in the swing of things. Sunday will mark the first preseason game of the 2021-22 campaign between the Brooklyn Nets and Los Angeles Lakers (3:30 p.m. ET), meaning the regular season is right around the corner.
There are many players in the league whose talents go beyond the court. That's quite important, as nobody can play the game forever. A popular route we see these players go following their respective careers is transitioning into the media. Who better to analyze the game than people with firsthand experience playing it?
In our latest Roundtable, we asked our BasketballNews.com writers the following question:
Which active NBA player will make the best broadcaster someday?
Alex Kennedy: The first players who popped into my head were Draymond Green and CJ McCollum since they already have broadcasting and podcasting experience. They are terrific analysts and capable interviewers who are already comfortable on camera. However, rather than going with the obvious choices, I'll name someone who could become a media star in the near future: Isaiah Thomas. For years, Thomas has been a quote machine and one of my favorite players to interview. He is charismatic and brutally honest, and his quotes always feature amazing anecdotes and tremendous insight. He has an incredible story, he's a fan favorite and he'll provide a unique perspective on broadcasts since he's seen just about everything that this league can throw at a player. No other player in NBA history has gone from fighting for a roster spot as Mr. Irrelevant to becoming an All-NBA selection who finishes top-five in MVP voting. As Thomas told me last year: "I don't think anybody has been through the things that I've gone through in this league." Once IT decides to retire, he'll make an outstanding broadcaster or podcaster, if that's what he decides to pursue.
Nekias Duncan: I'm down for more Draymond Green on the mic. He's funny, has a limited filter, and can break down Xs & Os concepts in a way that more casual viewers can understand easily.
Spencer Davies: There's quite a few that come to mind. We know everybody's going to name Draymond Green because of his in-depth work on TNT over the past few years — and he's very good at it — but let's go with CJ McCollum. He was a journalism major in college at Lehigh and he already has a successful podcast where he's gotten plenty of reps. McCollum just seems to have the timing and cues down pat, and you saw his true skills in action as an interviewer when he sat down with Commissioner Adam Silver for The Players' Tribune a few years ago. Dissecting film and going in-depth is one thing for an analyst, but delivery is a whole 'nother ballgame — McCollum can give you both.
Ethan Fuller: Draymond Green is already fast-tracked toward a role, so I would like to toss in Boston Celtics forward Grant Williams. Williams exudes positive energy and would be a fun and insightful addition as a color commentator. I think he would do a fantastic job at breaking down the game while also staying spirited throughout. Who knows if Williams has aspirations to broadcast post-career, but I'd at least endorse him if he gave it a shot.
Drew Maresca: Draymond Green. He's already shown an unusual ability to articulate his perspective on the game, and he's also demonstrated a good on-air personality. Green can seamlessly transition from player to analyst — if he wants to. But Green will probably weigh all of his options, and his time might end up being too valuable to devote to an on-site studio show.
Jackson Frank: Given his experience with NBA on TNT, Draymond Green is a choice I suspect to see as a recurring answer. I'll deviate away from that selection and say Blake Griffin, who's always struck me as charismatic and witty. I'd enjoy listening to that on broadcasts, and feel as though his varying roles — from high-flying superstar to uber-skilled, ground-bound superstar to rotation player on a title contender — could introduce a perspective not every NBAer-turned-mainstream analyst brings, and allow him to offer insights on a host of different players.
Moke Hamilton: Draymond Green, and we don't even have to go with the "someday" part of the question. Draymond knows the game, has some great opinions and isn't afraid to share them. I think that makes for a good combination. Whenever I see him on TNT, I watch, because I genuinely am interested in what he has to say. There aren't many other players in the NBA I feel that way about, so there isn't anyone else I'd consider for this answer.
Jesse Blancarte: Chris Paul, assuming he chooses to be a broadcaster someday. Paul is smart, articulate and knows the game better than arguably anyone else currently playing in the NBA. If he becomes a broadcaster and focuses on breaking down game action (think of Tony Romo with the NFL), he could become an instant favorite.
Chris Sheridan: Draymond Green has already shown himself to be quite capable, but I will toss in a vote for James Harden. He is a lot more loquacious than people might realize, and he is a future Hall-of-Famer who would bring a unique perspective because of his ability to dominate the ball while also thriving off the ball depending on who he is paired with. But Harden needs a championship to have something to brag about during studio time.
Alexander Cohen: I'll go with Robin Lopez, though he'll serve as more of a comedic, good vibes, Bill Walton role rather than breaking down X's and O's or any part of the game he's watching.