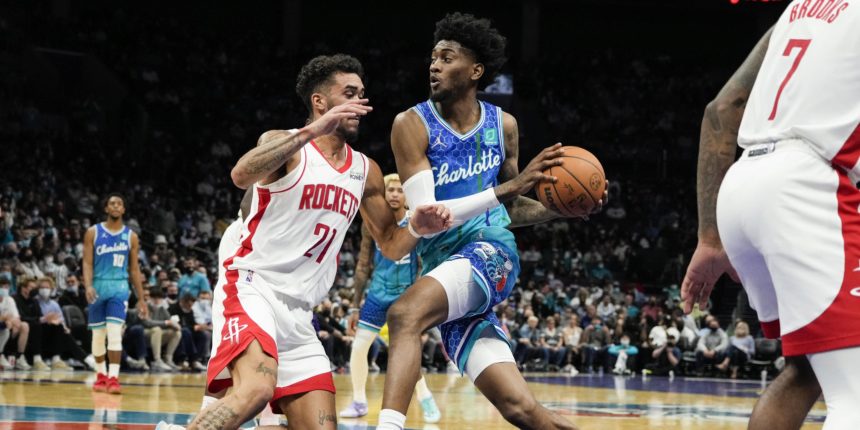 4 rotation players making the most of NBA roster inconsistency
It only takes one tweet to describe the inauspicious nature of where we are in the NBA to tip off the New Year.
Following last night's games, the total number of NBA games lost to injury or illness this season surpassed 3,000. It took 34 days to pass 1,000, 26 days for the second 1,000, and just 17 for the most recent 1,000.

— Jeff Stotts (@InStreetClothes) January 4, 2022
This season is constantly defined by incongruity, as the past month-and-a-half has seen a consistent ramp-up of players entering health and safety protocols and missing extended time. While it's commonplace for depth players to see increased playing time due to injuries any given year, an outlier number of them have been presented with larger opportunities due to sheer necessity.
While it is a small silver lining in an overall negative situation, some have really popped in extra time with more consistent minutes. Not every burst carries the same weight, comes through in a similar way or creates the same overarching questions that arise when a rotation's homeostasis is recalibrated on the fly. Unexpected flourishes from the 10th or 11th man in a rotation? Sign me up!
Who's popping, why are they popping and what does it mean moving forward? Let's find out.
Jalen McDaniels, Charlotte Hornets
The third-year forward's seen a bump in his rotational minutes with P.J. Washington missing time due to injury/health and safety protocols, and is responding with the highest efficiency output of his career. McDaniels is hitting 62.4% of his two-pointers (54.2% over his first two seasons) and 40.9% from three, albeit on modest volume.
His ability to drive and put the ball on the deck to make positive plays is the highlight of his offensive package. McDaniels' handle isn't flashy, but it's functional, especially for his size (6-foot-9), and he parlays his long-strided drives into quality, live-dribble passes that open up his teammates.
Add in that McDaniels is converting 61.1% of his field goal attempts on drives since returning to the lineup on Dec. 15 (a figure in between Myles Turner and Jrue Holiday over that span), and another brush stroke is painted on an impressive season.
His defense is much like Charlotte as a whole — eventful and chaotic. He's better playing out on the perimeter, using his length and footspeed to bother ball-handlers and jut into passing lanes, but also has utility as a weak-side rim-protector at times. His timing isn't really there to be relied upon for primary rim-protection capabilities, and he can get caught ball-watching as well, but Charlotte has often employed him as a 5 due to Mason Plumlee and the aforementioned Washington missing time.
The framework is there for a really high quality defensive player if he can rein in some of his tendencies. A better structured defense with more defined rules and surrounding personnel could do wonders for his development on that end.
He also dazzles in transition, adding another wrinkle to his game. His flashes of contact-finishing and his ability to use his length to guide in touch shots are incredibly intriguing.
McDaniels has flashed brightly for the Hornets routinely throughout his young career, but is cemented behind Washington, Miles Bridges, Gordon Hayward and Kelly Oubre Jr. in the wing room. While he certainly has a role with the Hornets moving forward, I'd be surprised if other organizations haven't taken notice of his extended play in a larger role.
While I don't think Charlotte should be willing to move on from McDaniels easily, the idea of him on a contender is tantalizing. Jerami Grant is considered the "Belle of the Ball" of the trade season, but Chicago, Utah and Miami should all be calling up Mitch Kupchak if they haven't been already. McDaniels seems primed for more.
Skylar Mays, Atlanta Hawks

The Hawks were lauded for their depth prior to the season, housing talent across their roster. And yet, it just hasn't clicked like expected due to a myriad of reasons, injuries chief among them. With their wing rotation in shambles over the past month, sophomore Skylar Mays has gotten his foot in the door.
Mays is one of the best players on a two-way contract in recent memory, and I would've argued prior to the season that someone should have signed him to a guaranteed deal. His time in the rotation since December has reinforced that. A 10.2-point/3.3-rebound/2.0-assist split on 59.9% True Shooting isn't earth shattering by any means, but it's indicative of his steadiness as a productive player.
Mays is a fantastic pick-and-roll operator, although oddly is much better as a scorer than a passer. He's not traditionally bursty or adept at creating space with speed, but is incredibly strong and manufactures angles with constant readjustments, spins and off-hand craft.
He's a capable shooter off-the-catch and as a relocator, but not much of a threat off-the-dribble from deep.
Defensively, Mays is a bit plodding and doesn't have great footspeed, so he can be limited at the point of attack. However, he's a very good communicator and active off-ball defender, using his length well to impact passing lanes. He often catches unsuspecting drivers off-guard at the nail, where he's prone to spear the ball loose with quick jabs; Mays is currently averaging 3.88 deflections per 75 possessions according to Basketball Index (94th percentile).
Nate McMillan has been beholden to Lou Williams for backup point guard minutes, one of my major gripes with Atlanta this season, and Delon Wright struggles to impact the offense without the ball in his hands running pick-and-rolls. Mays shouldn't technically be a backup point guard, as he's more of a combo or outright 2-guard, but it stands to reason that there are minutes that he could be soaking up without injury. Regardless of whether or not it happens in Atlanta, Mays has shown that he's ready for a consistent rotation spot.
Jalen Smith, Phoenix Suns

Across the last five games, Jalen Smith has nearly eclipsed the amount of minutes he played all of his rookie season; 120 minutes and 30 seconds compared to 156 minutes total in 2020-21.
With both Deandre Ayton and JaVale McGee out for the Suns, Smith was injected to the rotation and eventually the starting lineup after mostly being out of the rotation this year. He's quickly made everyone take notice, as he's averaged 15.2 points & 9.4 rebounds on 66.9% True Shooting since Dec. 27.
I have absolutely no idea what to make out of Smith's play. On one hand, some of the flashes have been so encouraging and exactly what I imagined for him coming out of Maryland. On the other hand, how on earth does this work in Phoenix, a team trying to return to the Finals, where consistency is a must?
The calculus is quirky!
What Smith has flashed and theoretically brings is a stretch option and versatile pick-and-pop option for Chris Paul and Devin Booker as a counter to what they run with Ayton. Their bench thrived last season early with Dario Saric operating as a hub on the perimeter as a popper, which opened the floor for a new style of play.
Smith has shot 36.4% from deep in those five games, which is good, but he's only taking slightly over two per game and is a career 23.1% perimeter shooter. The idea of what he could be is clear, but without a sizable role, is that all that attainable right now? Even with a continued larger role, is he shooting more and still hitting at a clip that will make the defense care?
To make it more muddled, Smith is just not a passer or playmaker to much degree at this stage, which is a tough sell for a team that's just as predicated on ball movement as Golden State.
His defense is also hard to stomach for a title contender at the moment. He does offer shot-blocking and some mobility, but he's more of a tweener big than a true 4 or 5, which outright is not a problem. But, it makes it harder to envision him spending time alongside McGee or Ayton to find easier ways to get him minutes. He's better offensively at the 5, but he's pretty lost as a primary rim-protector right now. However, there have been some great sequences from him blowing up plays at the rim or playing out in space, even with some viable switching.
But, more often than not, Smith is caught in the wrong place with poor positioning leading to fouls or wide-open plays at or around the rim.
To be fair to Smith, he hasn't even played 50 NBA games in his career! But again, I'm not under the impression that Phoenix can necessarily coax the most out of him while dealing with some of the warts of a very raw player.
A five-game swing shouldn't redefine a player, but *this* five game stretch certainly has made me question what to think more than most. I don't have an answer for Phoenix; the organization seemingly made its bed by not extending Smith a qualifying offer this offseason.
How much has this recent play raised the eyebrows of other teams looking to try and make a move for a young talent? It's one of the more intriguing storylines to track moving forward, and most importantly, I'm stoked for Jalen Smith. It's awesome to see him finally put some good tape together.
Aaron Wiggins, Oklahoma City Thunder

The OKC Thunder have quietly played .500 basketball over the last few weeks, and have dispelled the preseason notions that they could be worse than "The Process" Sixers. The Thunder are in a much different place than the playoff hopefuls above, still searching for the players who will comprise their next playoff push alongside Shai Gilgeous-Alexander. Nothing is set in stone, but rookie Aaron Wiggins has put together one of the best stretches by a young role player in the NBA this season.
After a DNP-CD on Dec. 22 against Denver, Wiggins has started the past six games, averaging 14.7 points on 66.3% True Shooting while hitting 40.0% of his threes and getting to the line at a decent rate.
Wiggins has a downhill guile that I just love and find invaluable in a player who's operating off the ball primarily. He's not bursty, but he operates quickly, loves throwing ball fakes, low swings and stutters to give himself an extra hair of space; it just works. Is he going to shoot 80% at the rim for life? No way, but he's flashing some quality finishes through contact, and has attempted more self-created looks in the half-court as well (to varying degrees of success).
There's a twitchiness there with his upper body that allows him to maneuver well through tight space, but his legs aren't always on the same page. Coordination as a ball-handler is not easy! Just ask Darius Bazley.
I really liked what I saw of him at Maryland, but wasn't expecting him to have an early impact and continue to be impressed. I want to see him shoot way more from deep. He has a quick release, but doesn't get a ton of pop on his jump, which feels like it plays into him not being fully comfortable gunning yet; he hasn't played 20 games to this point.
But I cannot wait to see more from Wiggins moving forward.