The Miami Heat have the best record in the Eastern Conference (45-24), and they currently boast the NBA's fifth-best defense (allowing 105.3 points per 100 possessions) and seventh-best offense (scoring 110.5 points per 100 possessions).
However, despite their success, Pat Riley and Co. never rest on their laurels. They are constantly looking to improve the roster, and this aggressive approach helped them acquire win-now veterans such as Jimmy Butler, Kyle Lowry, Victor Oladipo and PJ Tucker in recent years.
The Heat are reportedly looking to upgrade their frontcourt alongside Bam Adebayo this offseason, and they have expressed interest in Houston Rockets center Christian Wood and Charlotte Hornets big man PJ Washington, per Bleacher Report's Jake Fischer. Wood and Washington both surfaced in trade rumors prior to last month's deadline.
"They are the best in the league at lining up for a big move," a Western Conference executive told Fischer.
Wood, 26, has averaged 17.9 points, 10.1 rebounds, 2.2 assists, 1.9 threes, 1.0 block and 0.8 steals this season, while shooting 49.4% from the field, 38.1% from three and 60.8% from the free-throw line. Leading up to the deadline, the Rockets reportedly wanted "a first-round pick plus further capital" for Wood. Our Nekias Duncan recently broke down Wood's film and what he brings to a team, while also examining some possible destinations for the big man.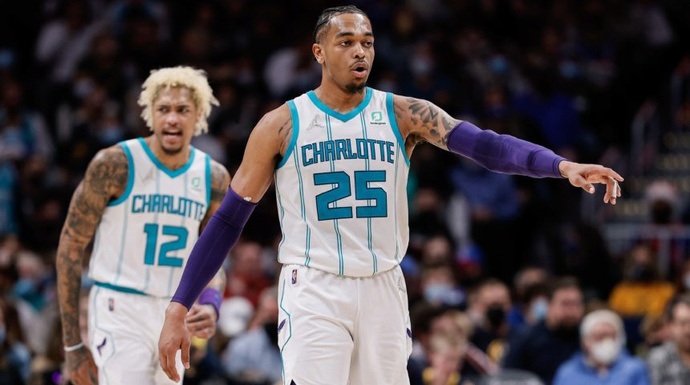 Washington, 23, has averaged 10.0 points, 5.5 rebounds, 2.1 assists, 1.8 threes, 0.9 blocks and 0.8 steals in 26.5 minutes per game, while shooting 45.2% from the field, 36.8% from three and 71.0% from the free-throw line. In 14 games as a starter this year, he averaged 11.6 points, 6.1 rebounds, 2.4 assists, 2.2 threes, 1.1 steals and 0.9 blocks on .477/.369/.600 shooting splits.
Also, Fischer reports that the strong play of Gabe Vincent and Max Strus have made Duncan Robinson somewhat expendable. Robinson signed a five-year, $90 million deal with Miami last offseason. If the Heat believe they can replace his production with cheaper options, it makes sense to move his contract (especially since Miami has avoided paying the luxury tax in eight of the last nine seasons, per Fischer).
It remains to be seen if Miami will pull off one of these moves over the offseason, but the thought of this Heat team adding another difference-maker has to scare the other East contenders.