This past week, the Tampa Bay Pro Combine was held in Wesley Chapel, Florida, hosting 36 draft-eligible prospects, 24 of which had an opportunity to showcase their skills in front of NBA scouts. BasketballNews.com's Senior NBA Draft Analyst Matt Babcock also serves as executive director of the combine.
Last year, Darryl Hepburn launched the inaugural Tampa Bay Pro Combine. The event proved to be a success as we saw four participants play in the NBA in their rookie seasons: Terry Taylor (Indiana Pacers), Brandon Williams (Portland Trail Blazers), Micah Potter (Detroit Pistons) and Jordan Goodwin (Washington Wizards).
Thanks to title sponsor Florida's Sports Coast, Adam Thomas and Consuelo Sanchez, the event returned for a second year with hopes of helping more players find success as they transition from college to the pros. Last Friday, we wrapped up the event. Here is a recap of the 2022 Tampa Bay Pro Combine:
Arrival
Last year, we had nearly 50 players come to the Tampa Bay Pro Combine. However, we decided to change things this time around, bringing in a smaller group — 24 draft-eligible prospects — to participate in two days of simulated pre-draft workouts. Another big difference was that the workouts would be in front of NBA scouts and executives this year. We also welcomed 12 additional prospects to participate in some workouts and games. All in all, we had 36 players visit Tampa.
As we prepared our list of potential invites, we looked to put together a talented group of players with pro-potential, primarily fourth- and fifth-year seniors coming out of college who would be eligible for the 2022 NBA Draft. We targeted players from all over the country. We brought players to Tampa from various schools, including Arizona State, BYU, Colorado, Houston, Kansas State, Kentucky, Oregon, Providence, Tennessee, Texas Tech, Washington State, West Virginia and more.
Ready to get going - Let's run it. ðŸ€ðŸ@deemintz1 x @_davwarr3n x @BallForever_ x @fulkerson_john x @AbuKigab x @JericoleHellems x @Mark_Smith_13 #TampaBayProCombine pic.twitter.com/5z7XKUqMiS

— Tampa Bay Pro Combine (@_TBPC) April 26, 2022
The players arrived throughout the day on April 25, and we arranged rides to our event hotel, the brand new Residence Inn in Wesley Chapel. We provided them with Adidas gear and had dinner before going to our rooms. A good night's sleep was in order as the next two days were important since the players would be showcasing their talents in front of NBA scouts. A lot was on the line!
NBA Sessions
The next day, April 26, NBA scouts from a wide variety of teams arrived at the Wiregrass Ranch Sports Campus and sat along the sideline as trainers from Yo Murphy Performance warmed up the players for our first "NBA session." Shortly after, Coach Bob MacKinnon had the players and our staff huddle up, shouting out his signature "1, 2, 3… hard work!" before we broke off for the first workout.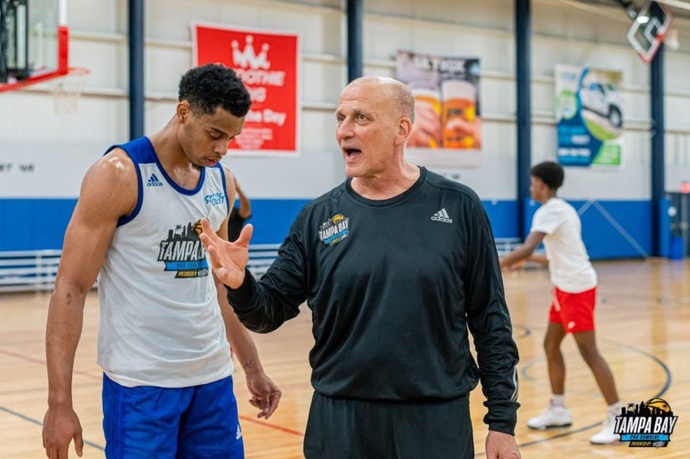 That day, the first group of six players started things off right. You could feel the intensity in the gym immediately. It was clear that the players and coaches were there with a purpose. After a series of shooting drills and skill work, MacKinnon directed the group as they transitioned into competitive play, starting with 1-on-1 and finishing with 3-on-3. I don't think there is any denying that the workout was challenging and competitive. The remaining groups matched the same level of competitiveness over the two days.
As executive director of the Tampa Bay Pro Combine, I'm responsible for inviting the players and convincing them to come. All of the young men that came to Tampa trusted me when I told them that we were putting together a platform that would help them gain exposure as they pursued their dream of playing professional basketball. Being able to contribute to helping them get closer to accomplishing their goals is beyond rewarding for me.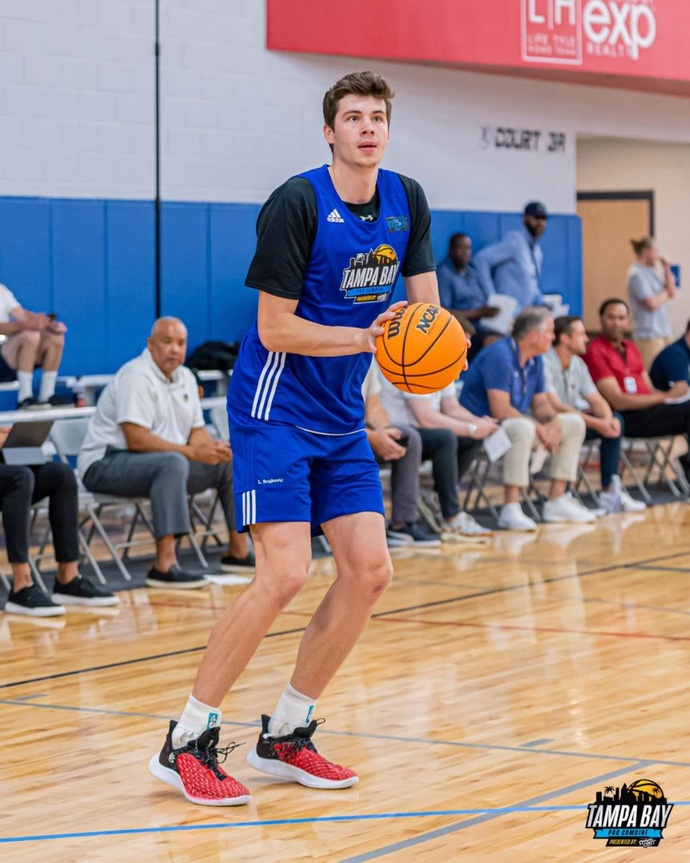 Many players helped themselves those first two days, including Michael Flowers from Washington State, Noah Horchler from Providence, Nate Johnson from Xavier and Davion Warren from Texas Tech, just to name a few.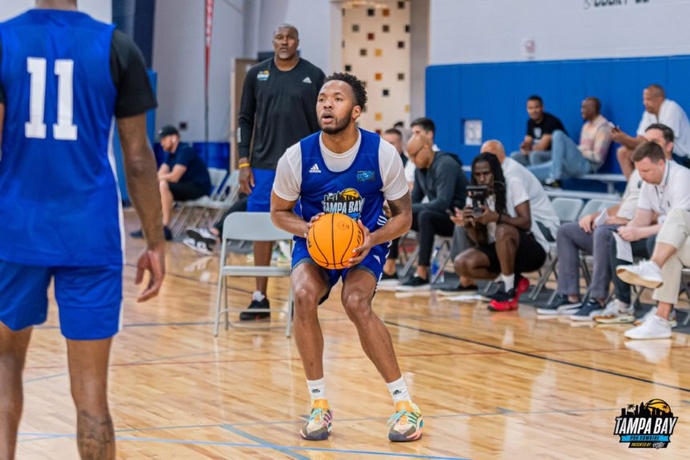 Three-Point Shootout
After a couple of intense days working out in front of NBA teams, we put together an optional workout on April 28, which was light, and then former NBA player Shelden Williams interviewed a number of the guys throughout the day for BasketballNews.com.
In the afternoon, we gave guys plenty of time to relax, with many of them even taking advantage of Tampa's beautiful weather by lounging at the pool of the Residence Inn and enjoying the sunshine. Later that night, we had some fun. The facility hosted a local high school All-Star game and had one of our players, Taze Moore from the University of Houston, do some dunks at halftime — he put on a show!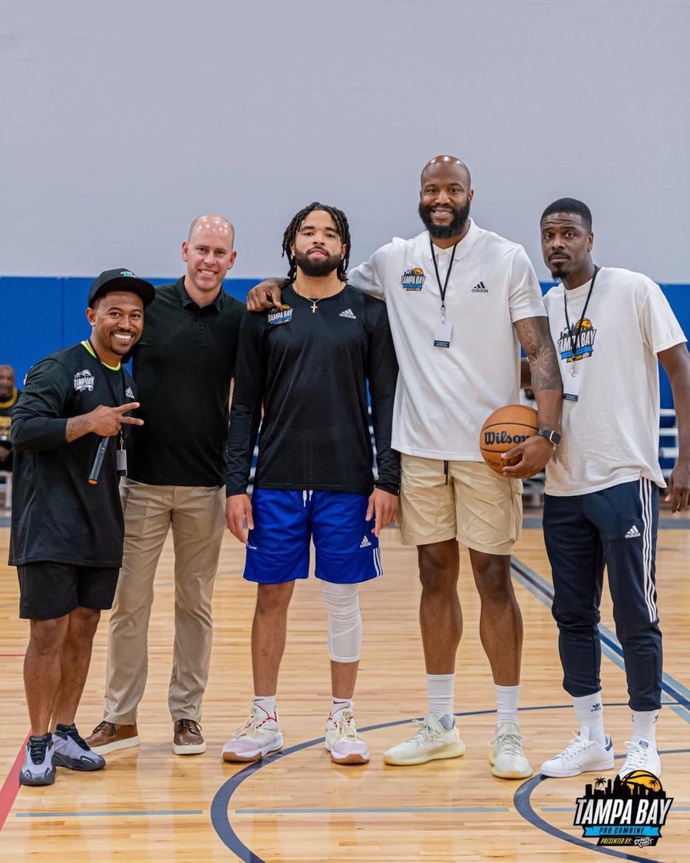 To finish up the night, we held a Three-Point Shootout. The participants included Jalen Adaway (St. Bonaventure), Michael Flowers (Washington State), Noah Horchler (Providence), Nate Johnson (Xavier), Davion Mintz (Kentucky), and Cole VonHandorf (Fairmont State). Mintz started hot in the first round, but it wasn't enough as Flowers ultimately won the shootout.
Double-Header
Our last session on the court was on April 29, with some 5-on-5 play. We had three-time NBA champion and current BasketballNews.com writer and podcaster James Posey and former college standout player at Arizona and South Florida Jesus Verdejo coach the teams in both games.
The first game was competitive from start to finish, ultimately seeing Team 1 win over Team 2, 100-92. Davion Mintz and Davion Warren led Team 2 in scoring with 24 and 22 points, respectively. Team 1's Amadou Sow won game MVP, scoring 26 points and grabbing an impressive 12 rebounds.
Team 3 started fast on Team 4 in the second game, leading 26-11 after the first quarter. Kalob Ledoux and Ronaldo Segu led Team 4 in scoring, with 21 and 20 points, respectively. Meanwhile, West Virginia's Malik Curry scored 24 points, earning himself MVP honors.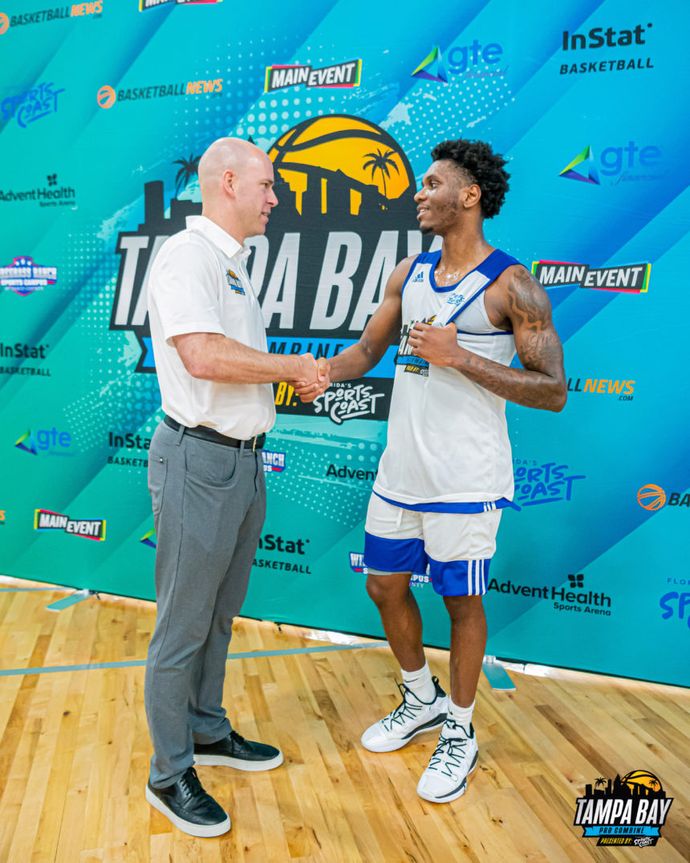 Thank You, and Good Luck
To cap off the week, our title sponsor, Florida's Sports Coast, and their manager, Consuelo Sanchez, hosted our entire group at Chuck Lager in Wesley Chapel for dinner to celebrate the successful week before everyone flew back home the following day.
That's another year in the books for the Tampa Bay Pro Combine. As our players set out to make the next steps in the pre-draft process and their respective careers, I'd like to wish everyone the best and thank them for allowing us to play a small part in their journey. Thank you to all of our staff and partners who worked so hard to make this past week happen!