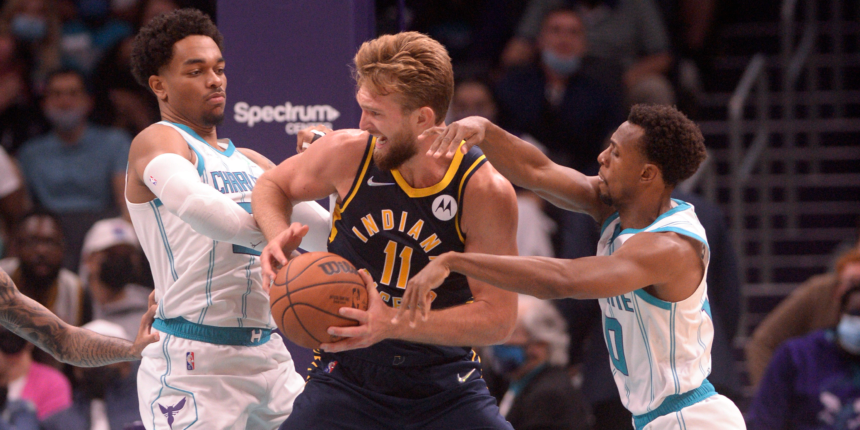 PJ Washington buying into being Hornets' super-sub 5-man
For the majority of his first two years in the NBA, PJ Washington was the starting power forward for the Charlotte Hornets. With Bismack Biyombo and Cody Zeller as the men in the middle and veterans who commanded frontcourt minutes, there wasn't much playing time available at their position, so he would slide in next to both in head coach James Borrego's rotations.
In the latter half of Charlotte's 2020-21 season, Borrego pivoted to matchup-based decisions on who to start at center, and for 12 of those games, it was Washington. As our resident film-breakdown brainiac Nekias Duncan so masterfully detailed, it led to a stretch of success for both the player and the team. Less than a week into the new campaign, it's been more of the same, as Washington has played the vast majority of his minutes at the 5. And though the early individual numbers haven't looked to par in the box score, it's ended up being quite beneficial on each end.
"I feel like I'm a mismatch at the 5 position. I feel like I'm a lot quicker, shoot better than a lot of 5s, so for me, it's great on the offensive end," Washington told BasketballNews.com prior to Charlotte's 123-112 win in Cleveland.
"He's been good for us there at that spot last year. Our numbers with him last year at the 5, it's been productive, it's been good," Borrego said. "He's a problem matchup-wise at the 5 when he can shoot it, put it on the floor, outrun guys... We want to take advantage of him offensively, that's why he's out there at the 5. But he's holding his own defensively and he's on the board, he's active, he's talking. He looks comfortable to me. He looks to be in a really good place mentally, which to me, trumps anything. We're talking about whether he plays the 4 or the 5. Mentally, he's in a great place."
Speaking with a Hornets staff member, the team really put an emphasis on Washington making plays as a hub of the offense, whether that's keeping it moving in the half-court or finding guys in the trail during transition opportunities.
"It's easy for me. I've been a playmaker pretty much all my life, so just being at the 5, I think that opens up our offense," Washington said. "It's a lot harder for teams to guard us. I mean, they've got to match up with us. And especially if there's a big guy out there, it's hard for them. So I think it's good for us... [My focus over the summer was] ball-handling and being able to pass the ball. That's big in my role at the 5 obviously. I'm in a lot of ball-screens, dribble handoffs, so just being able to make plays especially off the bounce."
And if there's any question of whether or not the 6-foot-7, 230-pounder can hold up against the bulkier, taller competition, ask Domantas Sabonis. In Charlotte's incredible comeback win in its season-opener at home over the Indiana Pacers, Washington stood his ground and forced Sabonis into a tough, contested fadeaway miss when the All-Star tried to post him up to make a game-winner.
"He's gotten better. He showed in that Indiana game he can battle against the bigs. [Against] Sabonis, he was out there battling," Borrego said. "You look at the last possession of the game, he was the guy guarding Sabonis to close that game. The biggest stop of the game, he was the one staying in front of Sabonis, didn't give ground, great verticality, great challenge. I loved his effort there defensively... I thought he battled his tail off on the boards against a big, physical Indiana team. He didn't give in."
"I feel good. I think at the end of the day, it's all about toughness and the will to want to," Washington said. "I don't like when people score on me, so I mean, I'm good down there... I've been in the weight room a lot more this offseason. I'm really confident in that [strength] aspect and been working really hard."
To address the loss of Cody Zeller to the Portland Trail Blazers in free agency, Charlotte brought in veteran Mason Plumlee. Coupled with the signing of Kelly Oubre Jr., it meant tough rotational decisions were coming. The Hornets decided that Washington could be utilized as their backup big man, meaning the Kentucky product would be a significant spark off the bench.
"There's been no resistance there. He wants to win," Borrego said of Washington's willingness to embrace being a part of the second unit. "He understands there's only five guys you can start. If I could start six, he'd probably be the sixth. But right now, we're gonna go with this rotation, and I'm confident if he has to start at some point, he can start. He fits both lineups. He just provides so much versatility for us."
"I feel good. For me, it's the same thing. Just come in with that attitude," Washington said. "You already know what the other team's doing coming off the bench, so just come in with the right mindset and just try to be good on both ends coming in."
Thus far, it has worked quite well. According to NBA.com's lineup data, Washington is a part of Charlotte's top three-man unit (min. 15 minutes) featuring himself, Oubre and Gordon Hayward with a colossal plus-46.9 net rating. Granted, advanced figures are going to be extremely noisy this early in the year, but the fact that Washington is a part of the next four best combinations that the team has speaks for itself.
Along with Oubre, Washington has established synergy with newcomer and well-respected guard Ish Smith, whom he has received the most passes from and dished the most passes to. Consider the third-year Hornet a fan of the organization's moves.
"I think it's great. I think we really improved on the defensive end," Washington said. "We got a veteran point guard in Ish, and he pushes the pace, plays well on both ends of the court. I'm excited. Kelly is great. He makes pretty much all the shots he shoots. He's very aggressive on defense, so that's exactly what we need."
There's also that LaMelo Ball fella. In just his second season, the highlight-reel sensation has shown no signs of a sophomore slump. Instead, he's built on the momentum he had as a rookie, producing 22.8 points, 6.8 assists and 5.5 rebounds per contest on 47.2% from the field.
LaMelo's demeanor on the court is as free and easy as it is off of it, as evidenced by the fun-loving 20-year-old coming over to purposely distract Washington from this sit-down interview. ("I just wanna thank my son, ya feel me?" a straight-faced LaMelo said. "Watch out bro!" Washington responded with a laugh.) It's those kinds of moments that make the experience of teaming up together all the more enjoyable for Washington.
"LaMelo's crazy. It's great playing with him," Washington said. "He's a ball of joy. All-day, every day, he's trying to play around, as you can see. So just having him on the team is great. He's been great for us, a leader. I mean, he can do pretty much everything on the court. So when you've got a young guy like that, it's just pretty good."
Perhaps it's that loose attitude that has the Hornets off to a 3-1 start. Or maybe it's the resilience that keeps them coming back from deficits. (By and large, Charlotte is a second-half team. The net rating differential is quite staggering.)
Yes, it's by their own doing to get down by that much in the first place. However, whether you're a glass-half-empty or glass-half-full type of person, this has been a group that refuses to fold.
"It's wonderful. Any point in time versus any team, you can always be down 20 points. Just to keep fighting and keep playing, I think that's big," Washington said. "A lot of teams give up. So for us to just feel like we're even in the game and feel like we can win, I think that's big for us. We just [can't] dig ourselves in that hole anymore."
Unfortunately, Washington was ruled out before the Hornets' first loss on Monday night, an overtime defeat at the hands of the Boston Celtics. He has been dealing with some knee discomfort, which would explain why an often-reliable scoring threat is off to a slow start shooting-wise.
Here's to hoping that he gets healthy and is at full strength sooner rather than later. The Hornets have something real going on, and if they're poised to carry this level of play throughout the season as planned, they'll need Washington to accomplish that.
"Doing whatever we can do to win I think is big for us. I mean, we want to get into the playoffs and make noise, so whatever that takes," Washington said. "For me, just being versatile doing pretty much everything — whether that's playing the 4 or the 5, being able to get people involved, being able to shoot the ball, get to the rim, finish.
"Just play basketball like I know I can."