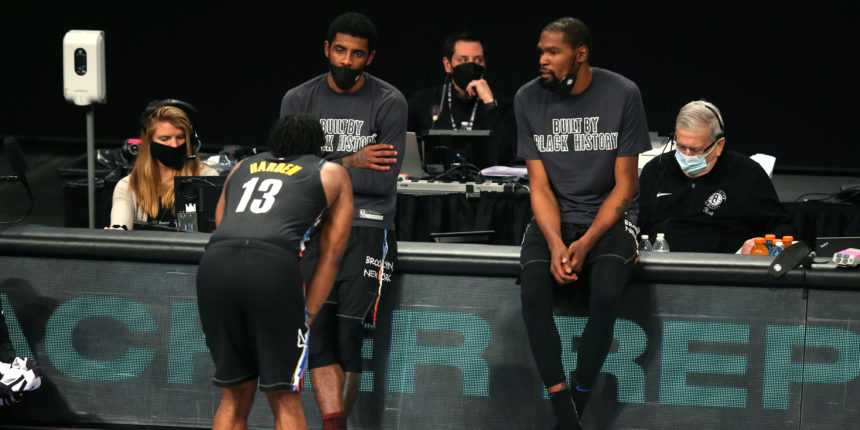 On the Brooklyn Nets, No. 7 and the slow, methodical march to a title
Superstition has it that — of all numbers — seven is the luckiest.
The Brooklyn Nets are fully testing that theory.
When James Harden flew eastbound from the Lonestar state, he landed in Brooklyn and made Barclays Center more than the Eastern Conference's basketball talent armory. He made it a necessary stop for any team that sees the NBA Finals in its future.
At least, that's what we've all been led to believe (and rightfully so).
The Nets enter play on April 29 as the conference's first team to clinch a playoff spot — a byproduct of Brooklyn also becoming the top team in the conference. Kyrie Irving has had no issue sharing the spotlight or shots, Steve Nash and his impressive coaching staff have found messages that resonate with their platoon and Kevin Durant has, well, looked just like Kevin Durant.
Lucky number, indeed? That ol' No. 7?
To that, Brooklyn can wish upon its lucky star(s)...
And not only because it's embroidered on Durant's jersey… But because that's likely going to be the number of games Brooklyn's impressive triumvirate will have played together when the postseason begins.
Perhaps it's poetic justice. When Steve Nash and Mike D'Antoni were together in Phoenix, the point guard won two MVP awards and D'Antoni took home a Coach of the Year trophy. Together, they revolutionized the game of basketball. The basketball court was their canvas, and Nash the artist. They treated the shot clock as nothing more than a friendly suggestion and defiantly decided that dunks and threes were a better combination than peanut butter and jelly.
So yes, perhaps it's poetic justice that the duo now gets to steer the most incredible offensive engine that we've seen in modern times.
But alas, the game isn't played on paper.
Whether the Nets can actually play to their full potential in the postseason remains to be seen, and it's worth recognizing just how incredible of a case study they are.
Of all "super-teams" that have shouldered the daunting pressure that such a collection of talent brings, only the 2008 Boston Celtics got it done in their first go-round.
We remember and continually cite those Celtics because they did the impossible, and nobody's done it since. As transient as the league has become over the past 10 years, we simply don't see teams come together, deploy completely new rotations and win immediately. Last year's Los Angeles Lakers came close, but LeBron James, Kyle Kuzma, Kentavious Caldwell-Pope and Alex Caruso ruin the argument.
In Toronto, Kawhi Leonard joined a rotation that had scratched and clawed its way to the top of the conference. He was the final piece. With an asterisk, the same can be said of Durant's joining the Golden State Warriors. LeBron's Cavs, obviously, didn't get it done in his first year with the club, and neither did LeBron's Miami Heat for that matter.
You cycle back through the list of champions going back more than 20 years, and one thing becomes obvious: the teams that walk away with the Larry O'Brien trophy almost universally feature rotational pieces who have endured some growing pains.
The Nets have, just not necessarily together.
If Irving missed his fateful three-point shot over Steph Curry's outstretched arm back in 2016, the world as we have come to know it today may never have been. Perhaps James never wins a championship in Cleveland. Does he still leave for Los Angeles? Would Durant have re-signed in Oklahoma City? Does Irving still ask out of Cleveland?
To call that shot one of the biggest — and most consequential — in NBA history is no stretch. But after it fell and James cried for Cleveland, Irving got zero credit for the part he played in upsetting a 73-win team in the NBA Finals after trailing 3-1. From Game 3 onward, he scored 30.8 points per game on 50.8% shooting from the field, including 46.7% from three-point territory.
How could he not carry the feeling of being slighted with him to Boston? How does that baggage not find its way back home with him to the Nets?
Durability. Availability. Perhaps these are Durant's biggest foes. If the basketball gods were less cruel, it would be Durant, and not LeBron James, who gets to flirt with the idea of running down Kareem Abdul-Jabbar's scoring record — the biggest giant of them all.
Truth be told, there's an objective argument to be made that Durant is the greatest offensive basketball player who's ever played the game. His major downfall — aside from his body — is a willingness to defer touches and opportunities to his teammates. At one point, it was Russell Westbrook, then Steph Curry.
Of all the players we've seen, Durant is the one who truly could have pushed Wilt Chamberlain's 100-point record. He just lacked the imagination, audacity and selfishness to ever consider pursuing it in a serious way. In Oakland, he became a champion, but anyone with two eyes could see that Durant wasn't fulfilled. Not a "true champion," they said. Draymond Green said his piece. So did the team's architect, Bob Myers. Finals MVP or not, Durant simply wasn't one of "them," so he took his napsack and his championship rings to Brooklyn.
And, of course, there's James Harden, the Beard.
At one point buried on Scott Brooks' bench, the small-minded Oklahoma City Thunder couldn't dream big enough. Never could the ownership group imagine that three stars were worth paying $100 million. A trio of in-prime players good enough to one day be MVP? Impossible.
A faulty showing in the 2012 NBA Finals helped the franchise conclude that Harden wasn't worth the max contract he sought. One whose individual scoring abilities are among the best we've ever seen was traded for one year of Kevin Martin and the draft pick that became Steven Adams (in fairness, among other things).
But since then, Harden has become a special player who led a proud franchise to its genesis. He obviously couldn't push the Houston Rockets across the finish line, but one could fairly argue that he was just the latest in an infinitely-long list of players who've existed as inliers because they had to compete against the likes of Michael Jordan, Kobe Bryant, Tim Duncan, LeBron James and Steph Curry.
So here we have it. Irving, Durant and Harden have each found their way to Brooklyn. Now joined at the hip, their common thread is a faulted legacy that — in the case of Irving and Durant — a championship pedigree hasn't solved.
For years, Brooklyn's trio have tantalized us with their individual greatness, and at different points this season, have shown us that they are all capable of sharing the floor with one another and elevating their teammates.
An interesting case study, these Nets are. They've come together wanting to build their own vibe in Brooklyn and establish New York City's largest borough as the new Mecca of pro basketball. Each searching for the same thing, each wanting to win, their individuals circumstances have joined them in a common quest.
But alas. Seven games is all these Nets will have played together.
With much less of an opportunity to play together than even the 2008 Celtics, they'll attempt to go where no team has gone before.
Indeed, if No. 7 is truly lucky, together, Kyrie Irving, Kevin Durant and James Harden, these superstars... Well, they'll prove it to us all.