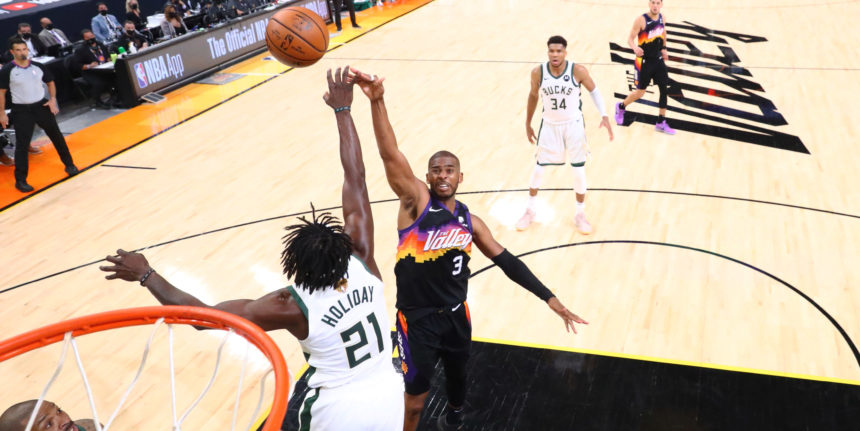 On Lock: How Jrue Holiday became the NBA Finals' X-Factor
Jrue Holiday is a master of larceny.
Stripping the ball (and a chunk of pride) away from Chris Paul in Game 4, as the perennial All-Star stumbled onto the Fiserv Forum floor.
Wrestling the ball away from Devin Booker in Game 5 like a stickup kid yanking a purse away from an unsuspecting woman.
Throwing a series-defining clutch lob to Giannis Antetokounmpo in the final seconds of Game 5, giving the Milwaukee Bucks a 3-2 lead over the Phoenix Suns.
While Antetokounmpo left his undeniably dominant imprint on the NBA Finals, Holiday played a huge role in delivering Milwaukee their first championship in 50 years by providing sporadic but key contributions on offense and being a disruptor and clear threat on defense.
Here's how Holiday's ski-mask stylings and brute finesse turned the series around for the Bucks.
Adapt and Adjust
Going into the series, the Bucks' scheme was for P.J. Tucker to guard Paul in an attempt to switch the Suns' pick-and-roll attack with Paul and Deandre Ayton. Brook Lopez would end up guarding Paul, while Tucker defends Ayton. That is, until Paul torched Lopez and anyone else on the perimeter in Game 1, for 32 points and nine assists.
In Game 3, trailing 0-2, Bucks head coach Mike Budenholzer abandoned the switches and the over-helping and played the Suns straight up, with Holiday leading the charge.
At the 3:03 mark of the video above, Holiday fights over the screen just in time to recover and press into Paul. Paul eventually finds a sliver of space to score on the mid-range jumper, but Holiday continued to contest after fighting those screens.
Look at Holiday in the post at the 4:35 mark. It seems as if Booker had the advantage in size and position on this play, but Holiday doesn't give up and blocks Booker from behind, which leads to a dunk for Bobby Portis in transition.
In Games 2 and 3, Holiday made Paul and Booker work harder for their shots. While it took some time to adjust and defend Paul, Holiday really made his presence felt with his defense on Booker. In 27 minutes in which he was guarded by Holiday, Booker shot 11-for-31 (35.5% from the field) and only scored 24 points.
94 Feet Of Chaos
In an era when zone defenses and switches are prevalent, it's rare that you see not only fullcourt pressure but pressure from one player. In pockets of the series, Holiday picked up Paul fullcourt while having enough of stamina to fight over screens and provide much-needed situational scoring in big moments.
While Holiday hounded Paul the full length of the court, the Suns' formidable pick-and-roll sets that are driven by ball movement turned into iso-heavy muck.
The Suns' M.O. is breaking down defenses with blends of pick-and-roll and ball movement. After the defense is broken down, Phoenix's offense typically attacks in the paint and on the perimeter (specifically the corner three). The Suns attempted 9.6 corner threes per game during the regular season. Due to Holiday's defense, the Suns entered Game 6 with just two shots from the corner in this series.
Holiday's defense also helped the Bucks overcome an offense that was scoring just 96.9 points per 100 possessions in halfcourt sets during the NBA Finals. Milwaukee made up for this by creating turnovers and taking advantage of the transition opportunities that Holiday generated.
Holiday has a rep that precedes him as one of the toughest defenders in the league. He isn't new to this at all. When he was on the New Orleans Pelicans three years ago, Holiday hounded Damian Lillard the same way he hounded Paul and the result was a sweep of the Portland Trail Blazers in the first round of the 2018 NBA Playoffs.
Three years later, that same defensive intensity and pressure resulted into much-earned gold.