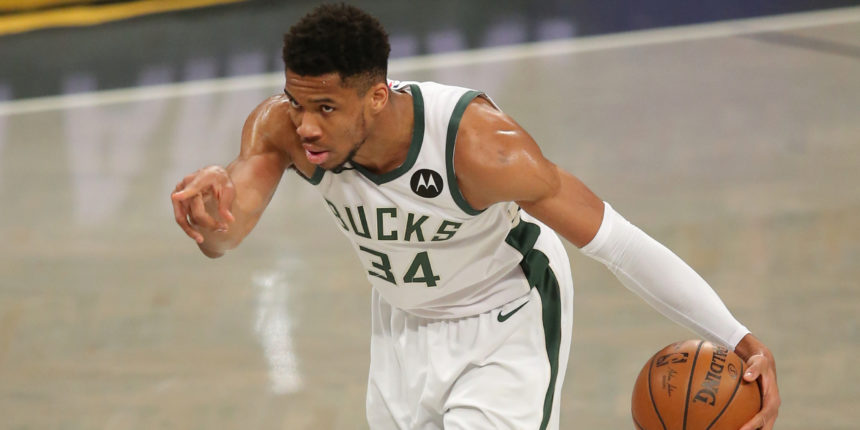 Oddsmakers view the Bucks as massive favorites to win NBA title
The Milwaukee Bucks aren't getting enough credit for their Game 7 win over the Brooklyn Nets.
After going down 0-2 in the series (in embarrassing fashion), most fans and pundits were writing them off. It seemed like they were reverting back to last year's Bucks in terms of their coaching and decision-making (as detailed by our Spencer Davies) rather than sticking with what worked throughout the regular season and in their first-round victory over the Miami Heat.
However, over the next five games, the Bucks fought back and Giannis Antetokounmpo was terrific, averaging 34.2 points, 13.6 rebounds, 3.4 assists and 1.2 threes while shooting 56.1% from the field. Sure, the Nets were banged up, but Milwaukee did what they had to do in order to advance to the Eastern Conference Finals, where they'll face the Atlanta Hawks.
After eliminating Brooklyn, oddsmakers are very high on the Bucks.
Milwaukee was given -480 odds to defeat Atlanta (an implied 82.8% chance to win the series), according to OddsChecker. The Bucks are also the oddsmakers' favorites to win the title with +110 odds (or an implied 47.6% chance to win it all).
For comparison, the team with the next-highest odds to win the championship is the Phoenix Suns with +170 odds (or an implied 37% chance). The Los Angeles Clippers (+800, or an implied 11.1% chance) and Atlanta Hawks (+1200, or an implied 7.7% chance) are considered long shots by the oddsmakers, per OddsChecker.
Interestingly, bettors don't necessarily agree.
Over the last 24 hours, the Phoenix Suns received the most bets to win the championship (36.1% of all bets). The Bucks did receive 29.4% of championship bets, but the Hawks weren't too far behind, receiving 23.5% of all bets to win it all. The Clippers have received the fewest championship bets (11%).
"After knocking off the long-time favorites to win the NBA title, oddsmakers believe the Bucks are the team to take up the mantle. Bettors aren't as big on the team, likely to do with Giannis Antetokounmpo's poor free-throw shooting," OddsChecker spokesman Kyle Newman said.
"Still, there's no denying that Milwaukee is the clear-cut favorite to make it their first NBA Finals since 1974. That said, Atlanta has been an underdog for nearly their entire playoff run; it's unlikely they're scared of trying to knock off another Goliath."
For more picks and betting help, betql.co uses their computer model to analyze every bet and find mispriced listings. Check them out here!