"I feel like I am the MVP," James Harden stated last night after the Brooklyn Nets and Detroit Pistons went at it old-school style, a game that featured some rough stuff between Blake Griffin and Isaiah Stewart and ended with Harden's team winning, 113-111.
Memo to the bearded one: Not so fast.
This season more than last, voters will be presented with an array of choices by the time awards are voted on following the final night of the regular season on May 16. Nikola Jokic is the heavy favorite to win MVP right now at the major U.S. sportsbooks, but his Denver Nuggets are tied for fifth place in the Western Conference.
If Denver surges into one of the top-two spots in the West over the remainder of the season, Jokic could actually win. If not, voters are going to use Denver's so-so seeding as a reason to cast their ballots for someone else.
Harden's odds have dropped from 75-1 to 8-1, and the sportsbooks would have you believe it is a five-man race between Jokic, Harden, LeBron James, Giannis Antetokounmpo and Joel Embiid. But that is giving short shrift to several players worthy of consideration:
• Damian Lillard has carried the Portland Trail Blazers during the prolonged absences of C.J. McCollum and Jusuf Nurkic, both of whom have now returned. His team has the same record as Jokic's Nuggets, yet Lillard is 14-1 to win MVP… the same odds as Luka Doncic.
• Ben Simmons has been pushing his candidacy for Defensive Player of the Year, but he has been a team leader in the six games since Embiid went down with a bone bruise in his knee. Philly is 5-1 over that span and has held onto first place in the East. The Sixers are only two games behind the Utah Jazz in the loss column for best record in the league. Simmons is 500-1.
• Donovan Mitchell dropped 35 points on the Memphis Grizzlies last night, as the Jazz won their fourth in a row. He is the best offensive player on the best team record-wise, yet his odds are 60-1.
• Chris Paul's odds are 250-1 and Devin Booker is 150-1 for the Phoenix Suns, who are three games behind Utah. Phoenix has two more games against the Jazz, two against the Clippers and one against the Lakers and Blazers. They also get to fatten up their record with two games apiece against the Rockets and Thunder.
The national narrative is misleading. There are seven weeks left in the season. That is a lot of time for an outlier to make a final push. However, as of now, it is hard to disagree with Harden's assessment.
But he is not a voter. And responsible voters do not make up their minds in March.
Let's have a look at some of the other award races and where the odds sit.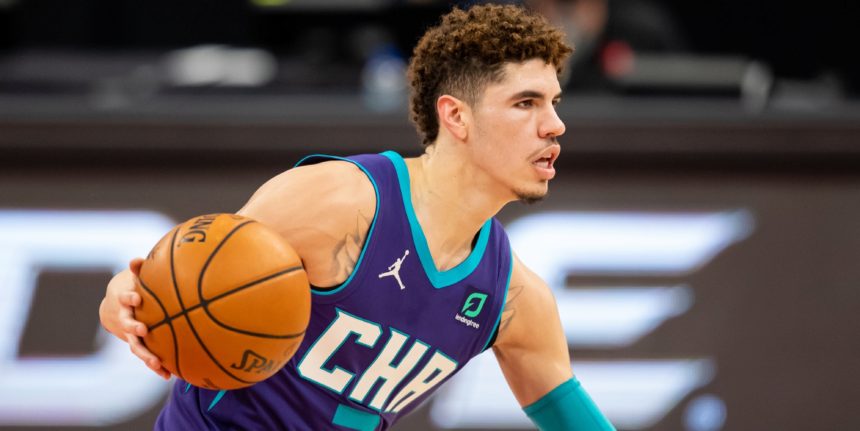 ROOKIE OF THE YEAR: On Friday night, Charlotte Hornets general manager Mitch Kupchak said that he is not ruling out a return by LaMelo Ball (fractured wrist) before the end of the regular season. Ball was a heavy favorite to win Rookie of the Year before getting injured, which opens the door for some of his first-year peers. Anthony Edwards of the Minnesota Timberwolves is now the frontrunner at -167, with Ball at +150. Sacramento's Tyrese Haliburton is +200 and New York's Immanuel Quickley is +2000.
Edwards plays for the worst team in the league, despite last night's victory over the carcass also known as the Houston Rockets. Some voters do not like rewarding failure. Haliburton is averaging 13.1 points and 5.0 assists backing up De'Aaron Fox and has duds in four of the Kings' nine games this month. Quickley has scored in double figures in 11 of his last 12 games. Ball's potential return is something to monitor, and the Hornets announced that he'll be re-evaluated in four weeks.
SIXTH MAN AWARD: Jordan Clarkson (17.1 points per game) has this award wrapped up if you believe the sportsbooks are the authority. He is -1000, meaning you would have to wager $1000 to win $100. Meanwhile, sitting at +2000 is Montrezl Harrell, who is averaging 15.1 points and 6.7 rebounds and has posted double-doubles four times this month. Harrell is averaging 19.6 points per game in March. Clarkson went 1-for-15 on Wednesday night against Brooklyn and also has games of 3-for-10, 2-for-11, 3-for-13 and 4-for-13 this month. Instigator extraordinaire Dwight Howard of the Sixers is not listed at the sportsbooks. Thaddeus Young (12.1 points, 6.4 rebounds and 1.4 steals per game) of the Chicago Bulls is 30-1, and that team is going to make some noise with Nikola Vucevic now aboard. Carmelo Anthony and Kyle Kuzma are both 100-1.
MOST IMPROVED PLAYER: Julius Randle of the Knicks (-121) is a slight favorite over Jerami Grant of the Pistons (-105), with Christian Wood of the Rockets sitting at 10-1 after a prolonged injury absence. Voters are going to want to find a way to give some props to the Knicks, and Randle seems like a likely recipient in part because Tom Thibodeau figures to get squeezed in the Coach of the Year voting. Zach LaVine (40-1) and De'Aaron Fox (80-1) both seem worthy of being in the conversation. LaVine is shooting 52% while averaging 28.1 points, and Fox's scoring average is up 3.5 points.
COACH OF THE YEAR: There are no gambling lines up on this at the major sportsbooks in the legalized U.S. market, which is curious. It looks like a two-man race between Doc Rivers of the Philadelphia 76ers and Monty Williams of the Phoenix Suns, but then again we have Nate McMillan sporting a 9-2 record since taking over the Atlanta Hawks. If the Hawks win out on the remainder of their 8-game road trip, that record will be 13-2 and the Hawks will be a top-four team in the East. Aside from MVP, this represents the best postseason-award debate material.
DEFENSIVE PLAYER OF THE YEAR: Rudy Gobert (-225) is the heavy favorite ahead of Ben Simmons (+200), who has been lobbying for the award. Both are worthy candidates for different reasons, and if their teams remain the No. 1 seeds in their respective conferences, this is going to be a tough choice. Gobert is second in the NBA in blocks and rebounds. Simmons is 10th in steals, but what Simmons does defensively is not always quantifiable with statistics and he's widely regarded as the league's best perimeter defender. Myles Turner of Indiana (who's averaging 3.51 blocks per game) is +550.