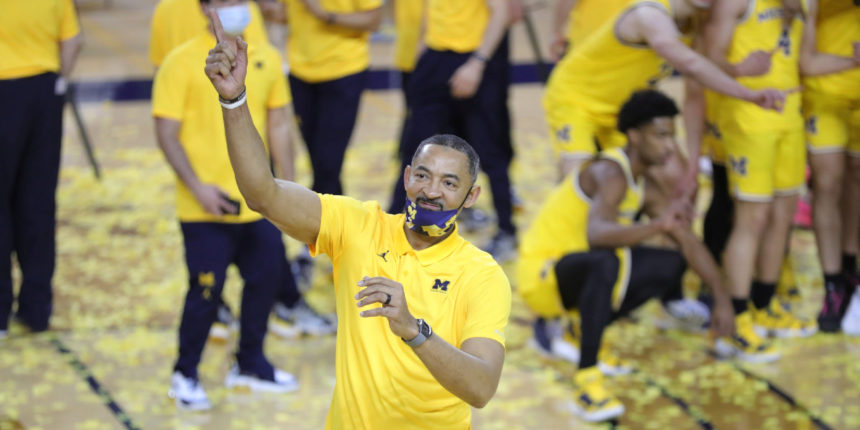 Juwan Howard silences critics after winning Big Ten Coach Of The Year
After his former teammate Juwan Howard was named the Big Ten Coach of the Year, Chris Webber texted me when I asked him for a quote for an article about him.
"I'm happy for Juwan. He earned it! He is a great leader! He doesn't even have to address all the critics that doubted his success because I will.... Haaaaa told you soooo. Lol. I'm so damn proud."
By leading his Michigan Wolverines to a 19-3 record as the No. 4 team in the nation, Howard has stuck it to the critics that Chris was referring to. Let's go back to May 2019, when his alma mater introduced him as the university's next men's basketball head coach.
It was a beautiful moment seeing the Fab Five member and 19-year NBA super-vet sitting there with his entire family by his side and overcome with emotion, and watching him fighting back the tears as he held up his same No. 25 jersey and hugged Michigan athletic director Warde Manuel.
It was enough to plug at the heart strings of Howard and Michigan fans, but anybody with eyes could see how much this meant to him. This wasn't simply someone being excited and elated to take the reins of a team as the head coach, this was special to Howard. It was so special that, as he took the podium, he needed almost a full minute to compose himself before he uttered words.
"I said I wasn't going to cry...I guess that happens when you're excited about something so special to you," said an emotional Howard.
As amazing and as memorable of a moment that it was, however, not everyone shared in that excitement. It didn't take long for the media and pundits to foolishly come after Howard's credibility as a head coach.
"In essence, U-M is replacing a great coach who was never an assistant coach with someone who has never been a head coach, which raises all kinds of concerns and question marks," wrote Jeff Seidel of the Detroit Free Press. "...Howard has never been a head coach -- Coaching the Heat's Summer League team doesn't count. And he has no college coaching experience.
"...We don't know if Howard will be able to push the right buttons or draw up the right plays or manage the clock or make the right adjustments in a game. And we don't know know if he will be able to be an effective recruiter."
MLive's Andrew Kahn questioned the move. There were articles saying at the time that Howard's hire "raises all kinds of concerns and question marks," and considered the decision "a huge risk." Mike Valenti, a radio host on 97.1 The Ticket, went further with his disrespect: "Hiring Juwan Howard is nothing more than a PR stunt and an admission you couldn't get a quality candidate," Valenti said.
This is still happening now, too. It is well known that Doug Gottileb of FOX Sports thrives to criticize. It's kind of his schtick. Just look at this tweet from last month.
Michigan made a great hire with Jawun Howard, Jawun made a great hires with Phil Martelli, Saddi Washington and Howard Eisley. Hire people who know what you don't know.

— Doug Gottlieb (@GottliebShow) February 14, 2021
The disrespect was evident of not only misspelling Juwan's name in his tweet, but the backhanded compliment in suggesting that Howard doesn't know what he's doing or isn't qualified to be a head coach so he needs people around him that do.
Well, Howard proved each and every one of them wrong. Not only did Howard win Big Ten Coach of the Year in 2021, but he also was named Sporting News' COY.
On Sunday afternoon, SN's Mike Decoursy went into detail on former-players-turned-coaches and tied it into the initial reaction of Howard's hire two years ago.
"There was cause to be skeptical of whether Howard was the ideal choice," Decoursy wrote. "The immediate period before he was hired saw a series of NBA alum cycle through the college game with moderate to no success. Avery Johnson lasted four seasons at Alabama and finished just 13 games over .500, with one NCAA Tournament appearance. Chris Mullin spent just as long at St. John's and was 14 games short of breaking even. From 2016 through 2019, Mike Dunleavy Sr. compiled a .258 winning percentage at Tulane. With his fourth season at Georgetown soon to end, Patrick Ewing is exactly a .500 coach.
"All of these men made serious contributions to the greatest basketball competition on the planet, but each found conquering the college game elusive. Working in the college game is a different deal; one is as much a general manager, a salesperson, a fundraiser and a mentor as a coach. The NBA has others to fill those roles, leaving the people in charge of coaching to do only that. Handling that wide variety of duties appears to be one reason those who attempt to make the jump from the pros so often fail. But Howard immediately demonstrated he was different."
Asked about the critics during a press conference in Feb. 17, Howard admitted that he's heard the doubters from day one.
"I'm not gonna sit here like I don't hear the noise before I got hired. And also, still to this day, I hear the backhanded compliments," Howard said. Am I competitive? Of course I am! But I'm also about improving and having the growth mindset of how I can get better to be the best version of myself to help prepare this team, and more importantly to represent this fine institution the best way possible. That's my No. 1 goal. That's what drives me. That's what really excites me."
"And also -- yeah, I wake up in the middle of the night thinking about plays, thinking about defensive situations, thinking about how I can get better, how I can help prepare the team. That's how I'm wired. I wouldn't have been able to last 19 years in the NBA if I didn't have a certain edge about me. To get back into coaching, for six years as an assistant coach, the Miami Heat staff and also I took upon myself to prepare myself to become a head coach someday. I worked at this. And I'm gonna continue to keep working. I love it."
As a result of that love and dedication, Howard's feisty Wolverines are in contention for a national championship as we enter the NCAA tourney next week. He's out-recruiting Kentucky's John Calipari and Duke's Mike Krzyzewski, two of the top coaches in college hoops. Michigan's freshman center, Hunter Dickinson, exceeded expectations and won Big Ten Freshman Of The Year,
The Wolverines are a conference champion, a presumptive No. 1 seed for the NCAA Tournament and a highly-favored Final Four lock. As Chris Webber told me, "He doesn't have to address all of the critics that doubted his success."
And with that success, Juwan Howard shut all of the critics up.