With all due respect to the teams of the Big Ten, Gonzaga and Baylor have been the two best teams in college basketball all season. The two have combined for just one loss, and that was by Baylor soon after returning from a three-week shutdown. Of course, only one of them can win the national championship. If you were planning on placing a bet on one of the heavy favorites, should you choose Gonzaga or Baylor?
The Case for Gonzaga
The Bulldogs know how to score, averaging 92.1 points per game and finishing third nationally with over 18 assists per game. The thing that stands out about Gonzaga is that point guard Jalen Suggs is the team's best player and a potential top-five NBA draft pick, yet he's only the third-leading scorer on the team. Both Corey Kispert and Drew Timme average over 18 points per game. Meanwhile, Suggs, Joel Ayayi, and Andrew Nembhard form a terrific backcourt that can score in a variety of ways, forcing teams to match such a potent offense for 40 minutes if they hope to beat Gonzaga.
The Case Against Gonzaga
Of course, the case against Gonzaga every year is that they don't play a difficult schedule in the West Coast Conference. Despite non-conference wins over Kansas, West Virginia, Iowa, and Virginia, the Bulldogs haven't been challenged by anyone outside of BYU since January. Also, defense could be a concern against high-level competition, as Kansas, West Virginia, and Iowa all scored over 80 points against the Bulldogs early in the season. Can the Bulldogs get the stops they need against a good offensive team in a close game?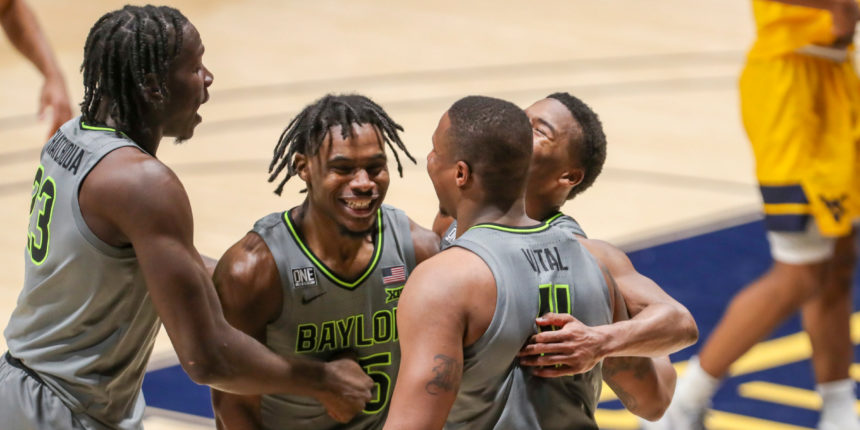 The Case for Baylor
Much like Gonzaga, the Bears force teams to get into a track meet. Baylor averaged 84.4 points per game thanks to a deep and talented backcourt. Both Jared Butler and Davion Mitchell are skilled ball handlers who can shoot the ball, get to the basket, and create opportunities for other players, as both averaged over five assists per game this season. The Bears also shoot 41.8% from the perimeter as a team thanks to four players in their rotation who shoot better than 40% from three-point range.
The Case Against Baylor
If Baylor has a weakness, it might be size. There are only three players in their rotation who are taller than 6-foot-4. The team's best two frontcourt players, Jonathan Tchamwa Tchatchoua and Flo Thamba, don't provide a lot of scoring and need to stay out of foul trouble. The Bears also rely on their guards to help with rebounding. Baylor didn't face a lot of elite frontcourts in the Big 12 this season. But it's worth noting they were out-rebounded by 20 in their loss to Kansas. Could a team with size bully the Bears in the paint enough to pull off an upset?